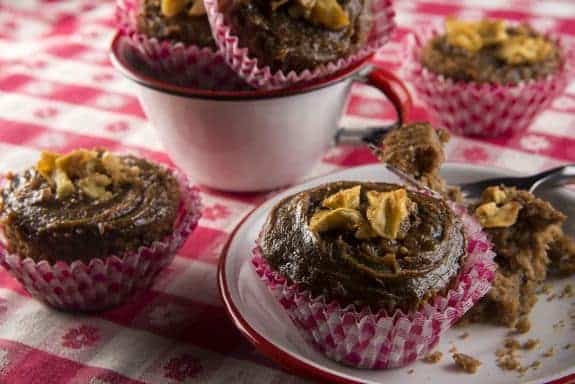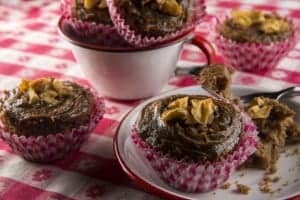 Salted Caramel Apple Muffins from Sweet Debbie's Organic Treats
Debbie says: "Make this [recipe] for people you love because they will take a pledge of allegiance to you forever."
Ingredients
Muffins
12 standard-size paper baking cups
2 cups all-purpose gluten-free flour
2 teaspoons sodium-free baking powder
1 teaspoon baking soda
1 teaspoon cinnamon powder
½ teaspoon guar gum
¼ teaspoon fine sea salt
¼ cup grapeseed oil
¼ cup coconut nectar
¼ teaspoon stevia powder
¾ cup unsweetened plain rice milk
½ cup applesauce
1 small Gala or Granny Smith apple (about 5 ounces), peeled, cored and sliced into ¼-inch pieces
Caramel Sauce
½ cup coconut nectar
¼ cup sunflower seed butter
⅛ teaspoon fine sea salt
Instructions
Preheat oven to 350°F. Line a standard 12-cup muffin tin with paper baking cups.
To make the muffins, whisk together the flour, baking powder, baking soda, cinnamon, guar gum and salt in a large bowl. Make a well in the middle.
Add the grapeseed oil, coconut nectar and stevia and stir to combine. Add the rice milk and applesauce, and stir until the liquid is absorbed and the batter is smooth.
Fold in about half of the apple pieces.
For the caramel sauce, mix together the coconut nectar, sunflower seed butter and salt in a small bowl until well blended.
Spoon the batter into the prepared muffin tin, dividing it evenly. Each cup should be about two-thirds full. Top each with the caramel sauce and the remaining apple pieces.
Bake the muffins for 16 to 18 minutes, or until they are a light golden brown and bounce back slightly to the touch. Rotate the muffin tin from front to back halfway through baking.
Transfer the muffin tin to a wire rack and let rest for about 10 minutes before removing the muffins to cool completely.
Keep in an airtight container for up to 3 days, or wrap and freeze for up to 3 months.
Notes
Reprinted from SWEET DEBBIE'S ORGANIC TREATS by Debbie Adler. Published by Harlequin. Copyright Debbie Adler 2013. Makes 12 standard-size muffins
Courses Dessert, Breakfast
Recipe by gfe--gluten free easily at https://glutenfreeeasily.com/salted-caramel-apple-muffins-sweet-debbies-organic-treats-by-debbie-adler/