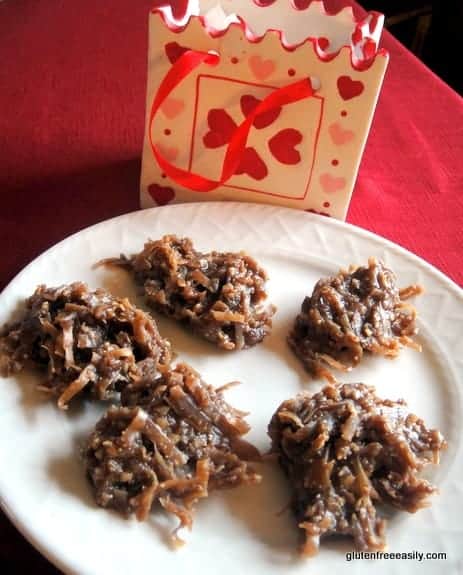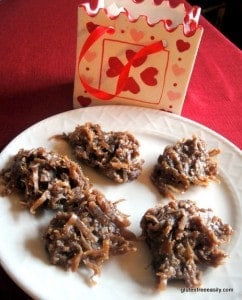 No-Bake Almond Chocolate Double Coconut Cookies
These cookies are my "new and improved" version of the classic no-bake chocolate peanut butter oatmeal cookies from back in the day.
Instructions
Mix palm sugar, cocoa powder, coconut oil, and almond milk in a large, heavy saucepan. Bring to a boil over medium to medium high heat, stirring constantly. Boil one minute only.
Remove from heat and stir in almond butter, vanilla extract, shredded coconut, and quinoa flakes until well mixed.
Drop by rounded teaspoonfuls onto baking sheets lined with wax paper.
Chill a few minutes in refrigerator or a very cool area. Serve.
Notes
Granulated sugar or coconut sugar can be used instead of palm sugar.
I used vanilla almond milk and omitted the vanilla extract.
I used sweetened shredded coconut because that is what is available to me. If you use unsweetened coconut, you may want to add slightly more palm sugar.
Certified gluten-free purity protocol oats can be substituted for the quinoa flakes.
Even after chilling, these cookies remained somewhat soft; I loved that. (Using the original recipe, the cookies often hardened too much.)
Mr. GFE said these taste like "chocolate dough balls." If you're a cookie dough fan; that's a high recommendation, but I think that shows that these cookies are soft and delicious.
Courses Dessert
Recipe by gfe--gluten free easily at https://glutenfreeeasily.com/saturday-summary-kickoff-suite-of-sweets-for-sweethearts/