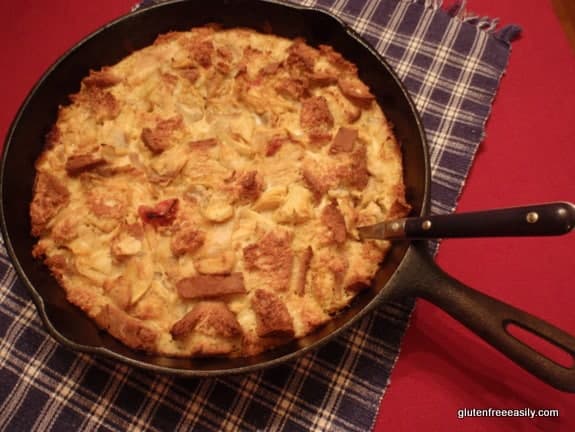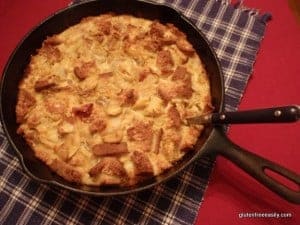 Savory Lemon-Kissed, Sun-Dried Tomato Artichoke Chicken Clafoutis (Gluten Free)
You will forget all about dessert clafoutis when you try this delicious savory clafoutis with chicken, artichokes, sun-dried tomatoes, and lemon.
Ingredients
Batter Topping
1/2 cup gluten-free flour mix (I use my Two-Ingredient Flour Mix)
1 Tablespoon baking powder (not a typo)
1/4 teaspoon salt
½ cup milk (non-dairy or dairy)
2 large eggs
2 Tablespoons extra virgin olive oil (or another oil of your choice, or butter---non-dairy or dairy)
1 cup gluten-free chicken broth (or vegetable broth)
Clafoutis Filling
1 - 2 tbsp lemon juice (per your taste preference)
2 cups coarsely chopped cooked chicken (rotisserie chicken works well because it's moist and tender; be sure it's gluten free ... see notes for vegetarian option)
1 to 2 Tablespoon extra virgin olive oil (or butter, non-dairy or dairy or another oil of your choice)
1 small onion, finely chopped
6 cloves of garlic, minced (use less if not a garlic lover)
About 2 cups of gluten-free bread, toasted and cubed/torn into pieces (about 5 slices; great way to use heels; I prefer Rudi's multigrain bread)
1 can artichoke hearts, rinsed, drained, and cut into much smaller pieces
10 sun-dried tomatoes, cut into much smaller pieces
Salt (optional, a shake or two to taste)
1 tsp smoked paprika (sweet paprika works, too)
1 ½ tsp Dijon mustard
Instructions
Preheat oven to 375F degrees.
First, make the batter. Whisk together flour, baking powder, and salt. With a wooden spoon or hand mixer, beat in milk, eggs, and olive oil. Set aside.
Squeeze fresh lemon juice into a large bowl. Add chicken. Stir. Set aside.
Heat olive oil over medium heat. Add the onion and cook until softened, about 2 or 3 minutes. Add garlic and cook another 30 seconds or so. Transfer the onion, garlic, olive oil mixture to a large bowl and mix in bread, chicken, artichoke heart pieces, sun-dried tomato pieces, salt, paprika, and mustard.
Spread the chicken-bread mixture in a well-greased, heavy, 10" oven-proof skillet.
Add chicken broth to prepared batter and pour over chicken mixture in skillet, pressing down with a spoon if needed to moisten the bread. Bake until golden and set, about 35 minutes.
Notes
Vegetarian Option: Renee (Beyond Rice and Tofu) mentioned recently that she uses chickpeas just about any time a recipe calls for chicken to make the dish vegetarian. I think that substitution would work great in this recipe, but haven't yet tried it myself. Chopping: I use kitchen shears to chop up both the artichoke hearts and the sun-dried tomatoes as chopping them with knives is awkward and just seems like too much work. Ingredients:I've used both an all-purpose gluten-free flour mix and all-purpose gluten-free flour mixed with almond flour in the batter. Both worked well.I've made this recipe with full-fat coconut milk, almond milk, or cow's milk. I've used extra virgin olive oil, coconut oil, grapeseed oil, and/or butter. The first time I made this recipe, I skipped the chicken broth and used slightly more almond milk and butter. I've used both Rudi's multigrain bread and Udi's multigrain bread, although I far prefer Rudi's multigrain bread in this recipe. Gluten-free baguettes, like the excellent Against the Grain baguettes, can also be used, and again, the original recipe called for baguettes. Gluten-free sandwich bread is far more accessible though and still works just fine. If you use a flavor rotisserie chicken like lemon garlic (after checking gluten-free status), you'll most likely want to adjust the amount of or omit the other ingredients. With a lemon garlic rotisserie chicken, I left out the lemon juice and the garlic in the recipe because the chicken supplied those flavors. Bottom line—I've made this recipe a variety of ways and this savory clafoutis is always wonderful, so feel free to make adjustments for your needs. I'm not sure if this savory clafoutis can be made egg free, but will excited if a gfe reader does make this recipe egg free and vegan and shares with us!
Courses Main Dish
Recipe by gfe--gluten free easily at https://glutenfreeeasily.com/savory-lemon-kissed-sun-dried-tomato-artichoke-chicken-clafoutis/