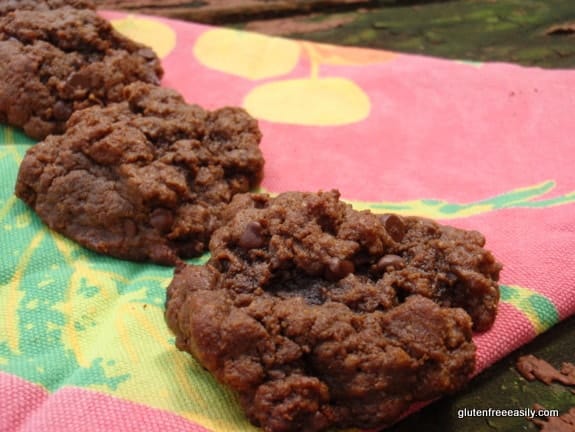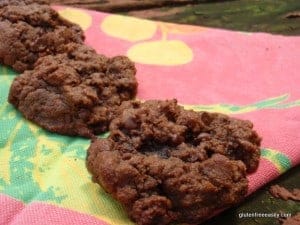 Gluten-Free Double Chocolate Nut Butter Oaties
These are soft, moist and somewhat hearty cookies. They make for great lunch or breakfast cookies; only one or two is needed to satisfy!
Instructions
Preheat oven to 350 degrees Fahrenheit. Line baking sheets with parchment paper.
Add ingredients to large mixing bowl in order shown, adding chocolate chips after other ingredients are mixed well.
Drop cookies by heaping tablespoonful onto baking sheets, about one inch apart. (The cookies will not spread much during baking.)
Bake for about 8 to 10 minutes, until cookies appear set. Remove baking sheets from oven and let cookies stand on baking sheets for 10 minutes longer. They will continue to bake during this time.
Remove to drying rack to cool.
Makes about 24 cookies, each about three inches in diameter.
Notes
You can always make your own oat flour by using your blender/food processor to turn your certified gluten-free oats into flour. (Be sure to use purity protocol oats, like this brand.) Just process your oats until they turn into flour.
Those of you who don't eat oats, but eat quinoa might try substituting quinoa flakes.
Natural egg substitutes such as flax "eggs" (or chia seed eggs) should work fine; I'd start with 1 1/2 flax eggs and add more if needed to achieve cookie batter consistency. Only add coconut oil if the mixture seems too dry to make drop cookies. For example, I added coconut oil when using natural peanut butter, but did not add coconut oil when using almond butter. Start with a smaller amount of coconut oil, adding a little more as needed until your batter is right for drop cookies.
Courses Dessert
Recipe by gfe--gluten free easily at https://glutenfreeeasily.com/school-lunches-then-and-now-and-double-chocolate-nut-butter-oaties/