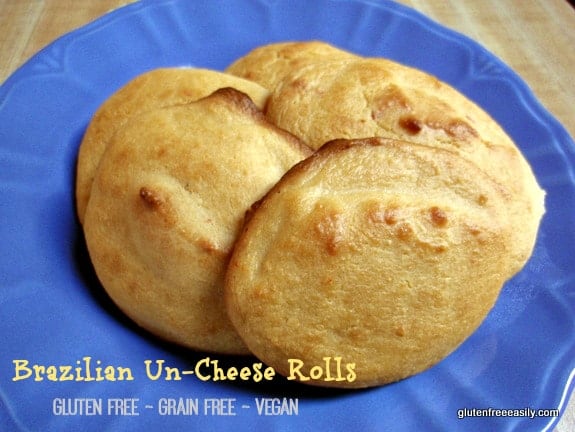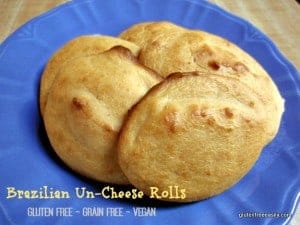 Gluten-Free Brazilian Un-Cheese Rolls (Grain Free and Vegan)
You will be surprised at these yummy gluten-free rolls that have a cheesy flavor and nice soft middle. Make them larger for sandwich rolls/hamburger rolls if you like. Great way to use leftover hummus.
Ingredients
¾ cup dairy-free milk (I use almond milk or coconut milk)
½ cup red pepper hummus (homemade or healthy, purchased brand; garlic hummus is nice in this recipe, too)
1 cup almond flour, packed
2/3 cup tapioca flour
2 tsp baking powder
¼ tsp salt
2 tsp coconut flour, sifted
Instructions
Preheat oven to 450 degrees Fahrenheit. Grease or line one large baking sheet with parchment paper.
In a large bowl, add milk and then hummus, stirring until fairly well mixed.
Add almond flour, tapioca flour, baking powder, and salt. Mix well.
Add coconut flour. Mix and let sit for about 3 to 5 minutes, until batter is visibly thicker---like biscuit dough---when stirred.
Drop a heaping teaspoon of batter onto the baking sheet and then drop a little more on top of that. That second dollop of batter on top the first is important. Without it, your biscuits will be too thin and cook too quickly. (Using a larger serving utensil like an ice cream scoop might be a workable solution that would allow one "dollop" only, but I didn't try that.) When dropped, batter will not spread past a 3-inch radius, and will not spread further when baked. So batter for the biscuits may be dropped fairly close together.
Bake for about 10 to 12 minutes. Tops will take on a light golden appearance and look done, and bottoms of biscuits will be a nice even brown.
Makes about one dozen 3-inch biscuits. (See notes for making larger biscuits.)
Notes
If you want to make large sandwich/hamburger rolls, add another dollop or so of batter and spread the batter to the diameter you'd like for your biscuits/rolls.
Inspired by Deanna's (The Mommy Bowl) Gun Powder Biscuits.
Courses Bread
Recipe by gfe--gluten free easily at https://glutenfreeeasily.com/secret-ingredient-biscuits-brazilian-uncheese-rolls-biscuits-grain-free-vegan/