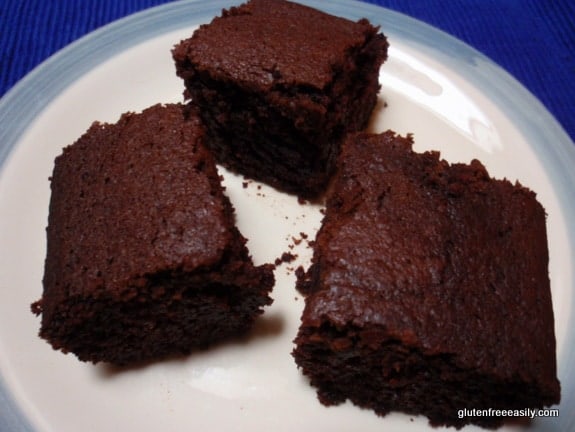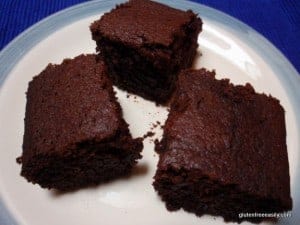 Simple and Good Chocolate Cake (Gluten Free, Dairy Free, Refined Sugar Free, Vegan)
Even if you're gluten free, dairy free, egg free, and vegan you can still enjoy a really good chocolate cake! ALL of your friends will love this cake, too!
Instructions
Preheat oven to 375 degrees Fahrenheit. Ensure oven is fully preheated before you begin to mix the ingredients, as you have to work quickly once you get started.
Grease 8x8-inch baking pan well.
In a large mixing bowl, whisk together the coconut palm sugar, flour mix, almond flour, coconut flour, cocoa powder, baking soda, sea salt, vanilla extract, oil, and cold water. Blend well. Note that the absorbent nature of the coconut flour will make the batter thicken upon stirring; this is good.
Then, add the vinegar and stir immediately. The vinegar and baking soda reaction will cause the mixture to foam up a bit. These ingredients along with their reaction and the subsequent baking process take the place of eggs. Stir quickly and transfer to the baking pan. Then, as Lydia says: "Get the pan into the oven as fast as you can."
Bake for 20-25 minutes, until toothpick comes out clean. Remove the pan to a cooling rack, and let it cool completely. Cut into squares.
Enjoy "as is," or "accessorize" a bit more if you like: sift confectioner's (powdered) sugar over the top or top with a simple Vanilla Ice Cream or something more decadent like Crème Brulee Ice Cream.
Notes
Adapted from Lydia of The Perfect Pantry who adapted from PragerwayAs you can see from the recipe, I didn't use any gums so there may be a slight crumble factor. It did not bother us---and I'm not sure it will happen each and every time as I rushed mine on the cooling!---but if you want to ensure crumb free, you may either add 1 tsp xanthan gum or 1 tsp chia seed (if you are a fan) and let the latter sit in the batter for a minute after the cold water is added, before you add the vinegar. Cutting with a plastic knife ensures straight-edged pieces with less crumbs. This is a tip that Linda (The Gluten-Free Homemaker) reminded me of in one of her posts in her ongoing Kitchen Tips series. (Incidentally, cutting a head of lettuce with a plastic knife will also ensure that the cut edges don't "rust"; i.e., turn brown. I'm not a fan of plastic in general, but I like these characteristics.)
Courses Dessert
Recipe by gfe--gluten free easily at https://glutenfreeeasily.com/simple-and-good-chocolate-cake-gluten-free-dairy-free-refined-sugar-free-vegan/