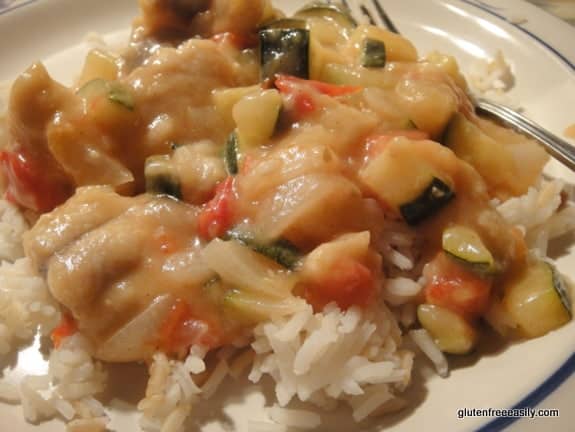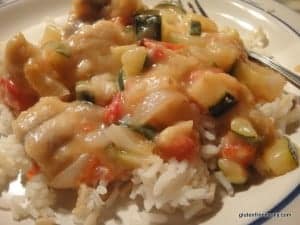 Catfish Etouffee (Gluten Free)
Yield 5 - 6
While etouffee---a dish found in both Cajun and Creole cuisine--- is typically served with shellfish, this gluten-free Catfish Etouffee will still make all the etouffee lovers happy!
Ingredients
2 tbsp olive oil
1/3 cup gluten-free flour mix (I use my Two-Ingredient Flour Mix)
1 cup onions, chopped in large chunks
1 cup zucchini, chopped
2 tomatoes, chopped (I used Roma tomatoes)
2 – 3 cloves, garlic, chopped or minced
2 cups chicken broth (or vegetable broth)
1/8 tsp Cayenne pepper
1/8 tsp black pepper
1 tsp sea salt
dash of Tabasco (optional)
1 – 2 lbs catfish pieces (or similar fish, nugget sized)
Instructions
Heat olive oil on medium-high in large, deep skillet about half a minute or so. Add flour and cook until mixture thickens and turns into a roux, which will only take a few minutes. Stir frequently. (Be careful not to overcook.)
Add vegetables and sauté 10 – 15 minutes, stirring often.
Add broth. Stir and simmer about 5 minutes.
Add seasonings and catfish; continue cooking over medium heat for about 20 minutes or until sauce is reduced to "gravy" consistency.
Serve over rice.
Notes
Recipe adapted from www.cajun-recipes.com.
A lighter flour mix works best. I used my Two-Ingredient Gluten-Free All-Purpose Flour Mix.
Other vegetables may be used depending upon your personal preferences and what you have on hand.
If you wish to use another fish, it's best to use one that is similar in thickness and heartiness. If you use a fish that's lighter in flavor and texture, do not add fish until about halfway through final cooking time.
Courses Entree, Main Dish
Recipe by gfe--gluten free easily at https://glutenfreeeasily.com/skillet-supper-series-catfish-etouffee-recipe/