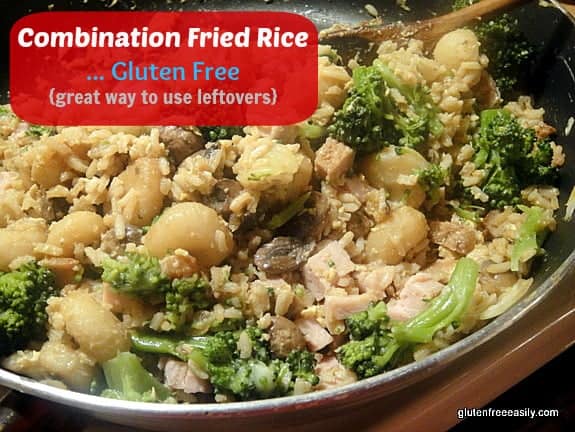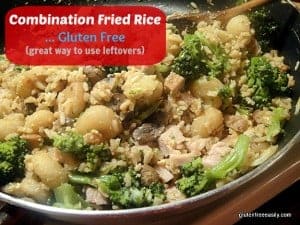 Gluten-Free Combination Fried Rice
Grab some leftovers from your fridge and a few items from your pantry and you can be enjoying this delicious gluten-free combination fried rice in short order!
Ingredients
A couple of tablespoons of oil of your choice (I use extra virgin olive oil or coconut oil)
About one large onion, chopped (or equal amount of chopped green onion)
About half of a green or red pepper, if desired, chopped
About 2 cups or more of cooked rice (I like to cook extra rice and then freeze it to use later for fried rice, soup, jambalaya, etc.)
One can sliced water chestnuts, drained
One can bamboo shoots, drained (optional)
About 1 cup of fresh mushrooms (when my mushrooms are "heading south," I sauté them in oil and freeze and then pull them out for dishes like this)
About 1 to 2 cups or more of other vegetables of your choice (carrots, peas, corn, broccoli, etc.)
About 1 to 2 cups of cooked meat and/or seafood of your choice (chicken, ham, pork, shrimp) (optional, may omit for a vegetarian or vegan dish)
A couple of tablespoons of gluten-free soy sauce or tamari, or soy-free, refined sugar free coconut aminos
About 3 eggs, beaten (optional, may omit for a vegan dish)
Instructions
Add oil to a deep skillet (or wok) and heat on medium-high, adding onions and pepper cooking a few minutes until onion is soft.
Reduce heat to medium and add rice and other vegetables, stirring often for about 5 minutes.
Stir in meat and seafood, stirring a few minutes.
Drizzle beaten eggs into mixture in skillet and stir well, distributing eggs throughout. Cook until eggs are visibly done, about 5 minutes more.
Stir in soy sauce until well blended.
Notes
Makes 4 or more servings.
Courses Entree, Main Dish
Recipe by gfe--gluten free easily at https://glutenfreeeasily.com/skillet-supper-series-combination-fried-rice-for-go-ahead-honey/