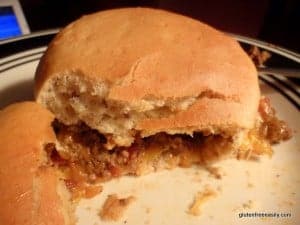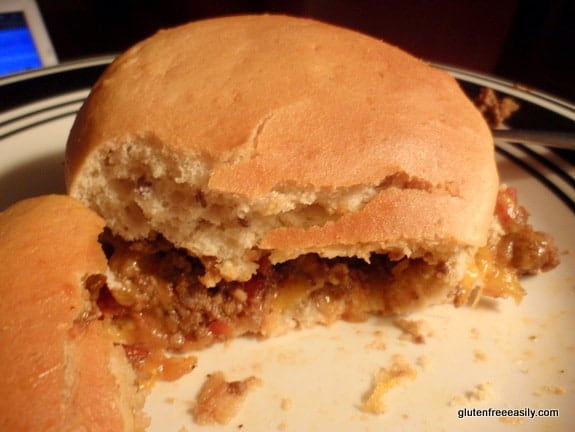 Sloppy Joes That Don't Come from a Can or a Package
Ingredients
1 pound ground beef (we use ground venison; see notes for using ground turkey)
14 ounces of diced tomatoes, undrained (petite cut works best; see notes)
Half an onion (about ½ cup), chopped
¼ cup brown sugar (or same amount of coconut/palm sugar or slightly less of honey, molasses, or agave)
½ tsp salt
½ tsp black pepper
¼ tsp cinnamon
¼ tsp allspice
¼ tsp cloves
2 tsp garlic cloves, minced
½ tsp chili powder
1 ¼ tsp hot sauce
¼ tsp dry mustard
½ tsp honey (omit if already using one of the liquid sweeteners vs brown sugar)
½ cup gluten-free, HFCS-free ketchup
½ tsp vinegar (optional, see notes)
Instructions
Brown ground beef in large, deep skillet. Drain and then return to skillet.
Stir in other ingredients, mixing well. Bring to a boil and reduce heat to a simmer, using medium-low to medium heat. The mixture will reduce to proper Sloppy Joe consistency after about 15 minutes on medium heat, but you must stir frequently. If simmering at medium-low, stir occasionally for about 20 to 30 minutes. You can probably guess that I use the quicker method. I do use a skillet screen over my skillet to keep that beautiful, naturally red sauce from flying everywhere. Stirring can be a great task for a child (if you have one around) or even a partner (it can be an easy way to spend some time together), but I stir now and again while doing other chores in my kitchen.
Serve in a bowl with tortilla or potato chips or on a gluten-free hamburger bun (the one shown is on a Rudi's hamburger bun) or gluten-free waffle.
Notes
If using ground turkey, you might want to add more seasoning or a bit more salt as turkey is fairly bland. If you use regular diced tomatoes in this recipe versus petite diced tomatoes, you can use your kitchen shears to make the chunks smaller so they'll cook down better. I drain the liquid into the skillet and then just cut "wildly" into the can of tomatoes. (Be careful of the sharp can rim.) If you want to be more exact in your cutting, you can empty them into a bowl to cut more uniformly-sized pieces. Using ketchup in this recipe gives the Sloppy Joes a richer taste and better texture, but it can be omitted and they'll still be quite good. The small amount of vinegar does add a tad of tanginess, but it may be left out if you prefer. If you don't have any onion and/or garlic on hand (or family members who shy away when they see the real stuff), you may substitute about ½ tsp to one tsp each of onion powder and garlic powder (depending upon your personal tastes), respectively. Some folks may abhor the idea of eating Sloppy Joe without bread, but doing so will really let you know the quality of the meat you are using (buns can cover a lot of flaws!), plus you'll tend to eat less meat with that serving method.
Recipe by gfe--gluten free easily at https://glutenfreeeasily.com/skillet-supper-series-sloppy-joes-gluten-free-dairy-free/