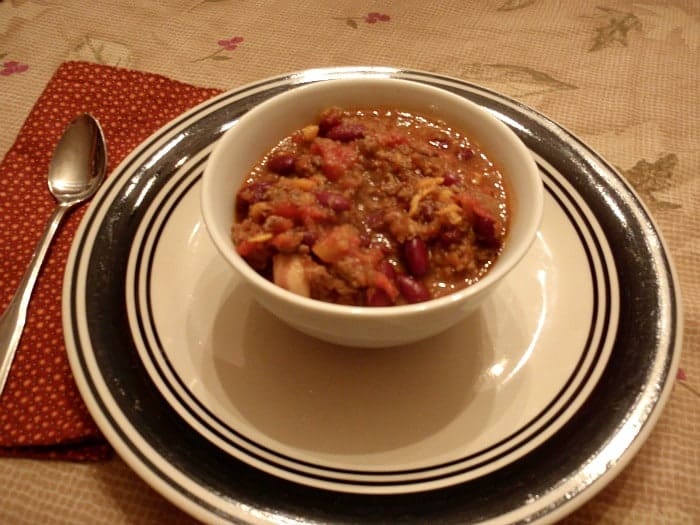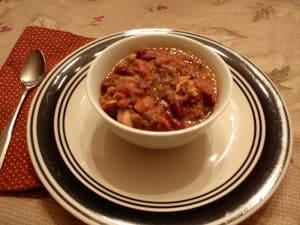 Slow Cooker Sweet Potato Bacon Chili
Ingredients
¾ to 1 lb ground meat, cooked and drained, if needed (I used ground venison)
2 can kidney beans, drained (I like a mix of light and dark kidney beans)
2 cans diced tomatoes
1 large onion, finely diced
1 sweet potato (any size), cooked and mashed
3 to 4 slices of bacon, cooked and chopped (reserve some of the bacon grease to add, as shown below; I use my kitchen shears to "chop" the slices after cooking)
1 tsp to 1 tbsp bacon grease
1 jar salsa (I used a 15.5-ounce jar) or ¾ cup tomato juice (or V-8)
2 tsp to 1 tbsp chili powder (or more to taste)
Instructions
Add all ingredients to your slow cooker, mixing well. (I used my 4-quart slow cooker.)
Slow cook on low for about 8 hours or high for about 3 to 4 hours.
Ladle into bowls or mugs.
Notes
The first time I made this recipe I added some V-8 juice to my usual mix of chili ingredients and the last two times, instead of V-8 juice, I added a jar of salsa. Those ingredients do not seem like ones you could swap out---and the results are slightly different for each for sure---but either yields a great pot of chili.
Courses Main Dish, Soup
Recipe by gfe--gluten free easily at https://glutenfreeeasily.com/slow-cooker-sweet-potato-bacon-chili-gluten-free/