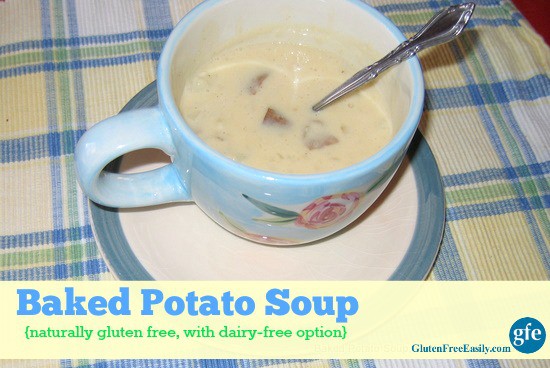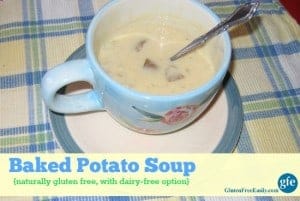 Gluten-Free Baked Potato Soup
Ingredients
3 large russet potatoes, cleaned (but not peeled), skins pierced 3-4 times with a fork (you can use about 6 smaller potatoes, and I've used white potatoes before also; with a large crowd you can use a large stockpot and double the recipe)
1/4 cup butter (dairy or non-dairy)
1 small yellow onion, chopped
2 cloves garlic, minced
1/4 cup gluten-free all-purpose flour (I used my Two-Ingredient Gluten-Free All-Purpose Flour Mix)
2 cups gluten-free chicken broth (or vegetable broth for vegetarian/vegan)
12 ounces evaporated milk (or dairy-free milk; almond milk is my favorite in this recipe)
2 tsp seasoned salt
Optional toppings: shredded cheese (dairy or non-dairy), diced ham or crumbled bacon, chives or scallions, Tabasco sauce, Sriracha sauce, gluten-free croutons
Instructions
Microwave the potatoes 8-9 minutes until baked through. Set aside to cool slightly.
Melt the butter in a soup pot over medium-high heat and add onion.
Cook 6-7 minutes until softened.
Add minced garlic and cook 30 seconds, until fragrant.
Add flour and stir constantly a few minutes to make a thickened roux.
Gradually stir in evaporated milk and broth.
Scoop the pulp from one potato, mash it slightly and add to soup.
Cook soup on medium and bring to a boil.
Add seasoning salt (to taste).
Dice the remaining two potatoes and empty skin of the third potato.
Add to soup, stir, and heat through.
Notes
Makes about 4 servings. It will stretch further if it's not the main course.
Serve alone, with GFE popovers or my cornbread, or other favorite bread or crackers. (Check out A Bountiful Bread Basket series for more wonderful gluten-free bread recipes from my blogger friends.) This recipe is also great to turn to when you have a couple of potatoes in your pantry that will soon be sprouting offspring (if enough dirt gets thrown their way!). It's very well received when shared with others, too---it looks very appealing in a canning jar. If you've always shied away from potato skins in recipes, don't this time. The skins give a nice heartiness to the soup and add more nutrients as well. As noted, this soup can be made dairy free using a dairy-free equivalent for butter/margarine and, a dairy-free milk, like almond milk or coconut milk in place of the evaporated milk. I love this recipe made with almond milk. I've also added additional ingredients like mushrooms (when the onions are added) and diced chicken (when the last potatoes are added) for an extra hearty and tasty version of this soup.
Adapted from Kris Roth.
Courses Main Dish
Recipe by gfe--gluten free easily at https://glutenfreeeasily.com/snowdrops-and-baked-potato-soup/