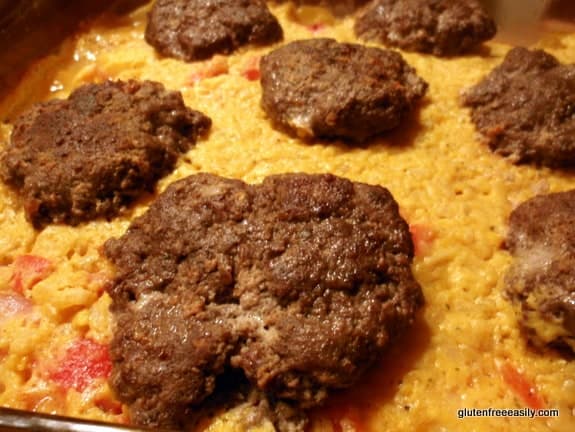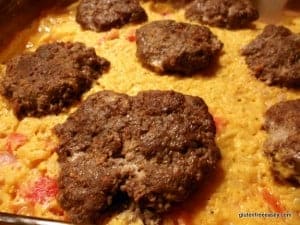 Spicy Sausage Casserole and Russet Potatoes with Sweet Potato Cream Sauce
This Spicy Venison Sausage and Russet Potatoes with Sweet Potato Cream Sauce is a scalloped potato dish topped with a lovely cream sauce and spicy venison sausage patties.
Ingredients
Sausage Ingredients
1 lb ground venison (or ground turkey or pork)
1 ½ tsp onion powder
1 tsp cumin
1 tsp black pepper
1/3 tsp nutmeg
1/3 tsp oregano
1/2 to 1 tsp red pepper flakes (can omit for much less spicy version)
¼ tsp ginger
1 ½ tsp poultry seasoning
1 ½ tsp sea salt
1 to 2 eggs, lightly beaten
Sweet Potato Cream Sauce Ingredients
About 1 tbsp or so of extra virgin olive oil (or oil of choice, for skillet)
½ large sweet onion, finely chopped
½ cup red pepper, chopped (optional; fresh red pepper or fire-roasted red pepper from a jar)
1 tsp minced garlic (omit if using Majestic Garlic Spread; see below)
About 2/3 cup sweet potato, mashed (about one large sweet potato)
1 heaping tbsp Majestic Garlic Spread Creamy Garlic flavor (optional, but it's a terrific addition)
1 ½ cups unsweetened almond milk (or non-dairy milk, of choice; full-fat coconut milk works well, too; dairy milk may also be used for those who eat dairy)
Casserole
5 cups Russet potatoes, thinly sliced (or a combination of Russet and sweet potatoes; see instructions)
Sea salt, amount to taste
Ground black pepper, amount to taste
5 slices of partially cooked bacon (optional ingredient, but preferred; I used uncured, nitrate-free bacon)
Instructions
Preheat oven to 400F degrees. Grease 9 x 13 baking dish.
Sausage Instructions
Mix all together and, ideally, chill one hour. Chilling allows the flavors to come together nicely and the eggs to help bind the mixture, but if you're in a rush, you can chill for less time or skip this step.
Form sausage into patties and cook in large skillet over medium low to medium heat until desired doneness. (Because I was using this sausage in a recipe that would be baked for a good while, I purposely undercooked my patties.)
Drain, if needed, on a paper-towel lined plate.
Makes about 12 small patties.
Sweet Potato Cream Sauce Instructions
Add extra virgin olive oil to medium-sized sauce pan; turn up heat to almost medium. Add onion, red pepper, and minced garlic (if using actual garlic). Sauté for a few minutes until onion is translucent.
Add in a little of the almond milk, stirring with a whisk. Add in the sweet potato, whisking it into the mixture. Slowly add in the rest of the almond milk, continuing to use whisk to fully incorporate ingredients. (You can even use a "stick blender"—i.e., immersion blender, like this one—to create a super creamy, smoother, and prettier sauce if you'd like.) Cook at least a few minutes longer until sauce thickens some.
Casserole
Place potatoes in baking dish in as many layers as needed. (If using both Russet potatoes and sweet potatoes, place Russet potatoes on one side and sweet potatoes on the other.)
Sprinkle potatoes lightly with salt and pepper.
Place slices of bacon lengthwise on top of the potatoes.
Pour cream sauce over potatoes, using spatula if needed to distribute sauce evenly.
Top with sausage patties.
Cover with foil and bake for about 40 minutes. Remove foil and bake for about 5 to 10 minutes longer, as needed. Test potato with fork for doneness.
Notes
Sausage recipe adapted from Caveman Food.
Feel free to use your favorite purchased gluten-free sausage in this recipe if you prefer.
You must partially cook the bacon so that it will be done at the end of the baking time. (I did not do that when these photos were taken and regretted it as the bacon was not crispy enough, but did the next time I made the casserole. Big improvement!)
I added my bacon to the pan when I cooked the sausage patties and just removed to a paper towel-lined plate (with the sausage patties) when it was about half way done cooking. You may also bake this casserole at 350F degrees for about an hour if you prefer. (This info can be helpful when you are baking another dish that requires a temperature of 350F degrees and you wish to bake both at the same time.)
Recipe by gfe--gluten free easily at https://glutenfreeeasily.com/spicy-sausage-with-russet-potatoes-and-sweet-potato-cream-sauce-casserole/