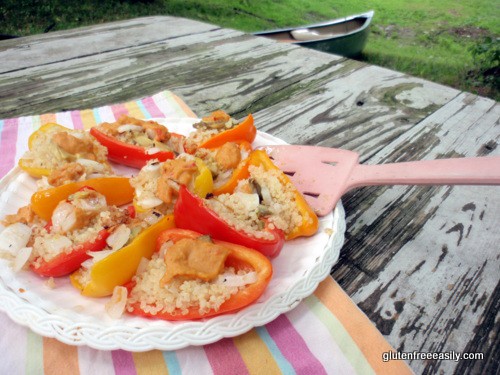 Grilled Stuffed Mini (Baby) Sweet Bell Peppers
Ingredients
6 mini/baby sweet bell peppers
2 tbsp or so of extra virgin olive oil, divided
1 medium onion, diced
About 2 cups of cooked quinoa
1 tbsp minced garlic
Avocado, cut into small chunks
About ½ cup roasted red pepper hummus (I love this paleo version)
Seasonings of choice, to taste
Instructions
Wash peppers, cut in half lengthwise, and remove stems, seeds, and white pithy parts.
Heat grill to medium to medium-high heat.
Place aluminum foil on grill and turn up on all edges to create a pan effect. Drizzle olive oil on cooking area.
Add diced onion to grill and cook until translucent, about a minute or two.
Add quinoa, garlic, and any seasonings to grill with onion and cook and stir until both are toasted and heated through, another minute or two.
Using potholders, remove foil with contents off to the side.
Spoon about a tablespoon of quinoa mixture into each pepper half.
Spoon avocado on top of quinoa mixture in each.
Top each pepper half with a dollop of roasted red pepper hummus.
Place new aluminum foil on grill. Drizzle olive oil on cooking area.
Heat about a minute. Add stuffed pepper halves. Close grill (if you have that option).
Cook about 10 to 15 minutes, or until desired doneness for the peppers themselves.
Serve. Makes about 6 servings.
Recipe by gfe--gluten free easily at https://glutenfreeeasily.com/stuffed-mini-baby-sweet-bell-peppers/