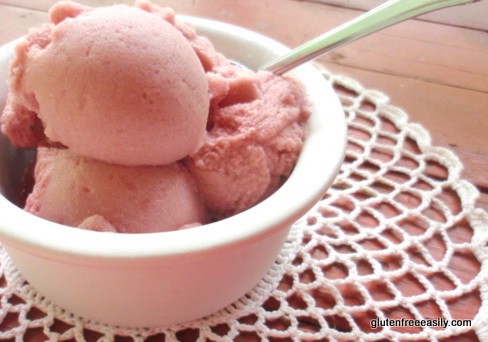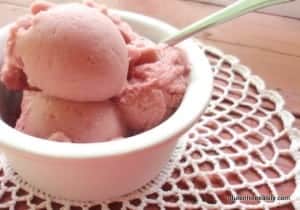 Pomegranate (POM) Sherbet (Dairy Free)
This Pomegranate Sherbet is light and refreshing. The tart flavor in this sherbet is just wonderful!
Ingredients
2 cups of POM Wonderful pomegranate juice, chilled (or other 100% pure pomegranate juice)
1 can full-fat coconut milk, chilled
¼ cup honey (or agave nectar for vegan option; more of either if you omit stevia below---see notes)
7 drops liquid vanilla crème stevia (optional, see notes if you wish to leave it out)
Instructions
Mix all together well (using blender, or bowl and your mixer) and pour into frozen tub of ice cream maker. Churn about 25 minutes.
When you remove the POM sherbet from the ice cream maker, it will still be somewhat soft. You can scoop it into a container and freeze for about a half hour to an hour longer to have a firmer sherbet. Or you can spoon some into a glass, stir well, and insert a straw for a slushie. You will love this recipe either way. The last time I made it, we drank small glassfuls in slushie form and then we enjoyed the firm sherbet later. It's a good compromise for those wanting just a little taste the moment they hear the ice cream maker stop!
Notes
If you want to omit the stevia, you can increase the honey (or agave nectar) to 1/3 cup. Taste the blended mixture before adding it to the ice cream maker. Add additional honey (or agave nectar) and/or stevia if needed.
Courses Dessert
Recipe by gfe--gluten free easily at https://glutenfreeeasily.com/suite-of-sweets-for-sweethearts-pom-pomegranate-sherbet/