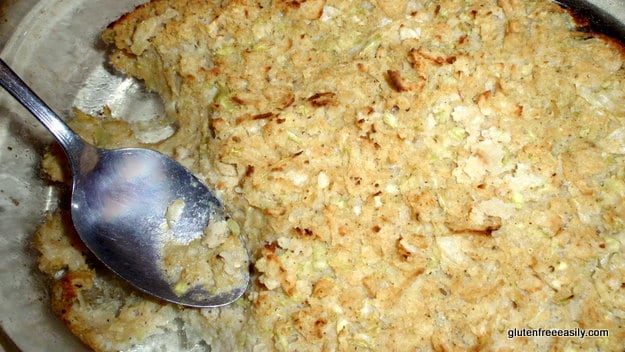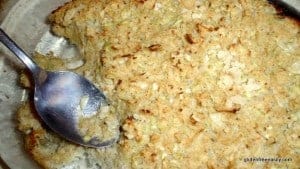 Gluten-Free Surprise (Tortilla Chip) Stuffing
You're going to love this gluten-free "surprise" stuffing because there's no bread to make, no cubing of bread, etc. This stuffing---made from the surprise ingredient, tortilla chips---really is super simple and super delicious! 
Ingredients
One large bag of tortilla chips (about 13 ounces)
1 cup finely chopped onion
¾ - 1 cup finely chopped celery (depending upon how much you like celery)
4 cups (32 ounces) gluten-free chicken broth or vegetable broth 
2 tsp poultry seasoning (the brand I use includes thyme, salt, oregano, mustard powder, red pepper, black pepper, and sage, but you could simply use sage, thyme, or other seasoning or combination of choice)
Additional ingredients if desired, like sausage, mushrooms, chestnuts, etc.
Instructions
Pour tortilla chips into a large bowl. (Do not break tortilla chips into smaller pieces. I did that not knowing any better and it's really unnecessary. Once softened, the tortilla chips will naturally break into smaller pieces.)
Pour broth over tortilla chips. Stir so that all tortilla chips are covered or moistened by broth. Let "soak" for 30 minutes.
Stir in onion, celery, seasonings, and any optional ingredients.
Pour into lightly greased casserole dish. A 9 x 13 glass dish would be ideal. (I halved the recipe and used a smaller oval casserole dish for my test run.)
Bake uncovered at 350 degrees for 30 minutes. (If you like a drier stuffing, a slightly higher temperature might be a better choice.) If necessary, you can turn the broiler on for the last few minutes to brown the top, but please be cautious. (Dish should be far from broiler itself and only cooked at this temperature for a short time.)
Notes
If using vegetable broth, you will need to add additional ingredients and seasonings because purchased vegetable broth is pretty bland. (Homemade vegetable broth might be flavorful enough depending on the ingredients used.)
I've read that folks have even "stuffed" their turkey with this stuffing successfully versus baking as a side dish!
Remember that the photos shown are of the recipe made when halved. If you have any leftover stuffing, you can recycle it into croutons.
Recipe by gfe--gluten free easily at https://glutenfreeeasily.com/super-easy-turkey-breast-and-surprise-stuffing/