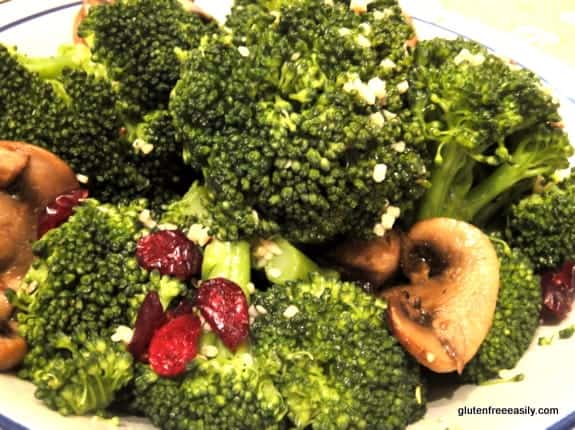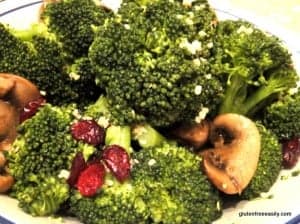 Super-Charged Garlic Lemon Broccoli
Yield 4
Ingredients
About 5 cups of broccoli, cut into florets
Juice of half of a lemon
3 tbsp extra-virgin olive oil
2 cloves garlic, finely minced
½ tsp sea salt
1/8 tsp ground black pepper
Pinch of crushed red pepper flakes (optional)
Toppings, as desired; e.g. dried cranberries, sliced almonds, chia or hemp seeds, sunflower seeds, sautéed mushrooms, Parmesan cheese, nutritional yeast, almond flour
Instructions
Steam your broccoli to desired doneness; drain.
While broccoli is steaming, squeeze the juice from the half lemon into a large bowl. Add and whisk in oil gradually until thoroughly blended. Whisk in garlic, salt, pepper, and pepper flakes.
Add the hot broccoli and toss until coated in dressing (or simply pour dressing over broccoli and stir a bit).
Sprinkle with toppings of your choice. As shown in the photo, I've added dried cranberries, hemp seeds, and sautéed, sliced Baby Bella mushrooms.
Notes
If you use a microwave, microwaving your lemon on high for about 30 seconds will yield more juice when you squeeze the lemon. Rolling on the counter a bit beforehand also works.
Recipe by gfe--gluten free easily at https://glutenfreeeasily.com/super-garlic-lemon-broccoli/