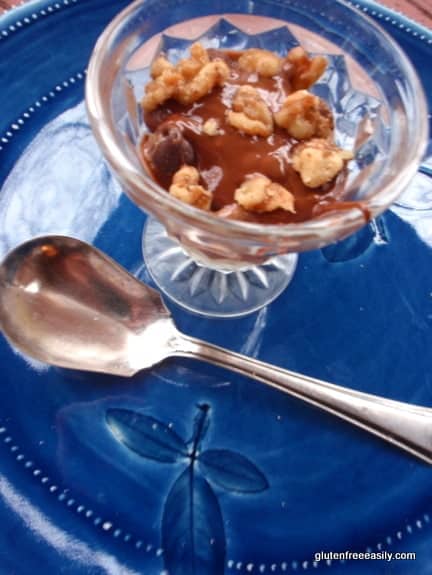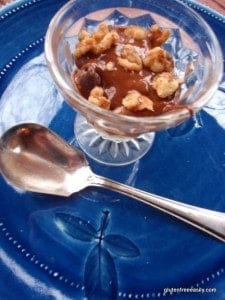 Super Mini Chunky Monkey Ice Cream Sundaes
These Super Mini Chunky Monkey "Ice Cream" Sundaes are tiny as far as sundaes go, but they have all the right flavors and are perfectly satisfying!
Ingredients
2 frozen mashed banana cubes (see instructions)
1 tbsp peanut butter, almond butter, or SunButter 
1 to 1 1/2 tbsp dairy-free chocolate chips 
1 tbsp coconut oil + 1 tsp coconut palm sugar + 1 tsp raw cacao powder (or cocoa powder), all combined and "melted" (see instructions and notes)
1 tbsp chopped walnuts
Instructions
Mash ripe bananas and spoon into an ice cube tray. Freeze. (Once frozen, you can remove from the ice cube tray and place in a Ziploc bag in your freezer to use whenever you'd like.)
When ready to make your sundaes, remove two banana cubes and place in your sundae dishes or bowls. Set aside for a few minutes as they need to thaw slightly.
Add peanut butter (or almond butter or sun butter) and chocolate chips (or coconut oil-cacao powder/cocoa powder-coconut palm sugar mixture) to a small microwave-proof bowl or small sauce pan.
Heat on High for maybe 15 seconds or so if using the microwave or heat on stove top until mixture starts to melt.
Stir and heat an additional 15 seconds or son in the microwave or on stove top, if needed. All should be melted; stir well.
Spoon the sauce over the banana cube in each dish.
Sprinkle with chopped walnuts.
Serve and enjoy.
Notes
Adapted from Lisa Whitley of The Crescent Wench.
If you are using liquefied coconut oil to make your chocolate topping, you will need very little heating time to create a smooth mixture. If using chocolate chips, you can sprinkle a few more on top of your melted chocolate topping if you wish.
Remember that chocolate chips tend to hold their shape when microwaved, so don't assume they are not melted and overcook them.
This recipe makes two Super Mini Chunky Monkey "Ice Cream" Sundaes. The dishes shown are very small. To give you an idea how small they are, I usually fill these dishes with toothpicks to serve with hors d'ouevres. That info and the fact that a banana "ice cream" cube is the base of this sundae gives you an idea of its ideal "super mini" size.
As I like to keep things super simple, I also tried making these sundaes with frozen 2-inch banana sections and that worked to a point, but the frozen mashed banana cubes work much better as "ice cream" resulting in a far more delicious treat.
Recipe by gfe--gluten free easily at https://glutenfreeeasily.com/super-mini-chunky-monkey-ice-cream-sundaes/