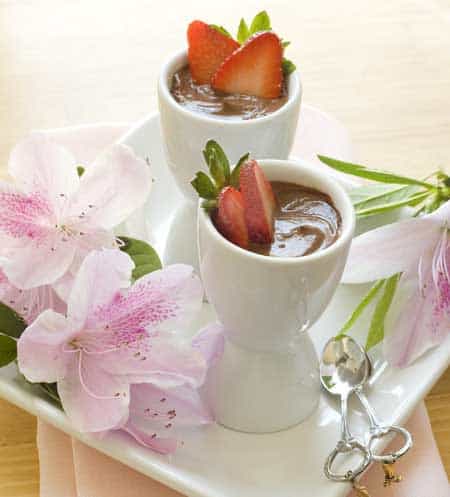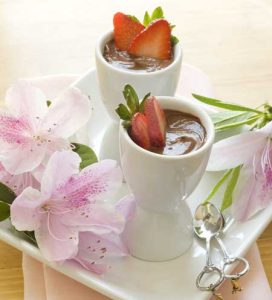 Chocolate Pots de Creme (Gluten Free, Dairy Free)
These Chocolate Pots de Creme are a fabulous gluten-free, dairy-free dessert. Make for a special occasion or make any day special by serving them!
Ingredients
One 13.5 ounce can coconut milk (full-fat coconut milk, not light)
9 ounces dairy-free, bittersweet chocolate, chopped (about 1 ½ cups) or good quality chocolate chips
1 teaspoon pure vanilla extract
1 large egg, lightly beaten
Berries for garnish, optional
Instructions
Bring 2 inches of water to a simmer in large saucepan. Turn the heat to low and keep the water at a bare simmer.
Shake the can of coconut milk well and pour into a heatproof mixing bowl set over the saucepan of barely simmering water, without the bottom touching the water. Add the chocolate and melt, stirring occasionally. Once the chocolate has melted, whisk in the vanilla and then the egg. Continue whisking over the heat until the mixture is smooth.
Transfer the mixture into a pitcher or spouted measuring cup for easy pouring, and divide among 6 small tea or cappuccino cups or ramekins and chill for 3 hours. The chocolate pots can be made a day ahead.
Garnish with fresh berries when serving, if desired.
Notes
Recipe reprinted courtesy of Carol Kicinski and St. Martin Press.
Courses Dessert
Recipe by gfe--gluten free easily at https://glutenfreeeasily.com/the-gluten-free-extreme-gfe-cookbook-giveaway-eight-awesome-cookbooks-eight-gfe-winners/