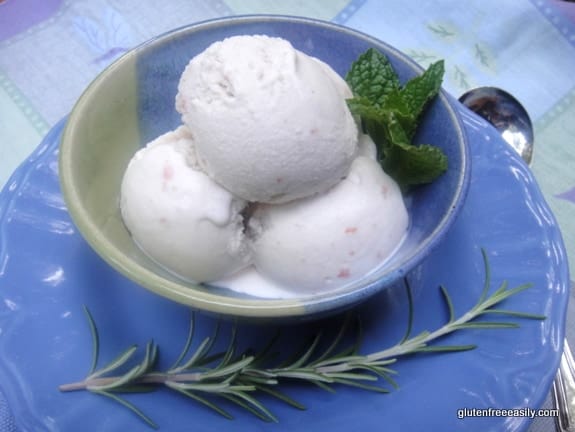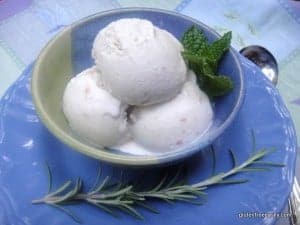 Tomato Rosemary Mint Ice Cream
This ice cream flavor combination is a surprise. A very pleasant surprise! The bits of tomatoes are fruity and stay super frozen and they're complemented well by the coconut milk-based ice cream and the rosemary and mint.
Ingredients
3 ½ cups, full-fat coconut milk, chilled (total amount; part "infused," see instructions)
2 small very ripe tomatoes, seeded, peeled, and chopped—about ½ cup
2/3 cup honey
¾ tsp molasses
one 8-inch sprig of fresh rosemary
Several pieces of fresh mint, chopped if you wish for stronger flavor (maybe the equivalent of a "loose" cup)
Instructions
Pour about 2 ½ cups of coconut milk into a large jar or bowl that you can cover. Add rosemary and mint; stir.
Refrigerate overnight (or longer if you want a stronger flavor). Remove rosemary and mint with tongs, shaking excess coconut milk off into jar or bowl as you do so; discard herbs.
Pour coconut milk through a fine mesh strainer into a 4-cup measuring cup.
Add additional chilled coconut milk until you reach 3-½ cup level.
Transfer coconut milk mixture into a large clean bowl (to ensure there are no herbal bits). Stir in tomatoes, honey, and molasses. Mix well. (I used a mixer.)
Pour into already frozen ice cream tub/bowl of ice cream maker and churn about 25 to 30 minutes. Freeze additional time if needed. Enjoy alone or as a topping to an overly sweet dessert!
Notes
Did you know that you can buy an extra tub/bowl for your ice cream maker? This is especially handy if you have a large family (or entertain often) and need double batches or are in an ice cream making mood and just don't want to wait another 24 hours for your tub to refreeze. My support group member, gfe reader, and friend, Jennifer R., shared that very helpful tip. For her family of five, 1 1/2 quarts of ice cream is just not enough!
Recipe by gfe--gluten free easily at https://glutenfreeeasily.com/tomato-rosemary-mint-ice-cream/