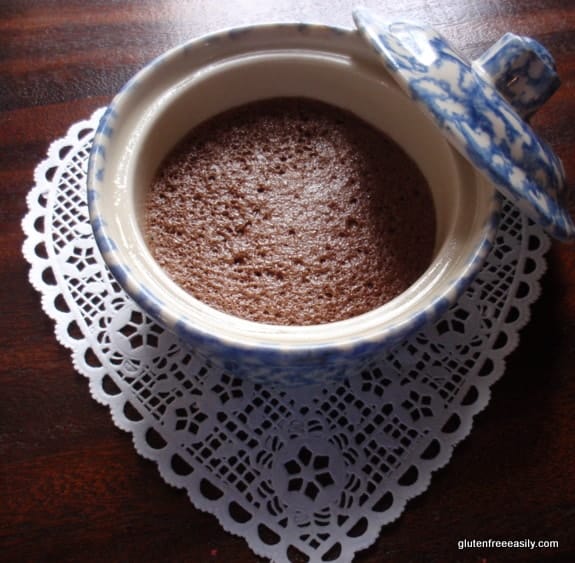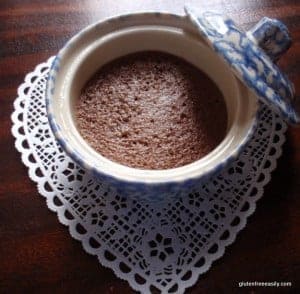 Brooke's Gluten-Free Molten Chocolate Cake
The classic flourless grain-free chocolate cake.
Ingredients
4 ounces bittersweet chocolate
1/2 cup unsalted butter
3 egg yolks
1/4 cup granulated sugar
3 egg whites
Instructions
Lightly grease three ramekins with butter.
Melt the chocolate into the butter in a double boiler and let cool just a tad.
Beat the egg yolks and sugar and mix into the chocolate.
Beat the egg whites in a bowl until they form soft peaks.
Fold the chocolate into the egg whites.
Pour the batter into the ramekins, no more than 2/3rds full.
Bake in a preheated 400F oven for about 7 to 10 minutes. The outside will be set and possibly crack and the inside will still be liquid.
Let cool for a few minutes and then run a knife round the edges and tip onto a plate. (Optional; feel free to eat it right out of the ramekin with a spoon.)
Notes
Some nice variations on this are adding chili and cinnamon for a spicy flair (as seen here), a raspberry coulis or perhaps some delicious whipped cream. This dessert is so simple that anything you put on it will taste absolutely marvelous. In addition, you can prepare the batter days ahead of time and cook it the night of. One warning though, I've found that it is sometimes a little difficult to get them out of the ramekin so if you find a way to do it better, then please tell me!
Recipe by gfe--gluten free easily at https://glutenfreeeasily.com/un-molten-lighter-chocolate-cake-molten-chocolate-cake/