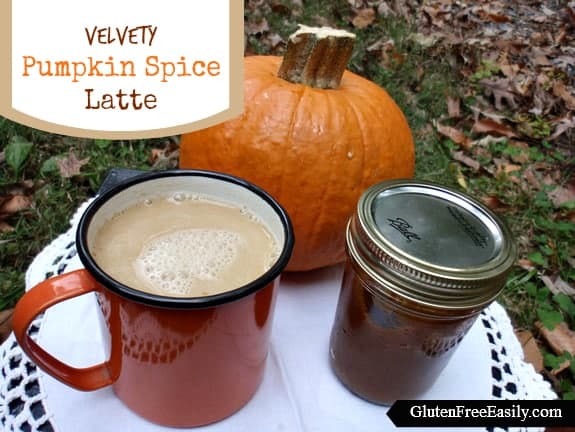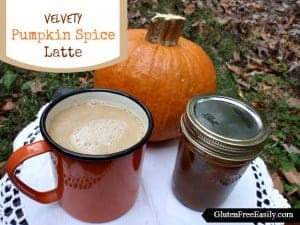 Velvety Pumpkin Spice "Latte"
Yield 1
Ingredients
About 1 ½ cups of unsweetened almond milk (or any milk of your choice; see notes)
About 3 tbsp pumpkin butter (I used this gfe recipe, but ready-made pumpkin butter can be used)
Instructions
Stovetop method:
Add milk to saucepan. Heat over medium to medium-high heat. Slowly stir in pumpkin butter. (I use my mini whisk, which is great for mixing single servings of beverages.) You want the latte mixture to steam, but not boil, so be vigilant. Fill mug. Enjoy!
Microwave method:
Fill mug to almost full; leave about ¾ to 1 inch at the top. Whisk or stir in pumpkin butter. Microwave on HIGH for about 2 ½ minutes, hitting PAUSE to stir about halfway through. Enjoy!
Notes
I love this non-coffee pumpkin spice latte made with almond milk. The texture is perfection---velvety smooth. It actually looks like pumpkin pie "batter," too. If you want to substitute full-fat coconut milk, you'll want to use a mixture of full-fat coconut milk and water. If you have a mug that holds 1 1/2 cups, I recommend using about 1 1/4 cup of full-fat coconut milk and 1/4 cup water. Cashew milk is another great option. And if you consume cow dairy, then regular milk would be fine, but I would use regular milk or 2% milk. If you drink Vanilla Almond Milk, you may not need as much pumpkin butter, but your Vanilla Pumpkin Spice Latte will no doubt be equally delicious. You may top your latte with some of my gluten-free, dairy-free Honey Whipped Cream (agave nectar may be used instead of honey) or Diane's "original" gluten-free, dairy-free, vegan Whipped Cream for a truly decadent delight.
Courses Beverage
Recipe by gfe--gluten free easily at https://glutenfreeeasily.com/velvety-pumpkin-spice-latte-and-five-other-kid-friendly-seasonal-hot-beverages/