For affiliate links and as an Amazon Associate I earn from qualifying purchases.
These beautiful grain-free Nut Butter Banana Chocolate Chip Muffins (or Seed Butter Banana Chocolate Chip Muffins, if needed) are the result of me participating in this month's Adopt A Gluten-Free Blogger event. Adopt A Gluten-Free Blogger is one of my very favorite gluten-free blogging events/roundups because it is all about bloggers highlighting the best in other bloggers and all of us getting to know each other better.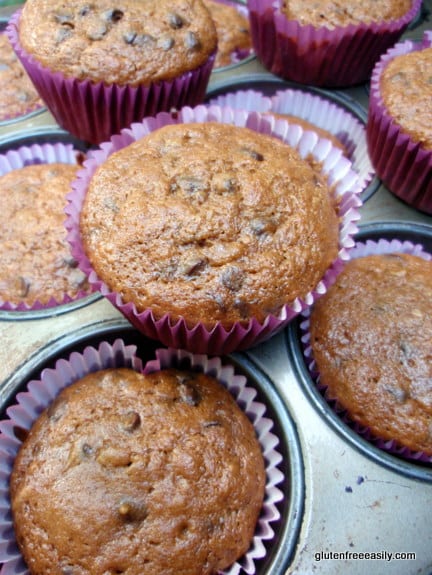 This event was created by Sea of Book of Yum (unfortunately, this site is no longer active). Sea is on an educational sabbatical to Japan, so others are pinch-hitting for her. This month Sunny of And Love It, Too! is hosting. I haven't been able to participate for the last few months and this time I just squeaked in under the wire for the sign-up deadline. I was so tickled—and extremely grateful—to see that Sunny had adopted me!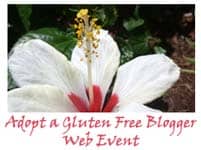 I adopted Brittany of Real Sustenance (this blog is no longer active but you can find Brittany at her new site, Brittany Angell). Brittany and I first met last year at the Gluten-Free and Allergy-Free Expo, but we had been online friends a good while beforehand. I loved her infectious enthusiasm, and of course, her recipes!
I'd say that Brittany is best known for her baking recipes, which almost always generously include numerous options/substitutions for those who have additional food intolerances. She is always trying to create that next "I Can't Believe It's Gluten Free" recipe.
Think Gluten-Free Samoas. Think Homemade Twix Bars (Two Ways—Grain Free or Grain Full). Think Mozzarella Sticks. You get the idea. So the gluten-free community was thrilled when she and Iris of The Daily Dietribe banded together to write The Essential Gluten-Free Baking Guide, Part 1 and Part 2.
These Triumph Dining publications of theirs have received nothing but rave reviews. Personally, I have not yet reviewed these cookbooks, but some of my gluten-free blogging friends have and raved right along with everyone else.
Honestly, it's rare for me to see a recipe of Brittany's that I don't want to make immediately. She and Iris experimented day in and day out with a multitude of flours and starches to create The Essential Gluten-Free Baking Guide. It was a mix of white rice flour, garbanzo bean flour, and potato starch that she used to create the amazing Cinnamon Chocolate Babka Bread for my Home for the Holidays—Gluten Free Style event.
Lately, my interests have gone more to making grain-free recipes, but that's not a problem because Brittany and Iris addressed grain-free flours and starches in their book, and Brittany currently focuses on grain-free recipes.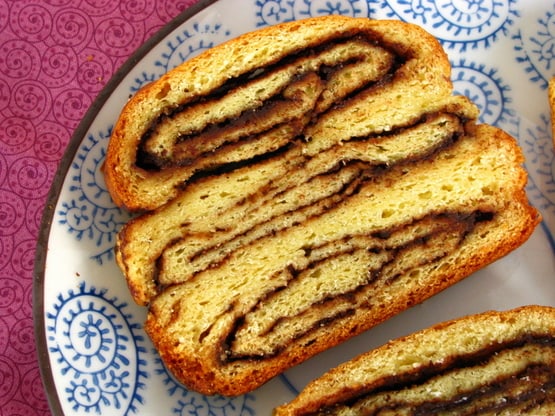 photo courtesy of Real Sustenance (Home for the Holidays–Gluten-Free Style)
Specifically, I've been eyeing Brittany's chestnut flour recipes for a while. I've done some minimal experimenting with chestnut flour, but have not had great luck, so I wanted to take advantage of all of Brittany's expertise with this flour. I decided to make her Nut Butter Banana Chocolate Chip Muffins.
I thought that I had just enough almond butter, but the actual amount that I had (left over from my apple with almond butter breakfasts) fell about a tablespoon short of the ½ cup required. So I substituted mashed avocado and it worked beautifully!
The resulting muffins are truly exceptional. They are rich and satisfying. The texture is truly better than that of any grain muffin. Son, Son's friend, and I all loved them!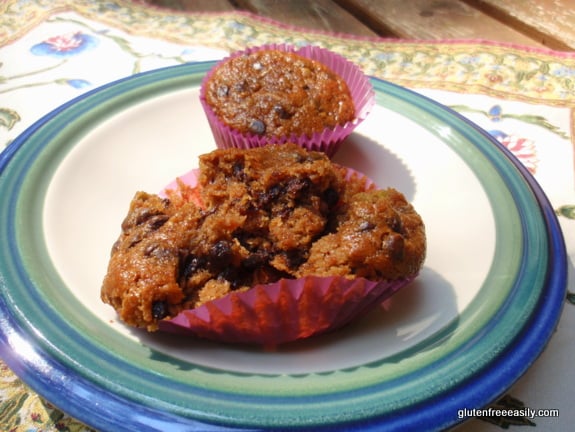 That was the only recipe I got to try this time around, but I plan to make Brittany's latest recipe this weekend—Grain-Free, Thick Crust Pizza! I can't wait for Son and me to give this one the taste test. Even before this recipe, Brittany has been known for her pizza. It was her Gluten Free/Vegan Chicago Style Deep Dish Pizza that she demonstrated at the Expo in Chicago last year.
Pizza is a food that gluten-free folks crave and Brittany made sure that her pizza recipe was also perfectly apropos for the locale. Needless to say, it was very well received!
UPDATE: I made Brittany's Grain-Free, Thick Crust Pizza; it's a winner! I was able to make a 9-inch pizza (versus the 8-inch one she recommends) and it was still plenty thick. I might try a 10-inch version next time. I snapped some quick, decidedly non-award winning photos before we ate this pizza for lunch, but you can at least get a sense of how tasty and attractive this pizza is.
Incidentally, one surprising bonus of this pizza is how filling it is—one piece was more than enough for me. This pizza can feed all three of us; which makes it even more of a winner in my book! Note that my pizza looks a bit different than a traditional pizza as there's no cheese. The sauce is a mixture of pizza sauce and Creamy Basil Majestic Garlic Spread. You'll want to top yours with your favorite toppings as always.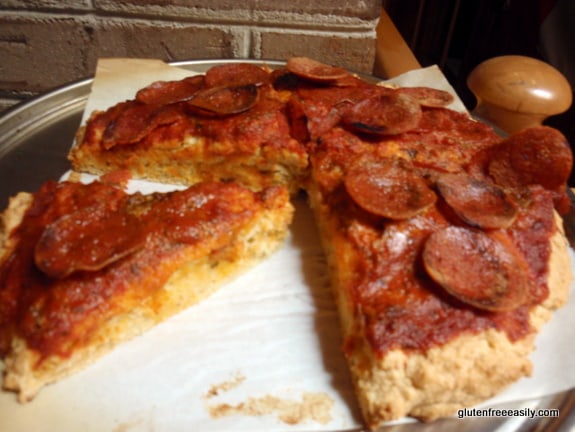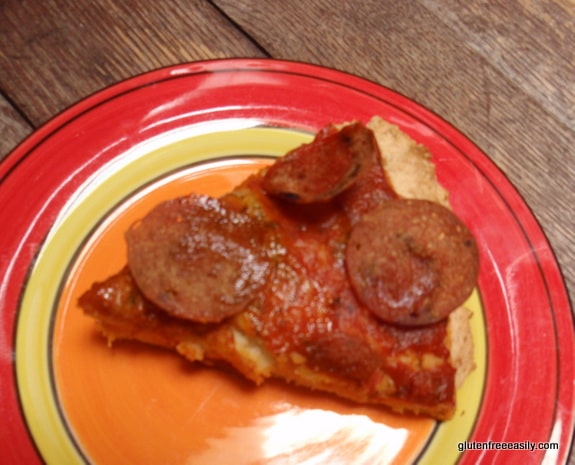 Check out Brittany over at Real Sustenance if you aren't already a fan!
Originally published August 3, 2012; updated February 5, 2021.