For affiliate links and as an Amazon Associate I earn from qualifying purchases.
Today's recipe for Flourless Chocolate Cake (Gluten Free) is THE dessert for special celebrations. We will be hosting our biennial Valentine's Day party on the actual day this year, Saturday, February 14.
It's a fun, sort of "over-the-top" affair that we have been doing for many years as a gift to ourselves, and to our dearest friends—our many sweethearts, so to speak. We have a live band—in our living room!—and tons of wonderful food and drink for everyone to enjoy. There's dancing and catching up between people who see each other regularly and others who only run into each other at our parties every two years.
I purposely plan the party menu so it consists of finger foods as much as possible. (I don't want to be dealing with beaucoup de dishes and silverware in the aftermath.) However, I make an exception for two dishes—both desserts, which is quite understandable in my opinion. This Flourless Chocolate Cake (Gluten Free) is one of them.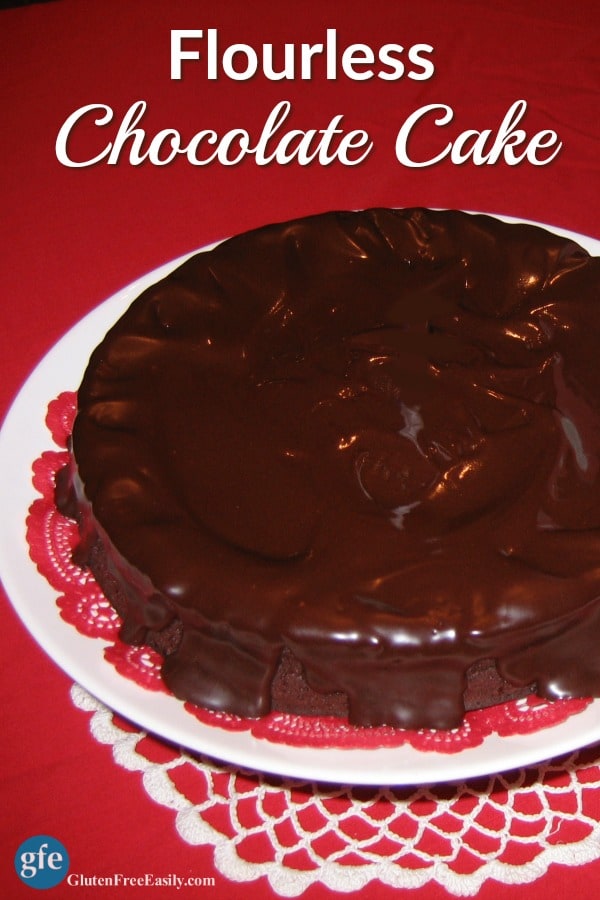 The other is the truly exceptional crème brulee that my oldest and sweetest girlfriend, "Fred," provides. She makes an assortment of different varieties; e.g., classic and lavender … sometimes adorned with such lovelies as tiny raspberries. So very lovely and, of course, so very delicious.
My flourless chocolate cake is one that I make only for very special occasions. Typically, I make this recipe about once a year. I don't want this dessert to become ordinary.
Plus, seriously, if you make it too often, there might be a death, because a "death by chocolate" dessert it is indeed! But, if you can't help yourself … baby, what a way to go!
So, the flourless chocolate cake is on the menu for the upcoming Valentine's Day party. And when my girlfriend, Veronica (also affectionately known as V-grrrl or V) invited me to her all-girls birthday party this past weekend, well, I knew I just had to take this cake.
I mean it's the perfect dessert for a girls' gathering! Chocolate for women is a no-brainer, don't you agree? We really love our chocolate.
Hmmm, is it love or is it need? In this case, I think the two go hand in hand.
This cake is dark chocolate—rich and pleasantly intense. It makes a spectacular presentation with the chocolate-honey glaze beautifully spilling over its sides. And did I mention that it's easy to make? Unlike with most flourless chocolate cake recipes, with this one, you don't even have to separate the eggs. Honestly, I absolutely love that fact.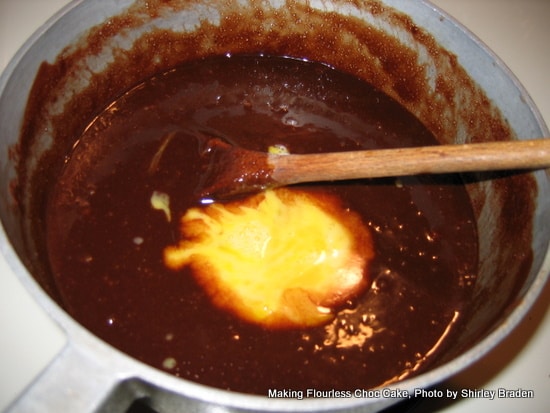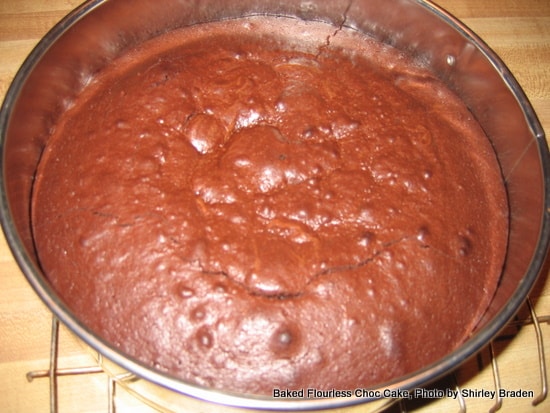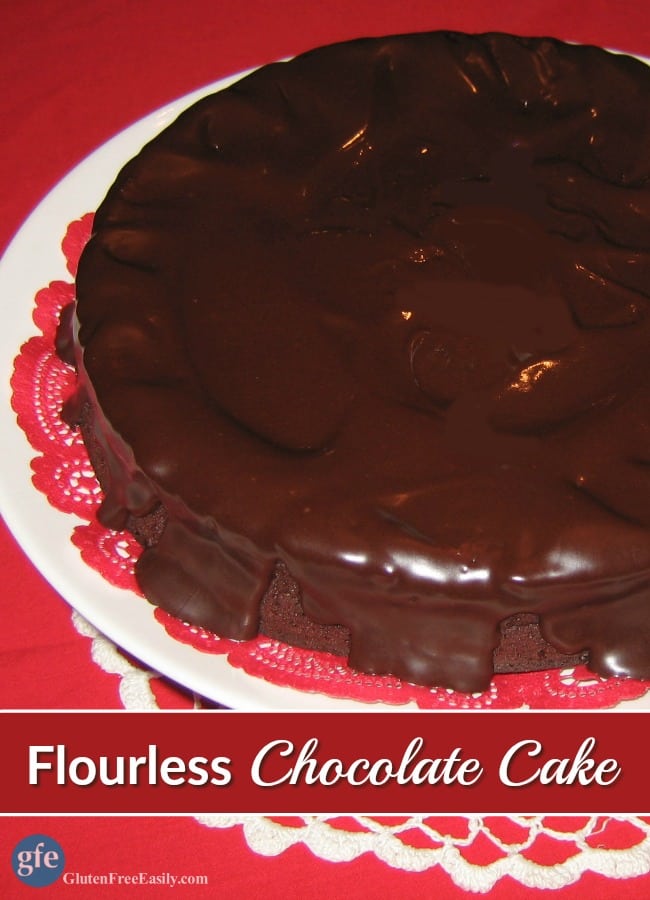 Back to the party though. After we finished some delicious appetizer fare with our wine (and lots of equally delicious "girl talk"!), we were ready for dessert. Everyone sampled the chocolate cake and I know I heard at least one little moan … oh wait that might have come from me! LOL But, seriously, all raved over the cake; nary a morsel was left on any plate.
Some of the girlfriends enjoyed theirs with a freshly brewed cup of coffee, but this chocolate sensation also makes a terrific pairing with a fine cabernet sauvignon! V-grrrl later posted about her birthday party (including two mentions of my chocolate cake—thanks, V!) on her blog (now inactive).
By the way, my mother says this cake is "too much" for her. However, clearly, my sister and I have evolved! 😉
That said, I would never make this cake solely for my own enjoyment. It is best made for a gathering of many and because only small portions are needed—this one cake can serve very many.
In fact, V-grrrl had many goodies left so she sent the remaining cake home with me. I sliced it into bite-sized squares and took it to my sister and brother-in-law's Super Bowl party—more sweethearts to serve! Everyone was grateful. I may do the same on Valentine's Day … so all our sweethearts who want to indulge can just pop one in their mouth and keep dancing!
Flourless Chocolate Cake Recipe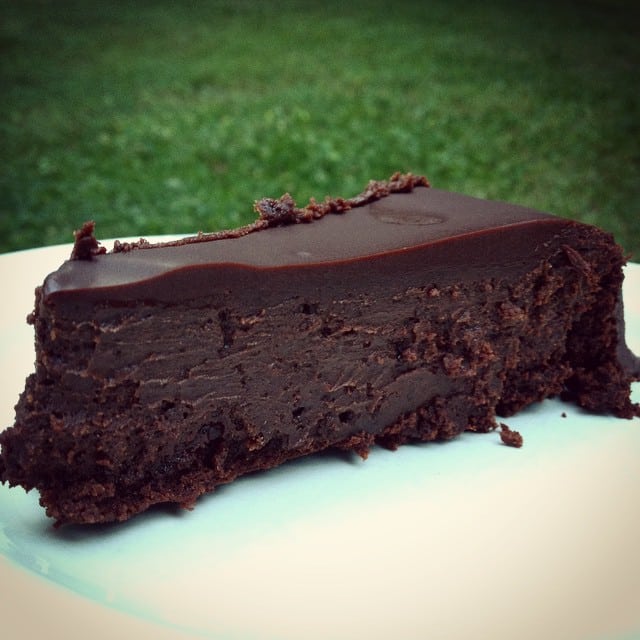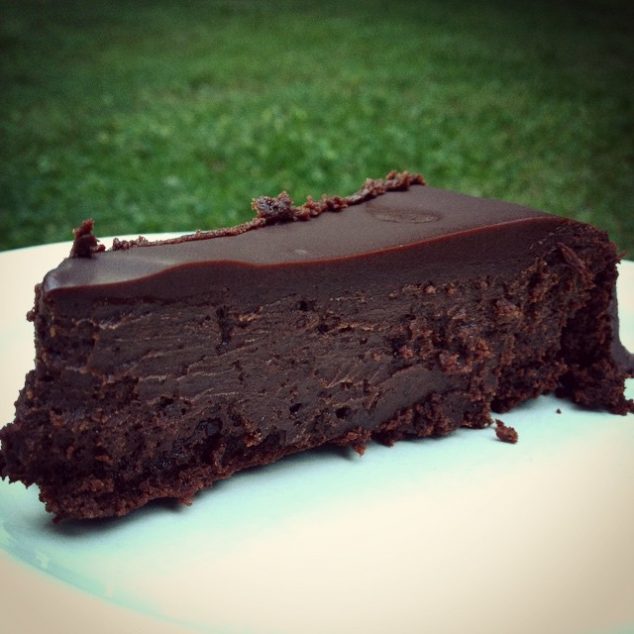 Yield: 16 slices
Flourless Chocolate Cake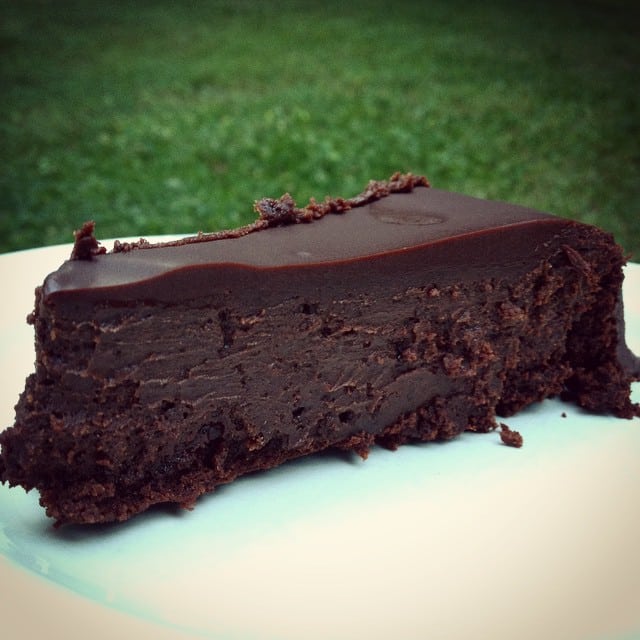 There are three words to describe this cake: Death. By. Chocolate.

Prep Time 10 minutes

Cook Time 40 minutes

Inactive Time 10 minutes

Total Time 1 hour
Ingredients
Cake
8 oz gluten-free semi-sweet chocolate chips
2 sticks butter (1 cup), cut into 4 pieces each (see notes regarding dairy-free options)
1 1/4 cups granulated white sugar (or coconut sugar)
6 eggs, lightly beaten
1 cup unsweetened cocoa powder (or raw cacao powder)
Glaze
4 oz gluten-free semi-sweet chocolate chips
3 tbsp butter (see notes regarding dairy-free options)
1 tbsp milk (see notes regarding dairy-free options)
1 tbsp honey
1/4 tsp vanilla extract
Instructions
For the cake:
Preheat oven to 375°F. Spray a 9-inch spring-form pan or 9-inch round cake pan with non-stick spray or butter. Line bottom with a circle of wax or parchment paper and spray the paper. (I used the spring-form pan and parchment paper, and sprayed with non-stick spray. I like Trader Joe's coconut oil spray or olive oil Pam.)
Place chocolate and butter in a medium- to large-sized pan over medium-low heat. Stirring often, melt the chocolate with the butter until completely blended. Remove pan from heat. (Alternately, you may use your microwave to melt the butter with the chocolate, if desired. If you go this route, remember that chocolate chips don't change their shape when melted in the microwave, so it's easy to burn them.) Add sugar and mix well. Add eggs, a little at a time, and mix well. Sift cocoa onto mix and stir until just blended. Pour batter into prepared pan and bake for 35 to 40 minutes or until the cake has risen and the top has formed a thin crust. It may crack just a bit. The cake should be just firm in the center when done. (You can tell when you touch it.) Cool cake for 10 minutes, then invert onto a plate, removing sides if using a spring-form pan. Remove parchment/wax paper and allow the cake to continue to cool.
For the glaze:
While cake is baking, prepare glaze. In a small saucepan over medium-low heat, melt chocolate chips with butter, stirring frequently until smooth. Remove from heat. Stir in milk, honey and vanilla. Set aside to cool slightly. (Don't worry about the glaze hardening too much. It stays the right consistency ... most likely because of the honey. You know how I feel about honey!) When cake has cooled, pour glaze onto the center. Using a spatula or the back of a spoon, very gently smooth the glaze along the top and sides of the cake. (As you use the spatula, you can just push the glaze so it dribbles nicely down the sides.) Chill for at least 30 minutes before serving. This sets the glaze and makes the cake easier to slice. (The cake will soften up after sitting for a while, but not terribly.)
Notes
I adapted this recipe from one found several years ago on the Whole Foods site. I tweaked the original recipe (slightly different from the version currently shown on their site) to use ingredients found in any grocery store, which makes the recipe gfe!

Readers have made this recipe dairy free by using ingredients such as coconut milk and coconut oil; be sure to read the comments. This cake can also be topped with a dollop of whipped cream or dressed with fruit. FYI---my sister likes her slice of this cake plain but warmed with a cup of tea for breakfast. Oh, so bad ... but yet, oh, soooo good!

Originally published February 3, 2009; updated July 1, 2023.