For affiliate links and as an Amazon Associate I earn from qualifying purchases.
The other day I mentioned my Everything Soup, which is made primarily from tidbits of leftover cooked meat, seafood, and vegetables I stash in the freezer. (Using vegetables and vegetable broth for a vegetarian/vegan version can also work.) Some folks commented that they thought this was a novel idea, and a good one. Maybe these folks were just being kind (and thank you if you were!), but I thought I'd go ahead and share how my Everything Soup works (and also share my easy gluten-free Flat and Firm Cornbread recipe). This step-by-step description might also be helpful for folks who don't make soup on their own (i.e., throwing in ingredients as you go without a real recipe). Hopefully, it will lead many of you to some fun soup experimentation with different meats, seafood, and/or vegetables.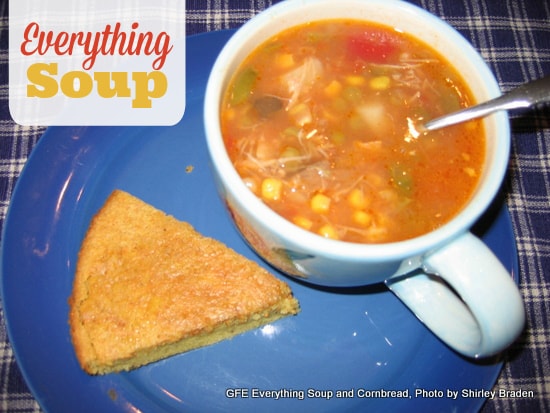 After I had cleaned out my freezer recently (as shared here), I turned my attention to making a pot. I transferred all the ingredients I wanted to use for this batch of Everything Soup to the refrigerator for overnight thawing. The old Tupperware container was full. It held leftover vegetable broth (liquid from cooking vegetables), some bits of beef from a roast, plus various vegetables, like corn, peas, green beans, and carrots—alternating layers of brown, yellow, green, and orange … not unlike one of those colorful jars of layered sand.
The freezer also held a roasted chicken carcass (with the drumsticks left), other small containers of leftover vegetables, and several small packages of meat: rib eye and sirloin steak, turkey, and some more chicken. (No single amount was more than 1 ½ cups. In fact, some were only a tablespoon or two. I really am talking about small amounts that I save.) I also scour my refrigerator for possible additions. This time I immediately found chopped onion, garlic (of course), and some peas with pearl onions and mushrooms.
I drained the Tupperware container through a colander into my soup pot. I set the container still holding vegetables and some beef aside. I heated the pot containing the leftover liquid from the vegetables to boiling, added the chicken carcass and then once the liquid returned to a boil reduced the heat to simmer for about 30 minutes. I drained the liquid, now broth, into another pot through the colander. Once it cooled, I picked the chicken off the bones and set it aside. (There was actually so much chicken, that I decided on the spot to use a good amount of it to make chicken quesadillas for lunch a little later. A happy bonanza … as prior to that I was clueless on lunch ideas!)
I returned the broth to the main soup pot. I placed the pot on the table on my screened porch for a while. (The screened porch is my auxiliary winter refrigerator. LOL With it, there is no need to tax the cooling or space of my conventional refrigerator.) I planned to partially de-fat the broth before proceeding. (While this can be a good fat in my opinion—depending upon meat and source—I didn't want too much fat as far as taste and texture.)
While the broth was cooling, I turned my attention to making chicken quesadillas for lunch. Nothing fancy—corn tortillas, most of the chicken from the simmered carcass, some salsa, and some grated sharp cheddar cheese—but oh, so good!) Then I checked the pot of broth prepared to skim off any fat, but, happily, there wasn't enough fat to skim.
So I returned the soup to the stove and slowly brought it back to a simmer. There were about eight small white potatoes in the pantry, so I peeled and cubed those and threw them in the pot. (Typically, I also add sliced or diced carrots at this point, but there were some in the freezer container already cooked that I planned to add later, so I didn't need to add additional carrots.) The potatoes simmered gently about 20 – 30 minutes until they were fork tender.
Then I added two cans of diced tomatoes–one large can of regular-sized diced tomatoes and one small can of petite-sized diced tomatoes. I also added the other half of the jar of salsa (that I had used for the quesadillas). I returned the pot to simmer mode, letting the tomatoes cook down a bit until the broth looked like pale tomato juice. I tasted the broth to see if additional flavoring was needed.
At this point, I sometimes add some bouillon (chicken, beef, or ham, depending upon which flavor I want to enhance), but this soup already had a nice chicken flavor. Finally, I added the vegetables and the meat and let the soup simmer for another half hour. When the soup was "soup," we weren't quite ready to eat, so I returned it to the porch refrigerator, letting all the flavors meld. I gently heated it later when we were hungry.
In summary, here is a basic recipe for Everything Soup.
Everything Soup Recipe
Yield: 1 large pot of soup
Everything Soup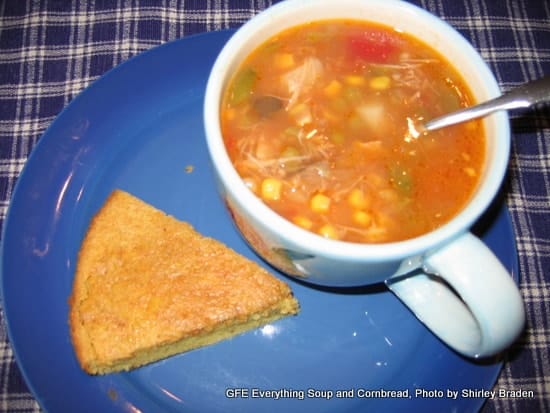 This is a clean-out-the-fridge/clean-out-the-freezer type recipe. It never tastes exactly the same when you make it but it is always delicious!

Cook Time 1 hour 30 minutes

Inactive Time 8 hours

Total Time 9 hours 30 minutes
Ingredients
Leftover frozen meat, seafood, vegetables, and broth
Chicken carcass or ham hock
Potatoes, diced
Carrots, sliced
Onion, chopped
Garlic, minced
Tomatoes, diced
Seasoning to taste
Instructions
Thaw out the leftover bits and broth overnight (or all day) in refrigerator.
Strain vegetable/meat broth into the soup pot and bring to a boil.
Add chicken carcass or ham hock to vegetable/meat broth (add water, chicken or other stock/bouillon, if needed). Return to boil and then simmer until meat comes off bone (about 30 minutes or so).
Strain. Set meat aside to cool. Remove usable meat. Cut into bite-sized pieces.
Add potatoes, carrots, onion, garlic, and tomatoes to the pot of broth. Simmer 20 – 30 minutes until tender.
Add the leftover vegetables and meat. Simmer another 30 minutes. Add any additional seasoning to taste.
Serve alone or with GF crackers or GF bread, like my popovers or my cornbread (recipe below).
Notes
Empty jars can work great for freezing leftovers. Just leave some empty space at the top for the freezer expansion.

FYI—If you wait as long as I did to make your Everything Soup, you will end up with a huge pot! It's perfect for a large family, but since it's just the two of us at home, I always take this opportunity to share with others. I either ask folks to join us for an impromptu meal or jar my soup to deliver to family and friends, so it's never a problem. Besides, I have a thing for feeding people. LOL But, who doesn't appreciate someone showing up on the doorstep with a hot meal? Sharing my homemade meals is also an easy way to show folks that GF food tastes "normal" and that it's easily made using simple recipes with real ingredients.
That first evening we enjoyed the Everything Soup by itself for dinner. Since it's chock full of good stuff and very filling, that's all that was needed. However, the next day I wanted to share the soup with some family members, in this case, three different households. Soup alone—even very appealing soup—often does not make as good an impression as it would if accompanied by some type of bread and a simple dessert. So I also made cornbread and some peanut butter cookies. Let me tell you … that ensemble looked very attractive in a napkin-lined basket and was well received by all!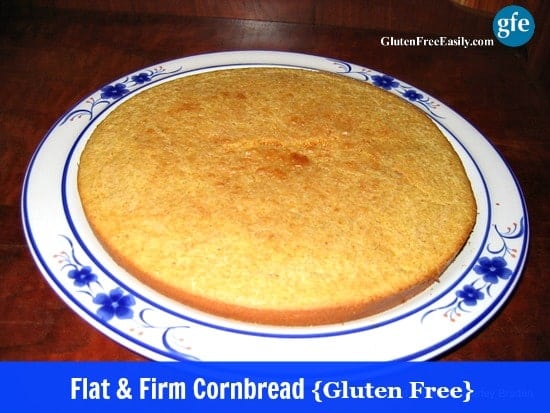 Flat and Firm Cornbread Recipe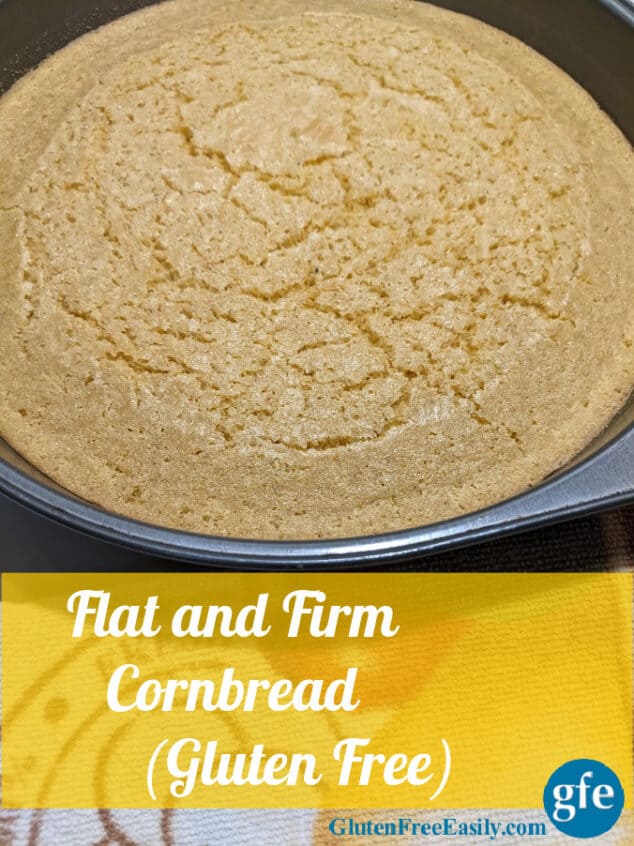 Yield: 8 slices
Flat & Firm Cornbread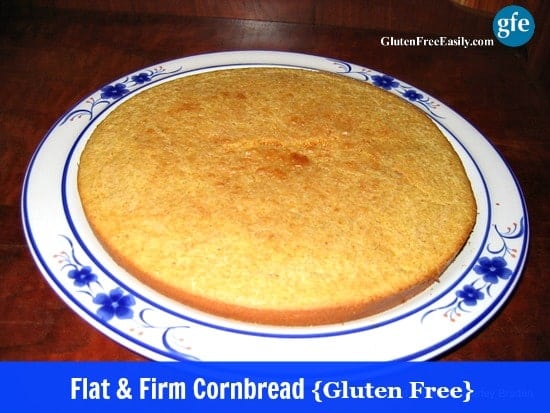 This is old-fashioned cornbread, folks. There is no sugar added, so the emphasis is on the corn taste and the corn texture versus sweetness. We love this cornbread with soup and lots of other meals.

Prep Time 5 minutes

Cook Time 30 minutes

Inactive Time 5 minutes

Total Time 40 minutes
Ingredients
1 cup yellow corn meal (ensure it's gluten free, preferably certified gluten free)
1/2 teaspoon salt
1 teaspoon baking powder
1/2 teaspoon baking soda
1 cup buttermilk (see notes below for homemade version, including dairy-free option)
1 large egg
2 tablespoons butter, melted (or dairy-free "butter" or coconut oil for dairy-free version)
Instructions
Mix dry ingredients.
Stir in other ingredients.
Pour into greased 8-inch round cake pan or 8-inch square baking dish.
Bake 30 minutes at 350F degrees. Cornbread will be golden brown (as shown in picture above) when ready. You can also test for doneness by the usual toothpick test.
Let cool for 5 minutes. Remove from pan. Cool a bit more and then cut into wedges. (I like to use a serrated knife.)
Notes
You can make your own "buttermilk." Put 1 tablespoon of vinegar or 1 tablespoon of lemon juice into a measuring cup. Add enough milk (dairy or dairy-free) to make 1 cup. Let sit 10 minutes. I really like this method because you can use ingredients on hand, it's economical, and, in my opinion, the taste is pretty much the same as if you had used real buttermilk. Or, you can use Saco Buttermilk Blend and water. As I write this, Saco states that their buttermilk blend is gluten free. (I've used this product successfully, with no issues in the past, but always double check ingredients/processing information and use to your own comfort level.)

Rather than baking 30 minutes in a cake pan, another option is to pour batter into a preheated, greased cast iron skillet and then finish the baking process in the oven. It only takes about 15 – 20 minutes to bake using this method and you get the bennies from baking using cast iron. By the way, my cornbread looks quite thin because I used a 9-inch cake pan. It was just "happenstance," but the cornbread obviously does go a bit further when a 9-inch pan is used and I don't think anyone feels deprived with their portion.

Johnna of In Johnna's Kitchen reports that she loves to use this cornbread to make cornbread stuffing. She says you'll get about 3 cups of 1-inch squares from this recipe.

This cornbread recipe was adapted from one on the celiac listserv.

Go ahead … start throwing your leftover tidbits in the freezer so you can soon make a pot of Everything Soup (those tidbits add up more quickly than you'd think!). Until then, you can make some delicious cornbread. Enjoy!
Originally published February 8, 2009; updated November 29, 2022.