For affiliate links and as an Amazon Associate I earn from qualifying purchases.
I haven't really missed bread since going gluten free. And, by that, I mean bread in the traditional form—loaf or sandwich bread. I'm all about alternative gluten-free breads like these amazing gluten-free popovers.
However, I know many gluten-free folks who are on an ongoing quest to find the best gluten-free sandwich bread. They don't want to face a life without traditional sandwiches. The pursuit for a gluten-free sandwich bread that is "worthy" can be a frustrating one. Often the seekers give up and buy a breadmaker and start making their own bread using GF recipes or pre-made mixes. Faithfully, they make bread once or twice a week to have sandwich bread on hand. That is a totally fine approach if that works for them. (I even came up with a whole series, The Bountiful Bread Basket, to help you achieve great homemade gluten-free bread.) But, I believe in being gluten free easily, i.e., not just gf, but gfe, so I usually skip the sandwich bread.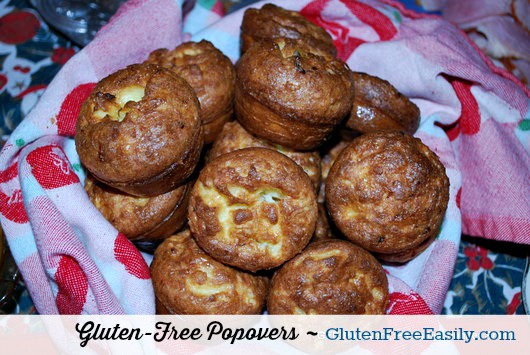 Having to make bread once a week or always have the favorite gluten-free bread on hand does not equate to easy to me. I am as happy as can be with a chicken or tuna salad on lettuce or a slice each of ham and Swiss cheese rolled up for my "sandwich." Plus, I just don't feel great when I eat gluten-free bread on a daily basis, even gluten-free bread, and especially ready-made gluten-free bread. I think it's often the result of a combination of too many carbs and too many odd ingredients.
Homemade Gluten-Free Bread is much different and can be a wonderful thing for sure. (An excellent breadmaker and equally good recipe for making bread in your breadmaker can help tremendously if you want homemade loaf bread!)
However, I don't often indulge in that either. But (there's always a but, right?), I do love to make gluten-free muffins (both sweet and savory) and gluten-free popovers from time to time. I typically make them when I know I can't personally overindulge; e.g., for our support group meetings, as part of a meal for a friend, when our son is home from college, or when we are having guests. Generosity is sometimes just self-protection, you know? LOL
Popovers … ah …doesn't just saying the word make your whole face smile and your tummy start making those little hungry noises? When the folks in our celiac/gluten intolerance support group start waxing poetic about good gluten-free bread, I make muffins and popovers for them. The result is a very happy support group!
For our holiday meeting, I selected standard fare for the entrees I was preparing: turkey breast and ham.
The Super Easy Turkey Breast I cooked in my slow cooker (only two ingredients!) and the gluten-free ham was a Smithfield spiral-sliced ham ready-to-go variety. Admittedly, holiday meals just call out for some type of bread, so I made my popovers. (In the photo below, you'll also see what's left of Jennifer's Best Ever Salmon Cakes and two of our favorite pies: Easy Crustless Apple Pie and Crustless Coconut Pie.
This recipe is the simple popover recipe you can find in any basic cookbook or online, but I adapted it to be gluten free by replacing the all-purpose flour with my Two-Ingredient Gluten-Free Flour Mix. Look at the close-up picture, folks. These are GOOD. Crusty on the outside and tender and airy on the inside.
More Gluten-Free Rolls Recipes You'll Want To Try
~ The Best Gluten-Free Croissant and Crescent Roll Recipes
~ The Best Gluten-Free Roll Recipes (Over 30 Recipes)
Gluten-Free Popovers Recipe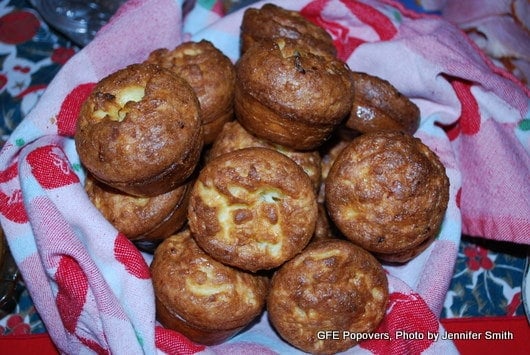 Yield: 8 popovers
Gluten-Free Popovers ("Better than Sliced Bread")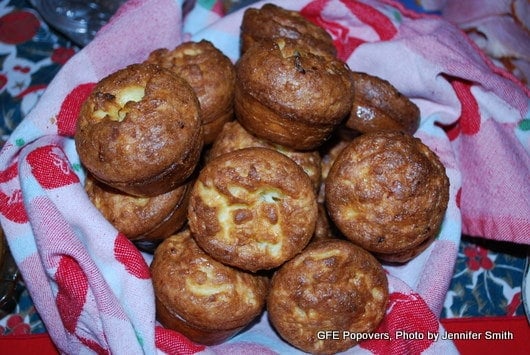 A great way to get delicious gluten-free bread on the table without fooling with making a loaf!

Prep Time 10 minutes

Cook Time 40 minutes

Total Time 50 minutes
Instructions
Preheat oven to 450F degrees. Generously grease 8 standard-size muffin cups or cups of a popover pan. In a bowl, combine eggs and salt. Beat until light and airy. Stir in milk and beat until light and airy. Add flour and xanthan gum, and mix until smooth.
Fill muffin cups about ¾ full. Bake 20 minutes. Reduce oven temperature to 350 degrees and bake about 20 minutes longer, until popovers are golden brown. They should be crisp on the outside (as you can see in the photos). Remove and serve at once.
Notes
Recipe makes 8 popovers, but I double and triple it as needed with no issues.

See my gluten-free all-purpose flour mix here. It's simple, economical, and works well!

Some people recommend piercing popovers when they reduce the oven temperature at the half-way point (or at the very end and leaving in another minute or two), to make them drier. That's up to you, but dry is typically NOT something we are looking for in gluten-free recipes. I love that these are super moist; that factor is especially great for reheating.

Make these and report back … or better yet, invite me over to dinner! Being in guest mode also prevents me from overindulging.
Special thanks to my very dear friend, Jennifer Smith, for taking and sharing these photos!
Originally published January 4, 2009; updated November 12, 2023.