With summer here and so many of us avoiding using our ovens, I thought it was time to revisit this post from my gfe bread series, A Bountiful Bread Basket: Gluten-Free Bread Recipes, on making gluten-free bread in a bread machine.
Not only does using a bread machine (you might call it a breadmaker) just seem more "doable" to many than making a loaf of bread from scratch and having to remember to do all the steps correctly. Baking bread in a bread machine also keeps almost all of the heat out of your kitchen. A bread machine is actually a compact oven so using one is similar to using a toaster oven versus a standard oven.
Some of you are not sure which brands of bread machines are best for making gluten-free bread. And some of you want to know how to take a great gluten-free bread recipe that calls for the bread to be baked in the oven and instead make it in your bread machine.
I'm happy to say that I've called on some gluten-free experts to give you the answers to both those questions in Part 3 of our series, A Bountiful Bread Basket, Part 3: Top 20 Best Gluten-Free Bread Machine Recipes, Plus More Info on Bread Machines.
I've also added many new reader reviews of these recipes as new folks are always trying these recipes and providing feedback to the recipe creators. I'm sure you'll want to know what they have to say as many also provide information on substituting ingredients as well.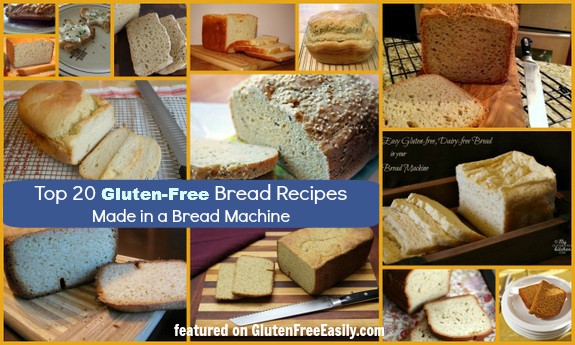 …