We're full in holiday season now and most of us are purchasing and/or making gifts for friends and family. I always make a few of my gifts and I know that my food gifts are always well received.
We all have to eat, right? And food gifts are wonderful, "no-clutter" gifts. Like this Perfect Pumpkin Bread shown below.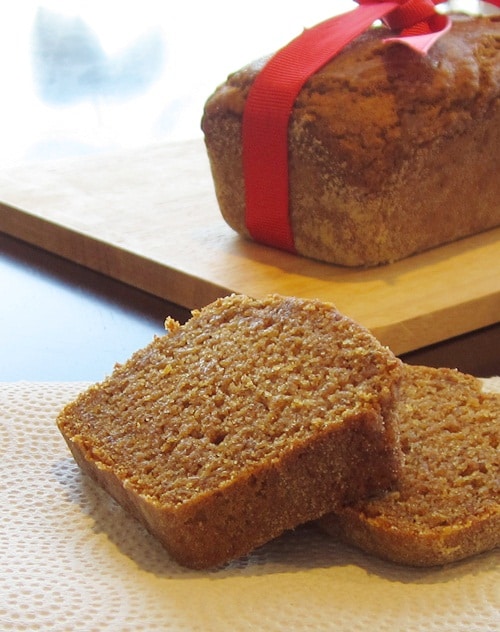 Many food gifts can even be frozen and pulled out once the abundance of the holidays has passed, when homemade treats will really stand out and be fully appreciated—because they don't have as much competition.
This gluten-free Cinnamon Swirl Coffee Cake is one such recipe. Pull it out of the freezer shortly after Christmas and enjoy it with your beloved hot beverage of choice as the snow flies outside!
This coffee cake is one of those "necessity is the mother of invention" type recipes. One simple substitution and some tiny tweaks to an existing favorite recipe—a standby recipe, in fact—and one ends up with a marvelous new recipe!
In that way, today's recipe is much like my Magic Oat Bars. In that situation, I decided to substitute oats for graham crackers because gluten-free graham crackers are not something I keep on hand (or really want to dish out money for; I prefer the healthier oats).
With this Coffee Cake, I originally set out to make my
Perfect Pound Cake
, but had run out of granulated sugar. I use granulated sugar so rarely these days, but it turned out that I was also out of coconut sugar.
…