For affiliate links and as an Amazon Associate I earn from qualifying purchases.
Today is National Animal Crackers Day so I'm sharing gluten-free animal cracker recipes with you. Do you call them animal crackers or animal cookies? No matter. This is one food holiday we can always embrace! What a great excuse to eat that beloved cookie from childhood, right? Animal crackers always bring me joy. Well, gluten-free animal crackers that we can actually eat safely, that is.
I will confess that one of my favorite memories with Son when he was a little guy was sharing a box of animal crackers while we did our grocery shopping. The cashier never acted like she found it unusual that she was ringing up an empty box of animal crackers, so I suspect we weren't the only ones who emptied the box before leaving the store!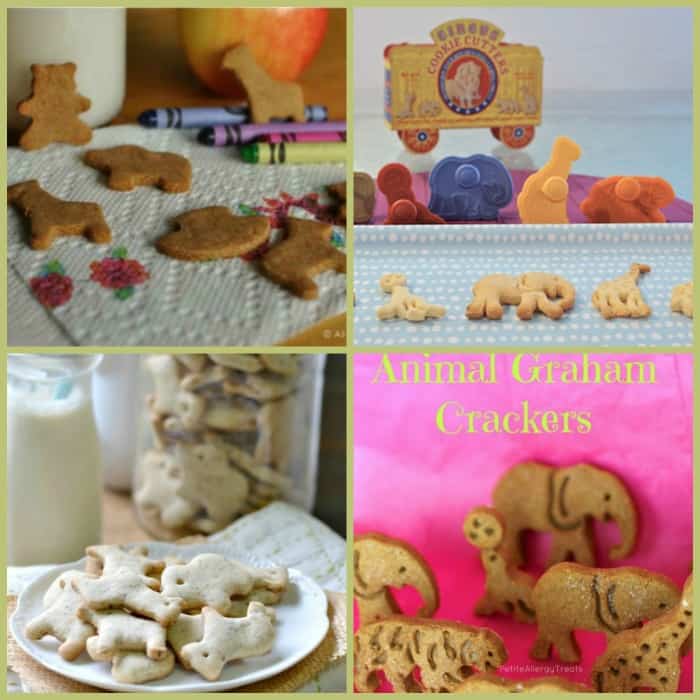 Of course, those were gluten-full cookies but ready-made gluten-free animal crackers do exist. My local grocery store carries them. Two kinds in fact. (This brand and this brand. I've also seen this brand elsewhere.)
But today we'll focus on making some gluten-free animal crackers at home. Here are six recipes from some of your favorite gluten-free bloggers plus a cheater "recipe." (I like cheater recipes!) As noted below, some are these recipes are free of other ingredients as well so there should be some good options for you if you have additional food restrictions or if you have limited ingredients at the moment—which is often true for many of us.
Grab some animal cookie cutters (here, here, and here) for the future if you don't have any cookie cutters on hand that will work. Any animal cookie cutters will do though. Chances are you have some animal holiday cookie cutters (think bunnies, bats and cats, penguins and reindeer for Easter, Halloween, and Christmas respectively) or members of your family have favorite animals and you most likely have cookie cutters for those. Honestly, I love the idea of being able to bake animal cookies that you can't find in any of the ready-made boxes of cookies. Squirrel cookies, panda cookies, moose cookies … they'll all be great as animal crackers/cookies!
Six Gluten-Free Animal Cracker Recipes
~ Animal Crackers from Jeanne of Art of Gluten-Free Baking ~ gluten free, egg free, vegetarian (See more of Jeanne's recipes in Gluten-Free Baking for the Holidays and Gluten-Free Wish List.)
~ Animal Crackers from Jules of GF Jules ~ gluten free, vegetarian, with dairy-free option (See more of Jules' recipes in Free for All Cooking.)
~ Gluten-Free Vegan Animal Graham Crackers from Laura of Petite Allergy Treats ~ gluten free, dairy free, egg free, vegan
~ Homemade Animal Crackers from Cara of Fork and Beans ~ gluten free, dairy free, egg free, vegan (See more of Cara's recipes in Decadent Gluten-Free Vegan Baking.)
~ Paleo Animal Crackers from Megan of Allergy-Free Alaska ~ gluten free, grain free, dairy free, refined sugar free, vegetarian, paleo, primal
~ Vegan Banana Bread Animal Crackers from Leanne of Healthful Pursuit ~ gluten free, dairy free, egg free, vegan (See more of Leanne's recipes in The Keto Diet Book and The Keto Diet Cookbook.)
The Cheater Gluten-Free Animal Cracker "Recipe"
~ Iced Gluten-Free and Dairy-Free Animal Crackers from Making It Milk Free ~ gluten free, dairy free, egg free, vegetarian, vegan (Lacy used melted dairy-free white chocolate bars—although I bet these white chocolate baking morsels would work if you don't need a dairy-free option or the new three-ingredient dairy-free white baking morsels would work as well—and other key ingredients to create the icing she spreads on ready-made gluten-free animal crackers.)
Happy Animal Crackers Day! Please report back and tell me which gluten-free animal cracker recipes you try.
Originally published December 6, 2015; updated April 18, 2021.