For affiliate links and as an Amazon Associate I earn from qualifying purchases.
With Fall officially arriving this week, it's the perfect time for me to share this recipe for Slow Cooker Apple Butter Made from Applesauce. I know many who can't wait until later this season to head to the mountains to admire the fall foliage and pick up a jug of fresh apple cider and some homemade apple butter. And perhaps even a pumpkin or two! It's a lovely tradition.
With today's recipe, however, you can easily enjoy your own flavorful apple butter any time of year. Without even leaving home.
The inspiration for this recipe came from the always popular—and personal favorite—gfe Slow Cooker Pumpkin Butter. If pumpkin puree could be used to make heavenly pumpkin butter in the crockpot, then why couldn't applesauce—not apples themselves—be used to make wonderful apple butter?
Well, it turns out that it absolutely can! And using applesauce means that you don't have to have fresh apples on hand. Of course, that fact means you don't have to core, peel, and slice the apples as well.
This means the prep for this recipe couldn't possibly be any easier! Plus, apple butter is naturally gluten free, which makes it a great gfe treat!
Using applesauce also means that you don't have to be in a hurry to make apple butter. No worrying about those apples that you bought ahead of time possibly going bad on the counter.
As someone who has made many apple pies over the years because the apples just had to be used right away, it's nice not to have that concern. The applesauce will be waiting in the pantry for whenever the mood to make and enjoy apple butter strikes!
When your apple butter is made, you'll want to enjoy some of it "as is" on toast, fresh bread, etc.; gift some jars of it; or use it as an ingredient in recipes such as these delightful Flourless Magical Muffins.
More Apple and Fruit Butter Recipes
~ Baked Stuffed Apples for Two from In Johnna's Kitchen
~ Crustless Caramel Apple Pie from gfe
~ DIY GF, Vegan, and Paleo Apple Butter from Unconventional Baker (I love that Audrey points out that apple butter is a great oil or egg substitute when needed!)
~ Double Apple Muffins from gfe
~ Peach Apple Butter from Sarah Bakes Gluten Free
~ Slow Cooker Pumpkin Butter from gfe
Slow Cooker Apple Butter Made from Applesauce Recipe (No Fresh Apples Needed)
Yield: 4 to 6 small jars
Slow Cooker Apple Butter Made from Applesauce (No Fresh Apples Needed)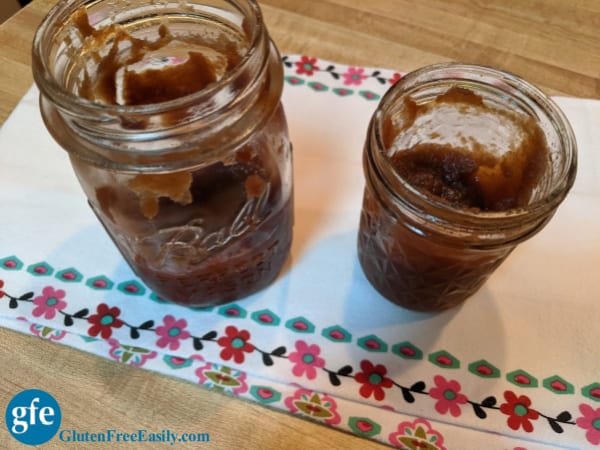 Homemade apple butter is such a wonderful thing. And it's even better when you don't have to core, peel, and slice apples! Using applesauce instead of whole fresh apples makes this slow cooker recipe so easy to make.

Prep Time 5 minutes

Cook Time 8 hours

Additional Time 1 hour

Total Time 9 hours 5 minutes
Ingredients
48 ounces applesauce, unsweetened
1 ½ cups honey (see notes)
1 tbsp plus 1 ½ tsp Penzeys pie spice (or 1 tbsp ground cinnamon, ½ tsp ground nutmeg, ¼ tsp ground ginger, ¼ tsp ground cloves, ¼ tsp allspice)
1/8 tsp salt
Instructions
Mix ingredients together well in a large bowl and transfer
to 6-qt slow cooker.
Cook on low for 7 to 8 hours. Check at 7 hours.
If some liquid remains after 8 hours of slow cooking, remove the lid of the slow cooker and continue cooking for another 30 minutes to an hour, so that the excess liquid will evaporate.
Spoon apple butter into canning jars or other small jars with lids, setting the lids aside until the apple butter has cooled for about an hour.
Place lids on jars and store in the refrigerator.


Notes
Honey should never be given to children under 1.

Because the raw honey acts as a natural preservative, this apple butter will keep for up to 6 months in the refrigerator.

If you only have sweetened applesauce, that can be used but it will probably mean that you should reduce the amount of honey so your apple butter will not be too sweet. And if you reduce the amount of honey, the cooking time may also need to be shortened.

Penzey Pie Spice is a unique combination of ingredients ("Hand-mixed from: cinnamon (China, Korintje, Ceylon, Vietnamese), vanilla sugar (sugar, vanilla bean), mace, ginger, nutmeg, anise seed, and clove."). If you don't have Penzeys Pie Spice, the alternative spice ingredients that I have shared will not yield the exact same flavor but the resulting apple butter will still be delicious!





Originally published September 19, 2021.