For affiliate links and as an Amazon Associate I earn from qualifying purchases.
Well, I don't have all my gfe "spring cleaning" behind me as I had hoped I would before I kicked off this year's March Muffin Madness event, so I'll be alternating muffin posts with other giveaway posts. Hope you won't mind! Today I'm sharing my new recipe for gluten-free Applesauce Muffins.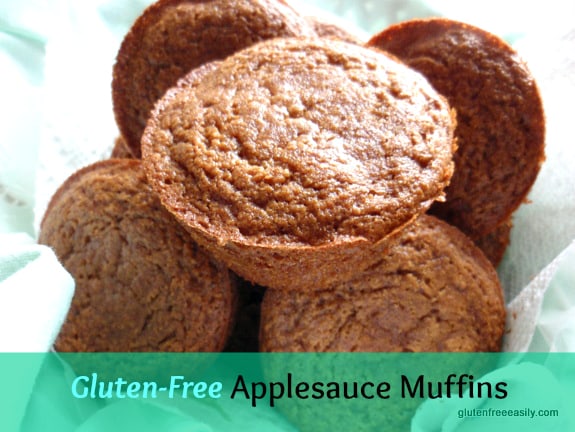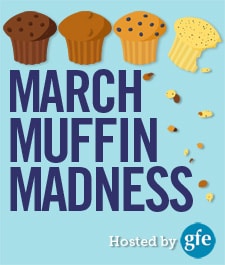 So much of what I make in my house is inspired by what I have on hand. That's true even when I'm creating or including recipes for a series, such as this March Muffin Madness event. I like to show folks that baking/cooking gluten free is really not rocket science; it's just combining ingredients to a tasty end.
Such was the case when Son popped in last weekend and was looking for something sweet to eat. When I peeked in the pantry, lots of unsweetened applesauce was staring at me. I'm out of my Two-Ingredient Gluten-Free All-Purpose Flour Mix and haven't been in a hurry to pick up the ingredients to make more. However, I had plenty of almond flour and Son eats grain free most of the time.
That's my preference, too, at the moment. But at the last minute, I decided to throw in a little oat flour that I had in the fridge to give the muffins a tad more heft and keep them from being too moist because of the large amount of applesauce.
UPDATE: On April 4, 2023, Gluten-Free Watchdog issued a new statement, Gluten-Free Watchdog Cannot Recommend Any Brand of Gluten-Free Oats. Read the full statement here. This statement was followed by details on recent testing results of gluten-free products that contain oats., which showed 30% of the labeled gluten-free oat products tested contained quantifiable gluten.

This statement was followed by details on recent testing results of gluten-free products that contain oats, which showed 30% of the labeled gluten-free oat products tested contained quantifiable gluten. I'm not eating any oats and I urge all of my readers who eat gluten free for medical reasons to also abstain.
I had taken a peek at my friend Linda Etherton's gluten-free Applesauce Muffins recipe and while hers was a bit different in composition than what I had in mind, I liked that she used toasted nuts. Suddenly, I remembered Hail Merry's Orange Rosemary Pecans that I'd been sent to review. (Update: Although I don't think this product exists today, read on because it's not a requirement for today's muffin recipe.)
I already knew that I liked these flavored pecans as standalone treats, but how would they taste in an Applesauce Muffin? Well, the answer was "perfect!" but this recipe tastes great even without any toasted nuts added. (Honestly, I have since made it many, many times without added nuts and it is great.)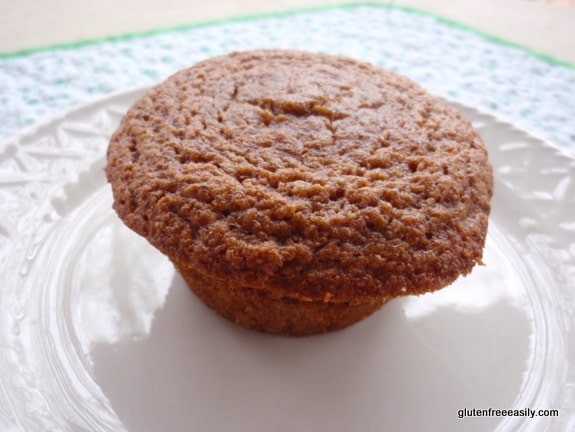 Son and I enjoyed these muffins for breakfast and he took the rest home with him. It's a recipe that I'm sure I will make again and again.
In fact, I have made these muffins again and again. Especially for company. Everyone seems to love these gluten-free Applesauce Muffins!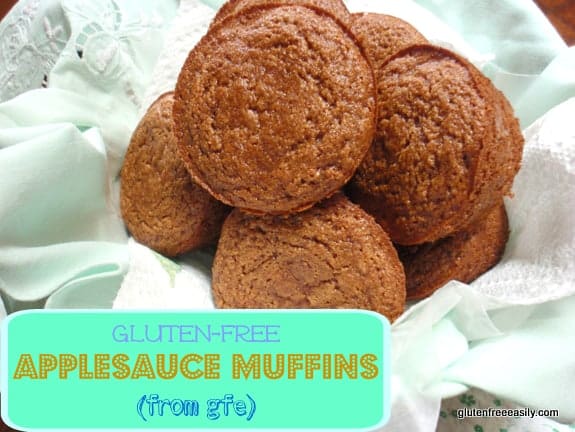 Update: You can see the complete March Muffin Madness recipe roundup here.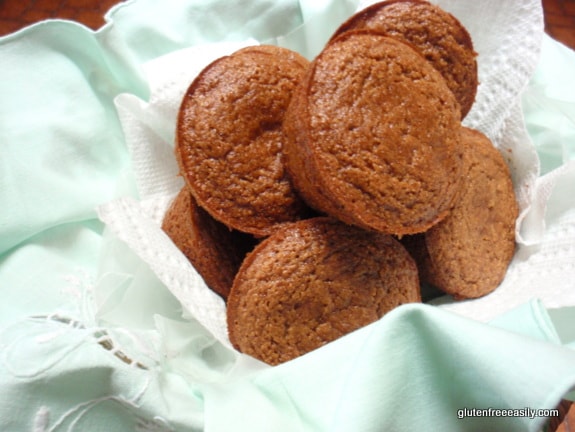 More Gluten-Free Muffins That Guests Always Love
~ Chocolate Hemp Protein Muffins
~ Cinnamon Sugar Donut Muffins
~ Fluffy Chocolate Chip Zucchini Muffins
~ Muffins That Taste Like Donuts
~ Peanut Butter (or Peanut Butter Chocolate Chip!) Muffins
~ Powdered Sugar Donut Muffins
Gluten-Free Applesauce Muffins Recipe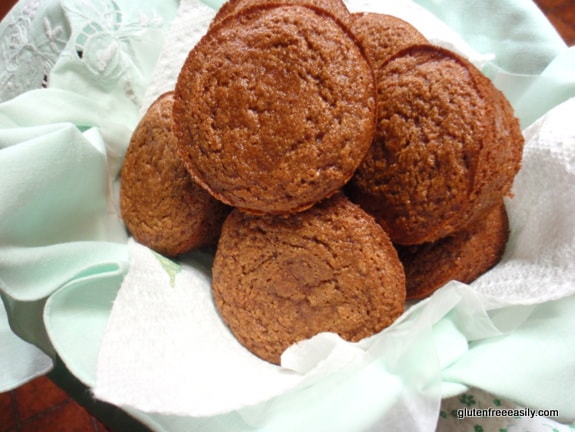 Yield: 12 muffins
Gluten-Free Applesauce Muffins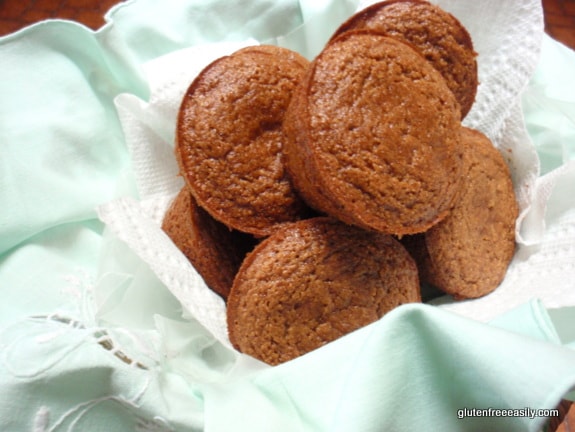 These gluten-free Applesauce Muffins score big in both the healthy and delicious categories. They're loved by both family and friends!
Ingredients
2/3 cup coconut sugar (or light brown sugar)
¼ cup honey (we use our bees' honey)
1 cup applesauce, unsweetened
3 large (or extra large) eggs
2 tbsp coconut oil, liquefied
1 tsp ground cinnamon
½ tsp ground cloves
1 tsp baking soda
1 1/2 tsp baking powder
1 cup almond flour
½ cup oat flour, certified gluten free and made from purity protocol oats (like this one; see notes for substitution option)
½ cup toasted nuts, optional
Instructions
Preheat oven to 325 degrees Fahrenheit. Grease or line muffin cups with liners.
In a large mixing bowl, mix wet ingredients. Stir in dry ingredients.
Fill muffin cups almost to the top, about 7/8 cup full. (Muffins will not rise very much during baking.)
Bake for about 18 minutes. If liners were not used, let cool in muffin tin about 10 minutes before removing to wire rack to cool.
Notes
If using large eggs versus extra large eggs, you may be able to reduce the amount of coconut/palm sugar just a bit.
If you don't eat oats, feel free to use quinoa flour or quinoa flakes that you have blended into a flour-like consistency. Personally, I don't care for quinoa flour, but toasted quinoa flour is milder and I do really like quinoa flakes, so I usually just run them through my mini-chopper until the consistency is finer.
Originally published March 26, 2012; updated April 17, 2023.