For affiliate links and as an Amazon Associate I earn from qualifying purchases.
It's often gfe readers who give me the best recipe ideas and I'm always so grateful when they do! That's how these gluten-free Peanut Butter Muffins came about.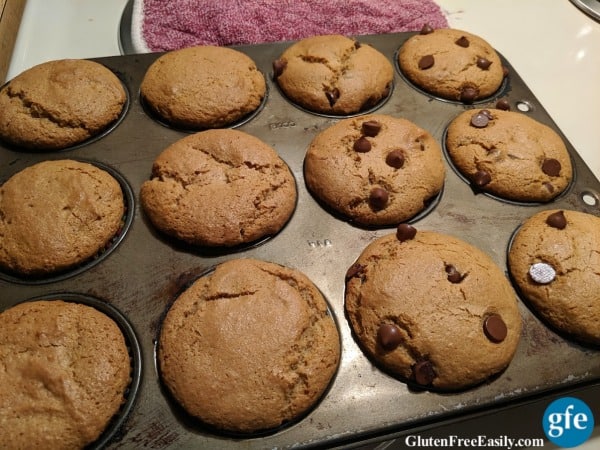 It's been almost 4 years since reader Meg Paul told me that she'd turned my Applesauce Muffins into Peanut Butter Muffins.
"Hi Shirley ….I have loved this recipe for years … and today I used it to make Peanut Butter muffins. I just subbed out the applesauce for peanut butter, and took out the spices and put in 1 tbsp of vanilla. DELICIOUS!!!"
I was impressed and intrigued! But then as always life got busy and I forgot all about her version.
Then recently I was sharing the Applesauce Muffins recipe on Facebook and wanted to share a reader review as part of my post when I saw Meg's comment again. I had been in the mood for muffins (you all know how much I love muffins!) so I made her peanut butter version the very next morning.
As I shared on Facebook:
"Gluten-Free Peanut Butter Muffins … OMG …
Almost 4 years ago, gfe reader/friend Meg told me that she created Peanut Butter Muffins from my Applesauce Muffins recipe. Today I finally followed her instructions and made these babies. I made half of them plain and half with chocolate chips. Both versions are out of this world good!! Thank you, Meg!!"
These muffins are lovely and mild in flavor. You can taste the peanut butter but it's not overpowering at all.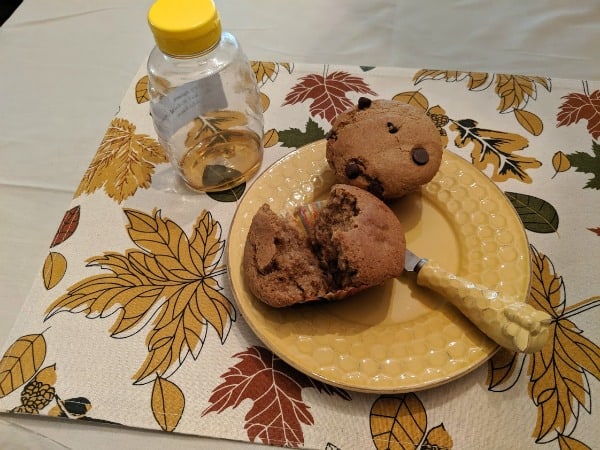 It adds such a nice flavor. And when you add chocolate chips, the two flavors complement each other well.
This new recipe will definitely be a go-to for me! I always have peanut butter on hand and it's nice to have another muffin recipe that has a good amount of protein.
These muffins were my breakfast for several mornings. Sometimes I enjoyed them with a cup of tea. I spread a little honey from some of the family bees on the plain muffins since peanut butter and honey has always been a combo I have loved.
Honestly, I would have enjoyed these muffins all week long had I not decided that I needed to share their goodness with Mom. She appreciated that!
If you add chocolate chips to some or all of your muffins and wish to eat them later, I highly—highly!—recommend that you warm the muffins so the chocolate chips get all melty again. Taking that extra step really takes the muffins from good to exceptional!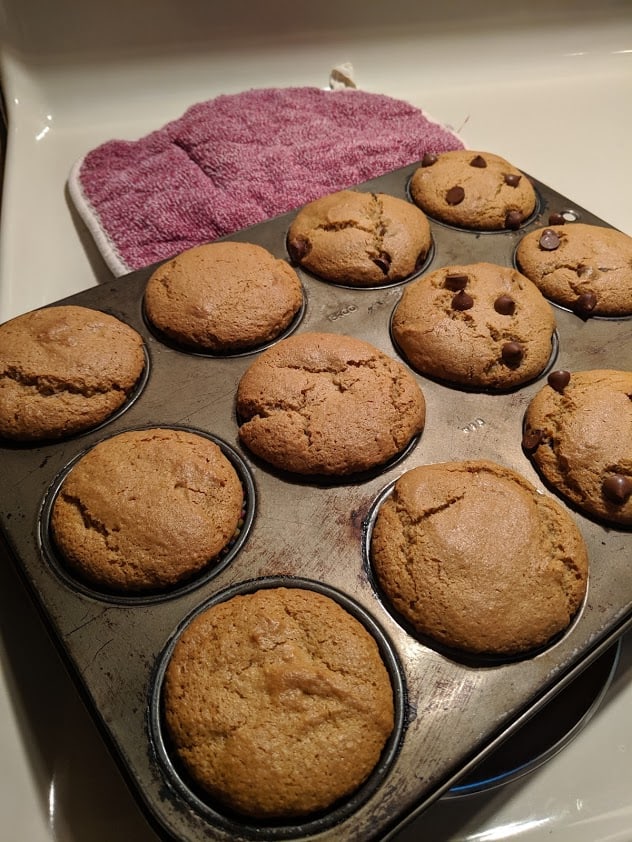 I had shared this tip with Mom and had followed up to see if she'd actually listened to me. She had in fact. Mom agreed that warming the muffins was critical and said the warm melty Peanut Butter Chocolate Chip Muffins were quite wonderful!
You'll find the recipe for these muffins at the bottom of this page. Happy baking and happy getting your Peanut Butter Muffin—or Peanut Butter Chocolate Chip Muffin—fix!
More Gluten-Free Peanut Butter Recipes and Muffin Recipes You Should Try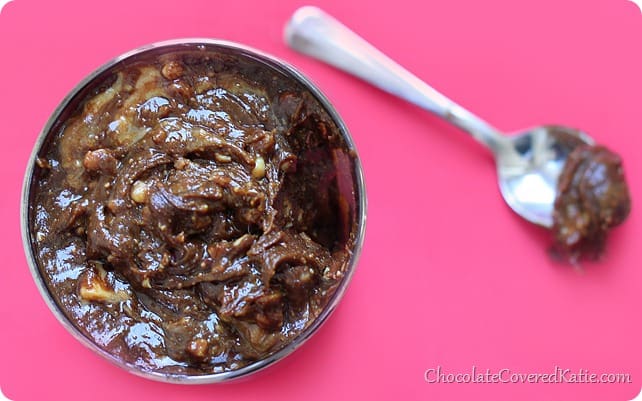 ~ Chocolate Peanut Butter Crispy Rice Bars
~ Flourless Magical Muffins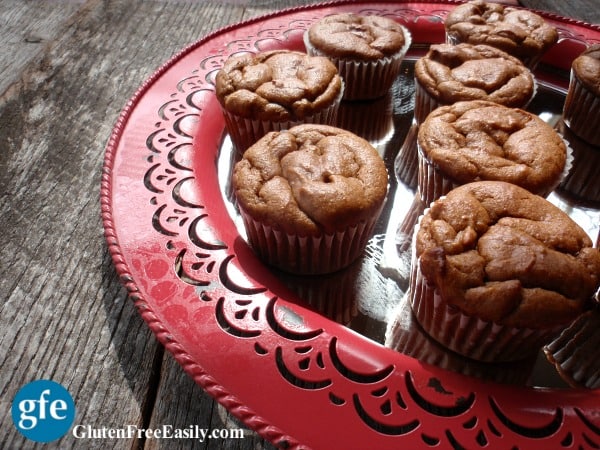 ~ Flourless Peanut Butter Cookies
~ Peanut Butter Hot Fudge Cake (Slow Cooker)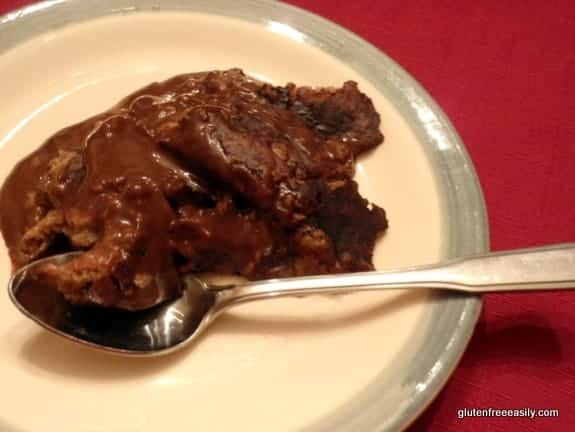 ~ Pumpkin Streusel Cream Cheese Muffins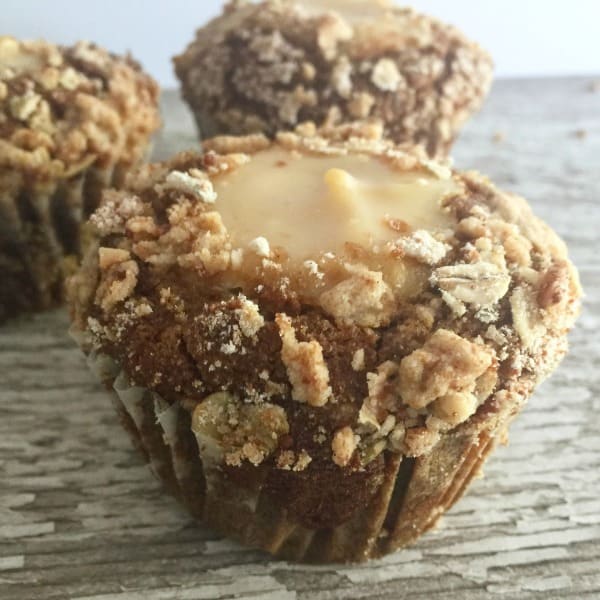 ~ Sneaky Chocolate Peanut Butter Muffins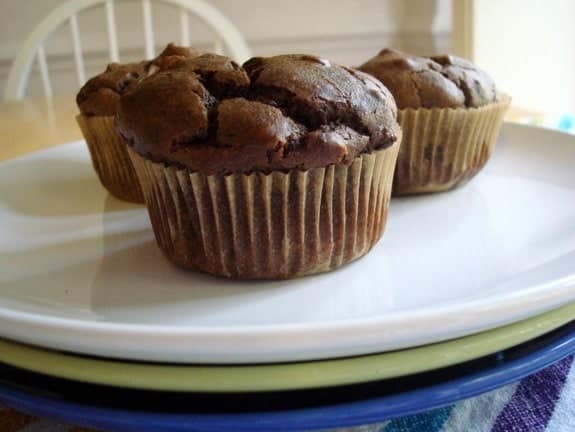 Gluten-Free Peanut Butter Muffins and Peanut Butter Chocolate Chip Muffins Recipe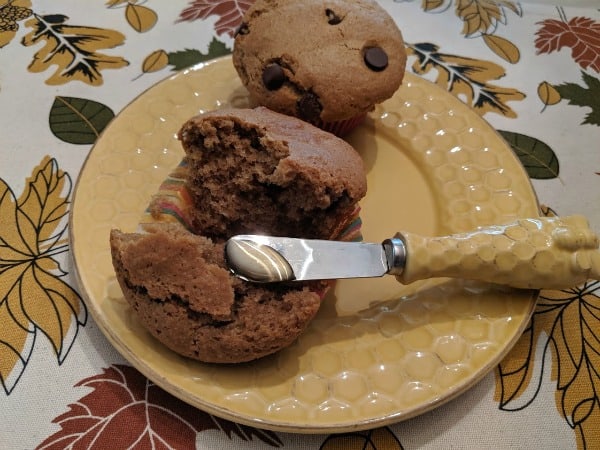 Yield: 12 muffins
Gluten-Free Peanut Butter and Peanut Butter Chocolate Chip Muffins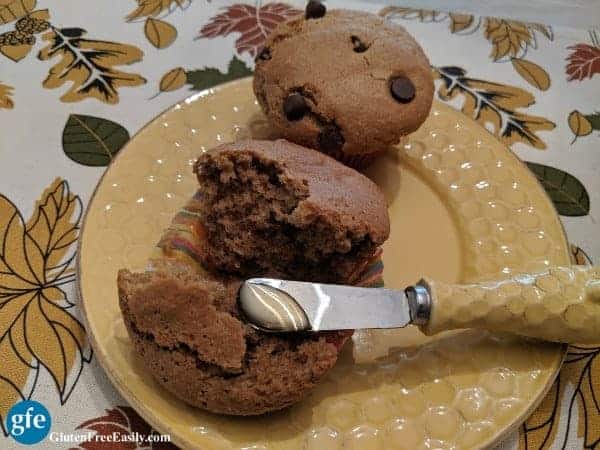 Lovely mild-flavored muffins when made plain or delicious muffins that feature the classic peanut butter and chocolate combo. Be sure to warm the latter muffins before eating because nothing beats these muffins when the chocolate chips are all melty!

Prep Time 10 minutes

Cook Time 18 minutes

Inactive Time 10 minutes

Total Time 38 minutes
Instructions
Preheat oven to 325 degrees Fahrenheit. Grease or line 12 muffin cups with liners.
In a large mixing bowl, mix wet ingredients (see notes). Stir in dry ingredients.
Fill muffin cups about ¾ full to almost full. (Muffins will not rise very much during baking.)
Bake for about 18 minutes. Let cool in muffin tin about 10 minutes before removing to wire rack.
Notes
If you add coconut oil to cold ingredients, the coconut oil will solidify, which will result in the coconut oil not being evenly distributed in the batter. Therefore, I like to mix the brown sugar, maple syrup, peanut butter, and eggs before adding the coconut oil. Then I add the remaining ingredients. I like to add the ingredients one at a time, stirring (or whisking) to incorporate each one before adding the next one.

If using chocolate chips and you want to see them in the muffins (especially if you're making some of your muffins plain and some with chocolate chips), be sure to reserve some of the chocolate chips to top the muffins before placing them in the oven. Otherwise, all the chocolate chips will be "inside" the muffins.

If you don't eat peanut butter, you can substitute almond butter.

Originally published October 29, 2019; updated January 24, 2023.