This post may contain affiliate links. If you purchase through them, your cost will stay the same, but gfe will receive a few cents for every dollar spent. Thanks for supporting gfe!
Today I have a dessert for you folks who love peanut butter and chocolate together. If you're one of those and also a lover of rice crispy treats, well, this recipe for gluten-free Chocolate Peanut Butter Truffle Crispy Rice Bars will really, really make you happy!
If you're a Food Network fan, chances are you are familiar with Kyra Bussanich. Perhaps you don't recognize her by name. Maybe you just know her as the lady who won Cupcake Wars. With her gluten-free cupcakes! And not once, not twice, but three times!
Those were all major scores for not only Kyra and her amazing treats, but also for gluten-free goodness—and gluten-free awareness—let me tell you! Admittedly,  I never watch the Food Network or any cooking shows, but even I'd heard of Kyra Bussanich and seen her on the interwebs prior to her cookbook coming out.
If her gluten-free recipes could win out over traditional (i.e., gluten-full) recipes again and again, they have to be ones you'd like to make in your own home, right? Of course, if you're in the Portland Oregon area, you can stop by Kyra's Bake Shop (formerly known as Crave Bake Shop) in Lake Oswego to sample some of Kyra's own wares.
If not, no worries, because she's sharing her recipes in her new cookbook, Sweet Cravings: 50 Seductive Desserts for a Gluten-Free Lifestyle, so you all can make them. And a cookbook called Sweet Cravings with such winning recipes is most definitely a perfect one to feature in Suite of Sweets for Sweethearts.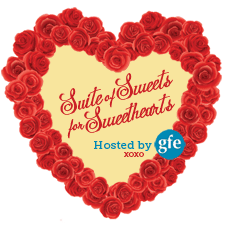 The first dozen pages of Kyra's book tell her story and introduce you to the ingredients she uses in her recipes. She packs a lot of info, including some very helpful hints and tips in those pages. Her personal story is interesting because before going gluten free for health reasons, she only baked for enjoyment.
Once she went gluten free, her frustration at creating delicious baked goods inspired her to graduate from Le Cordon Bleu's patisserie and baking program, work as a pastry chef, and ultimately open her own gluten-free bakery, and, well, of course, become a "three-peat" winner of Cupcake Wars.
After that brief intro section of her cookbook, Kyra gets to her recipes, which are divided into seven categories: Muffins and Scones; Buckles, Cobblers, and Crisps; Quick Breads and Coffee Cakes; Cookies, Brownies, and Bar Treats; Puddings, Cakes, and Other Pastries; Award-Winning Cupcakes (you knew there had to be a section sharing her amazing cupcake recipes right?); and Tarts, Pies, and Puffs. The recipes are further categorized as Easy, Intermediate, and Advanced.
The recipe for Kyra's Chocolate Peanut Butter Truffle Crispy Rice Bars, which you'll find at the bottom of this post, is classified as "Easy." But these are impressive treats with their trifecta of rice crispy bar base, peanut butter filling, and ganache topping!
Now for the Giveaway of Sweet Cravings …
UPDATE:  This giveaway is now CLOSED. Thanks to all who entered. If you didn't win, you can still purchase Kyra's cookbook, Sweet Cravings: 50 Seductive Desserts for a Gluten-Free Lifestyle on Amazon.
Gluten-Free Chocolate Peanut Butter Truffle Crispy Rice Bars Recipe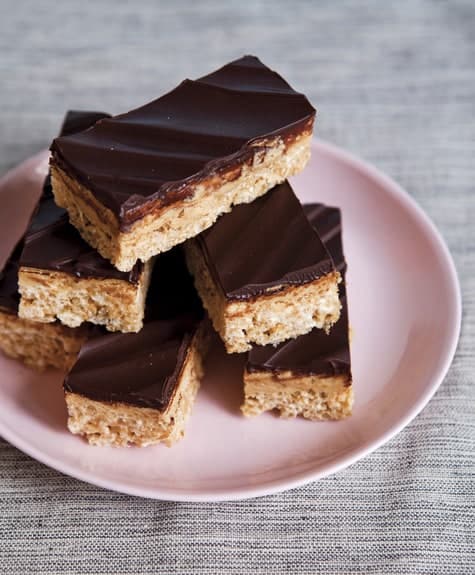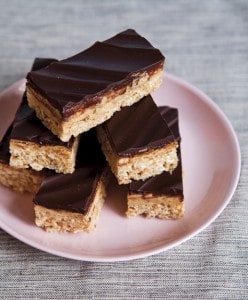 Print
Gluten-Free Chocolate Peanut Butter Truffle Crispy Rice Bars
Ingredients
Crispy Rice Layer
Peanut Butter Layer
Chocolate Layer
Instructions
Spray an 8 by 11-inch baking pan with gluten-free cooking spray and set aside.
To make the crispy rice layer, melt the butter in a large pot over medium heat, stirring occasionally, until the butter browns, 3 to 5 minutes. Add the marshmallows and vanilla and stir continuously until the marshmallows are melted. Remove from heat and stir in the cereal. Pour entire contents into the baking pan. Wet or grease your hands and pat down the cereal so it is level and compact. Freeze for 15 minutes to cool and set.
Using a stand mixer with a paddle attachment, combine all the ingredients for the peanut butter layer and blend on low speed. Remove the crispy rice layer from the freezer and spread the peanut butter filling evenly over it. Freeze until firm to the touch, 30 to 60 minutes.
In a microwave-safe bowl, or over a double boiler, melt the chocolate and butter for the chocolate layer and stir together until smooth. If using the microwave, heat at 30-second intervals, stirring well in between each interval. Working quickly, spread the chocolate evenly over the peanut butter layer. If the peanut butter is cold, the chocolate will set quickly.
Freeze the pan again, 15 to 30 minutes, as it will be much easier to cut if the peanut butter layer is firm. Cut into bars and serve cold or at room temperature.
Notes
Makes 18 bars.
Reprinted with permission from Sweet Cravings: 50 Seductive Desserts for a Gluten-Free Lifestyle by Kyra Bussanich (Ten Speed Press, © 2013).
Photo Credit: Leela Cyd.
Courses Dessert
All excerpts from Sweet Cravings are reprinted with permission from Sweet Cravings: 50 Seductive Desserts for a Gluten-Free Lifestyle by Kyra Bussanich (Ten Speed Press, © 2013). Photo Credit: Leela Cyd.
Other Gluten-Free Peanut Butter and Chocolate Desserts on gfe
~ Chocolate Coconut Hazelnut Cookies
~ Flourless Peanut Butter Nutella Sandwich Cookies
~ Peanut Butter Hot Fudge Cake
~ Sneaky Chocolate Peanut Butter Muffins
Full disclosure:  This giveaway was jointly sponsored by Ten Speed Press and gfe, but opinions expressed herein are strictly my own.
Originally published February 18, 2014; updated January 24, 2019.