For affiliate links and as an Amazon Associate I earn from qualifying purchases.
So what could be better than my Flourless Peanut Butter Cookies? Flourless Almond Peanut Butter Cookies. What is better than Flourless Almond Peanut Butter Cookies? Flourless Almond Peanut Butter Cookie S'mores! I shared the gluten-free Cookie S'mores idea quite some time ago, but without pictures. I know … one needs pictures! So, today, I'm giving you pictures and a recipe, well, more of a concept really.
Anyway I'm sharing it just in time for Fall camping and the kickoff of Bonfire Season but you'll want to remember Cookie S'mores for summer camping next year as well. Remember that any cookies can be used to make Cookie S'mores. If you're gluten free, you can make your own or purchase your favorite safe cookies.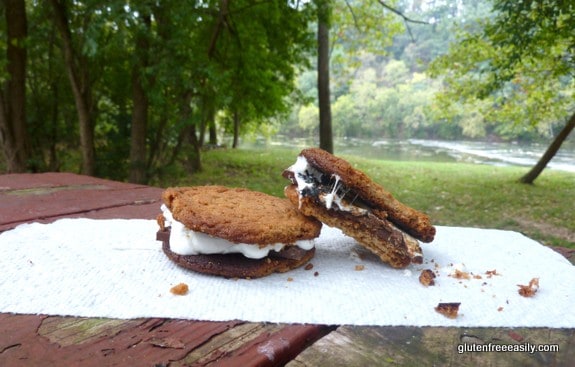 When two of my girlfriends told me that they could definitely come to our mountain property a few weekends ago, I knew I had to get busy making some treats for their collective three children, which included two teenagers. One of them is the ultimate peanut butter cookie fiend. I think she's related to the peanut butter side of the Cookie Monster's family!
Somehow she manages dignified restraint and discipline with her peanut butter cookies though. I don't know how, but she could always make a small gift tin of the peanut butter cookies that I'd made for her last for several days.
This time I didn't make the cookies until the morning we were leaving for camping. I was momentarily thrown off track by clearly not enough peanut butter in the jar to make my Flourless Peanut Butter Cookies. But a partial jar of almond butter was sitting on the counter.
A quick peek revealed about half a cup left—the same amount in the peanut butter jar. With just that slight tweak to the original recipe, Flourless Almond Peanut Butter Cookies were born.
These Flourless Almond Peanut Butter Cookies are my new favorite. They are healthier than the peanut butter version because almond butter offers more nutrition and is lower glycemic.
I didn't feel a big "buzz" after eating these even though they still contained brown sugar. I like the slight peanut butter flavor better than the "full-on" peanut butter flavor, too.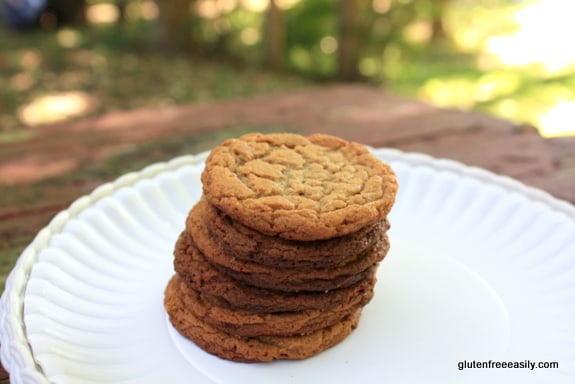 Yield: Makes about 24 - 30 cookies
Flourless Almond Peanut Butter Cookies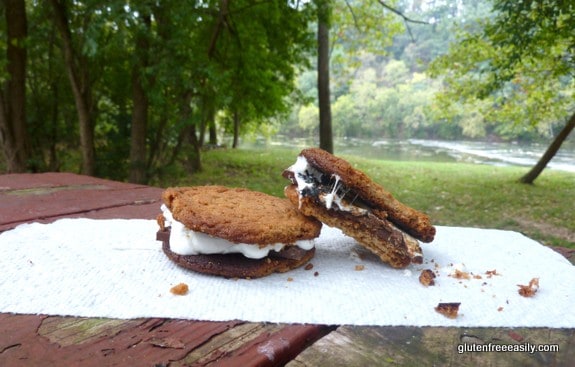 Adapted from original flourless peanut butter cookie recipe on the celiac listserv (originator unknown).
Ingredients
1/2 cup almond butter
1/2 cup peanut butter
1 cup brown sugar, packed
1 egg
1 tsp baking soda
1/2 tsp vanilla extract
Instructions
Preheat oven to 350 degrees.
Mix all ingredients together well.
Grease or moisten hands slightly and form dough into 1-inch balls. Place balls on ungreased cookie sheet. (DO NOT press down as in some traditional recipes. See exception in notes below.)
Bake 8 – 10 minutes or until golden brown and cookies look "set," but not done. Do not overcook.
Allow cookies to sit on cookie sheet for 5 minutes. (This step is very important, because cookies finish cooking during this time and totally set up.) Remove cookies for cooling.
Notes
Do not use low-fat peanut butter; the cookies will not turn out properly. I use Jif (all are gluten free), but it's my understanding that Peter Pan (all), Planters (Creamy and Crunchy), Reeses, and Skippy (Creamy, Crunchy, Super Crunchy, Roasted Honey Nut) are also gluten free. (Remember to always check labels.) One reader/tester successfully made the "all peanut butter" version using natural peanut butter, but advises that you must press them down a bit before baking for them to spread enough. Using a fork or the bottom of glass will work. Ensure your vanilla is gluten free. I make my own vanilla extract, but most are gluten free (e.g., McCormick's). (Incidentally, homemade vanilla extract is a great gift idea and now is the time to start making it for holiday gifts.)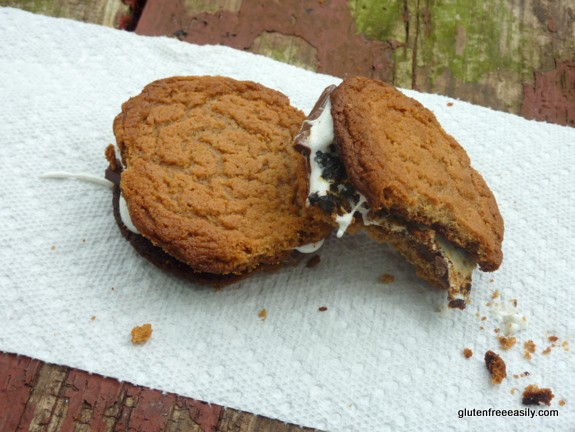 How to Make Gluten-Free Cookie S'mores
Make (or purchase) suitable cookies. We like using the Flourless Almond Peanut Butter Cookies (shared in this post above), Flourless Peanut Butter Cookies, and Brown Sugar Chocolate Chip Cookies to make ours. When using Chocolate Chip Cookies, one doesn't even necessarily have to use chocolate squares. The same holds true if you use Flourless Sparkling Chocolate Cookies. There's enough chocolate in the cookies overall to give you the same S'mores taste!
~ Roast marshmallow. (See links below for making homemade marshmallows, free of dyes and other undesirable "stuff.")
~ Place chocolate square on cookie. (Use dairy-free chocolate for dairy-free version.)
~ Skillfully slide roasted marshmallow (while still hot) on to bottom cookie on top of the chocolate square and between the top cookie. (That's how I do it but feel free to use your own method if you do it differently.)
Shirley's Notes: I confess I sometimes like my marshmallows a bit burned; hence, the burnt edges shown in the photos of the Cookie S'mores. Truth be told, I don't mind my Nut Butter cookies a tad burned either. Except in our house, we don't call them burned cookies … we call them OC's–Overcooked Cookies.
Not camping or without a bonfire handy? Roast your marshmallow over the kitchen burner using a skewer. Have you done that before? I certainly have.
Do you want to make some truly phenomenal and even healthier Cookie S'mores? Make your own marshmallows. Use Zoe's recipes—Honey-Sweetened Marshmallows or her Original Recipe Homemade Marshmallows.
Enjoy … however you make these delights!
Originally published October 10, 2010; updated July 10, 2022.