For affiliate links and as an Amazon Associate I earn from qualifying purchases.
Today is the final day of SSS—A Suite of Sweets for Sweethearts. (I know it's sad, but not to worry . . . we're never short of treats here at gfe.) I have a very special treat for you—gluten-free Flourless Sparkling Chocolate Cookies!
Chocolate is often synonymous with Valentine's Day, and, well, love … quite honestly. Gosh, I can't imagine why that would be, can you? (Okay, this is one of those times where a sarcasm font would sure come in handy!)
I have only included a small amount of chocolate in the SSS roundup so far … the mini chocolate chips in Monday's recipe—Surprise Mint Chocolate Chip Ice Cream. So I'm here today to share not one, but two lovely chocolate treats.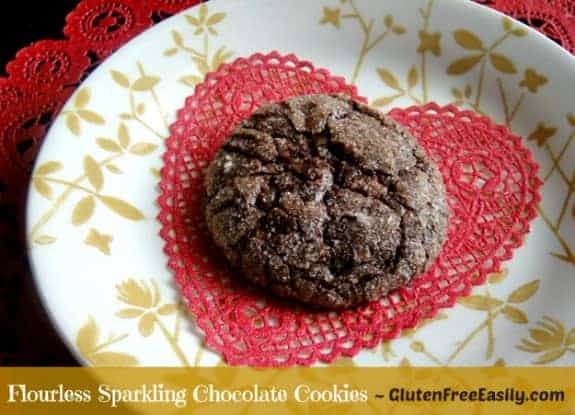 As you all have figured out, I love to bake. I especially love to bake cookies. Well, we've gone all week without a cookie recipe, so let's fix that right now by giving you a rich, "make-you-fall-in-love" chocolate cookie recipe.
I'm not talking about falling in love with another person. I'm talking about falling in love with this cookie. This gluten-free Flourless Sparkling Chocolate Cookie.
Is it really so wrong to love a cookie? I mean there's no need to buy a card or send flowers after all. That doesn't sound bad.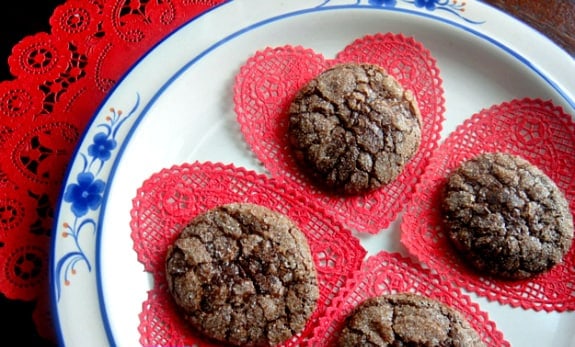 Of course, if someone bakes these cookies and presents them to you for Valentine's Day, you may actually fall in love with that person, and not the cookies. But, it could be a close call.
An important note: The batter has to be refrigerated overnight. I don't want you to go to make these cookies on Valentine's Day or for another special occasion and find out you actually have to wait until the next day to enjoy them.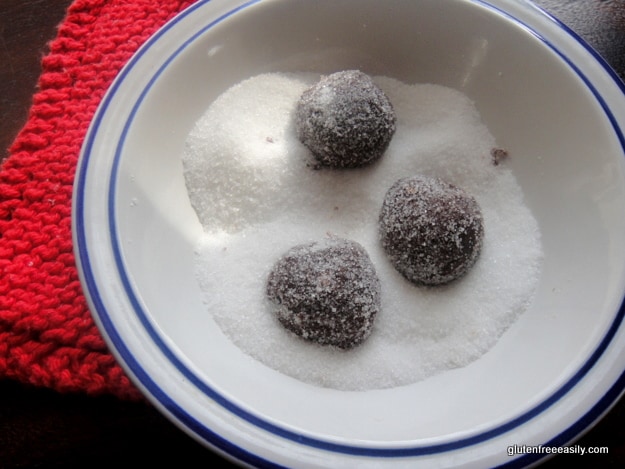 I make these gluten-free Flourless Sparkling Chocolate Cookies for other special occasions and even take them with us when we're having guests join us while camping on our mountain/river property. The recipe makes two to three dozen (depending upon how large you make the batter balls before you bake them).
That's plenty as they fit in a smallish cookie tin and take up less room when packing—always a plus when camping. And, really, folks are extremely satisfied after just eating a few.
Can you tell that I just love doilies? And, not just for Valentine's Day. I love all kinds of doilies, for all seasons, and when I taught elementary school, many projects involved doilies.
Mr. GFE and I host a big Valentine's Day party every other year as a gift to ourselves and our friends. Tomorrow would be the night if we were having it. However, this is an "off" year and while I'm grateful that we don't have to worry about hosting with snow and limited parking, I will miss the anticipation and excitement.
For a bonus recipe, I'm also sharing a chocolate version of the POMerdoodle ice cream recipe. It's gluten free, dairy free, and refined sugar free. You can view that recipe with more photos here.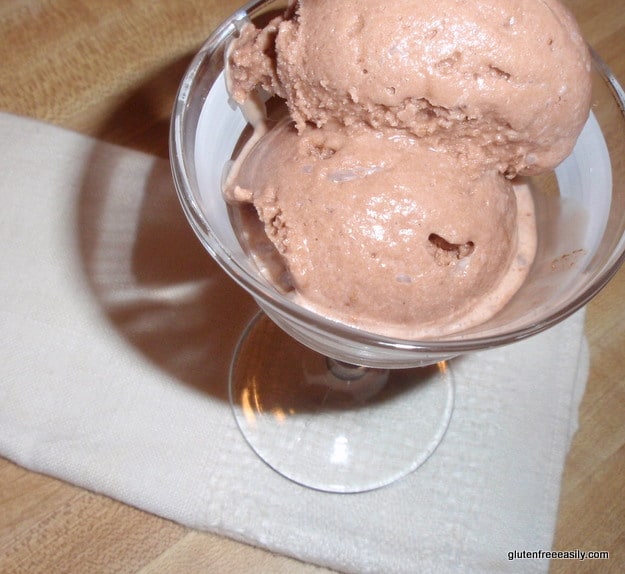 Gluten-Free Flourless Sparkling Chocolate Cookies Recipe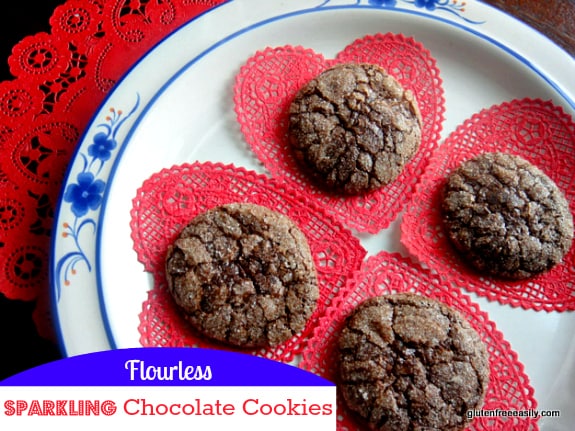 Yield: About 3 dozen cookies
Gluten-Free Flourless Sparkling Chocolate Cookies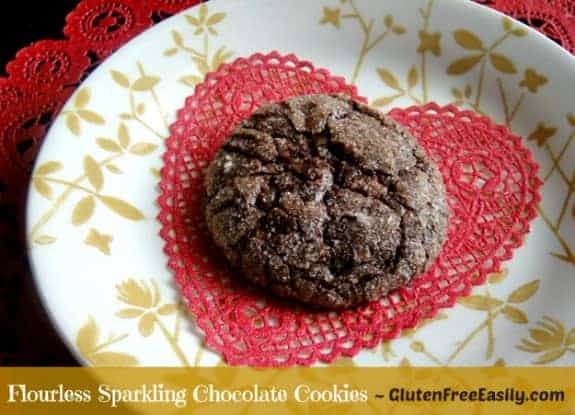 Not all chocolate cookies are as impressive as one might think, but these naturally gluten-free Flourless Sparkling Chocolate Cookies are. These rich cookies make any occasion special and will become everyone's favorite!
Total Time
6 hours
20 minutes
Ingredients
8 ounces semi-sweet chocolate chips (regular, mini], or [chunks)
3 tbsp butter, room temperature or softened (but not melted)
2 eggs
1/3 cup granulated sugar (plus more for "decorating")
3/4 cup ground almonds (I used Honeyville Blanched almond flour)
Instructions
Melt chocolate in double boiler and stir in butter.
Beat eggs and add sugar gradually.
Continue beating until eggs are very light. Gently stir into the chocolate-butter mixture.
Add ground almonds, combining well, but gently.
Cover and refrigerate overnight. (See notes.)
Preheat oven to 325 degrees Fahrenheit.
Form into 1-inch balls and roll in bowl of granulated sugar as shown.
Place on parchment-lined baking sheets.
Bake for 10 to 12 minutes or until set.
Cool slightly before removing from baking sheet.
Notes
This recipe appears to be an adaptation of Thomas Haas' (the famous "chocolatier") Chocolate Sparkle Cookies. His cookies were billed as the world's best cookie by Saveur magazine a few years back.
His original recipe has a few more ingredients as I understand, including gourmet chocolate, honey, and coarse sugar (for rolling). Haas sells his version at his Vancouver gourmet chocolate shop. I'd love to try the "originals" one day. But, this version from CCA is simpler and much less expensive to make, and I don't think you'll be disappointed.
Instead of chilling the batter overnight, you can chill it about six hours in the fridge (and maybe even cheat a little by putting it in the freezer for some of that time).
The Complete Suite of Sweets for Sweethearts Recipe Lineup
Here's the complete SSS–Suite of Sweets for Sweethearts roundup:
~ Surprise Mint Chocolate Chip Ice Cream
~ Cinnamon-Sugar Crusted Almond Popovers
~ Flourless Sparkling Chocolate Cookies (this post)
~ Chocolate POMerdoodle Ice Cream
Off to have one of these gluten-free Flourless Sparkling Chocolate Cookies to brighten my Valentine's Day weekend … hope you have a great one!
Originally published February 12, 2010; updated November 14, 2022.