For affiliate links and as an Amazon Associate I earn from qualifying purchases.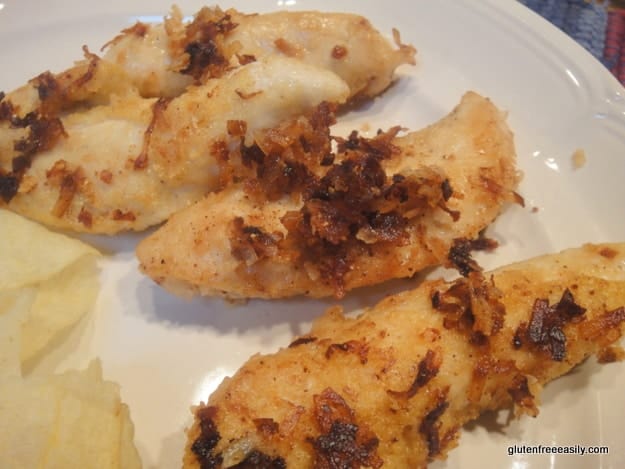 Mr. GFE and I had a nice, quiet day at home today. It was a scheduled holiday for him. Not so for me, but I made it one … and that was a great idea! We ate our respective breakfasts … cereal for him and a one egg "omelet" with spinach for me.  Then for a mid-morning snack, we ate the last of a weekend batch of the Cinnamon-Sugar-Crusted Popovers. That indulgence, of course, made us not want anything for several hours. When we finally did eat again, instead of a quick, light lunch, I decided to go for something more substantial, but still healthy enough. The refrigerator yielded about a pound of chicken tenderloins (i.e., boneless, unprepared chicken tenders), a small container of coconut, and some cornmeal mix that I'd made for breading chicken earlier. Right then, I decided to make chicken tenders.
As an aside, perhaps the coconut idea appealed to me because I had recently read an article on using Girl Scout cookies as breading. I am not making this up. How does Fried Samoas Shrimp sound?  The recipe included 5 Samoas, 2 cups bread crumbs, 2 cups flour, 1 cup coconut flakes, 4 egg whites, and cayenne pepper … all as breading for 4, yes, 4, extra large shrimp. Wowser. Nutritional information was not provided, but the recipe said it served 5 … so if you stuck to a serving, you didn't even get to enjoy one full shrimp! And, of course, samoas are not gluten free, unless you make them yourself, which you can easily do, but I don't think I'd crumble my cookies and use them to bread shrimp. I do love coconut shrimp but I'm not sure about the chocolate and caramel with my shrimp. Hmmm.
Back to the breading I did use … the cornmeal mix had seemed a little bland the last time I had used it with chicken. And, the coconut I had on hand was actually sweetened coconut, which I thought might be cloyingly sweet. So I added some chili powder to each.
My original idea was to bread the chicken tenders in the cornmeal mix and then dip them in the coconut, but just one attempt showed me that wouldn't work. The coconut wouldn't adhere to the chicken tender after it had been coated with the cornmeal mix. So I dipped half of the tenders in the cornmeal mix alone and the other half in the coconut mix alone. I just dipped the washed, and therefore, wet, chicken tenders into the cornmeal mix or shredded coconut. I didn't need to dip them in eggs or milk beforehand as the original cornmeal mix recipe stated. Just the wetness from the water worked perfectly well (and omitting those ingredients also makes these tenders dairy free and egg free, and obviously lower in calories). Then I fried them all in some grapeseed oil, and drained them before serving. (Note: This was my first time using grapeseed oil and I liked its lightness and neutral taste very much—plus, its added health benefits.) As you can see, because I cooked the two types of tenders together, they all ended up with a little coconut "breading." We ate them with a little honey barbecue sauce and a few chips and really enjoyed them.
Although I'm providing some ingredients and directions, these are really sort of "improvise-as-you-go" recipes, or as my friend, Erin (Gluten-Free Fitness) likes to say … Not Really A Recipe. When Erin first used that term in reference to her rendition of my Special Turkey Breast, I said something to the effect of "hey, that's a recipe!" But, then I realized that she used that term as a category on her blog and didn't mean anything negative at all. Instead, she was demonstrating that so many cooking sessions start out as just a concept or basic method with lots of room for improvisation. She's totally right. Seize that idea for your cooking and you'll be a lot happier in the kitchen and end up making some great dishes as well. And, that's true whether you are gluten free or not.
Yield:
Chicken Tenders with Cornmeal or Coconut Breading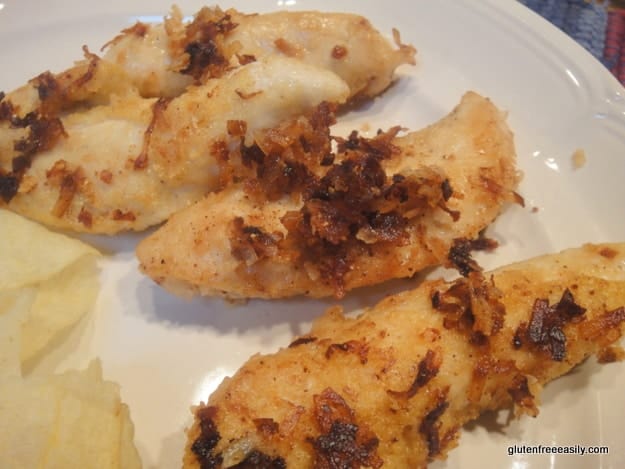 Cornmeal breading adapted from Southern Living; Coconut breading by Shirley Braden
Ingredients
For Cornmeal Breading
1 cup cornmeal
1 cup gluten-free flour*
2 tsp baking powder
1 tsp salt
¼ to ½ tsp chili powder, to taste
For Coconut Breading
½ cup coconut flakes (or more if needed)
¼ to ½ tsp chili powder, to taste
Instructions
Mix together either the cornmeal breading ingredients or the coconut breading ingredients (or both, separately) and pour into a shallow bowl.
Coat wet chicken tenders with breading mix and fry on medium to medium-high about 8 - 10 minutes on each side..
Notes
*I can't tolerate many of the healthier, gluten-free flours; e.g., sorghum, buckwheat. Therefore, my gluten-free flour mix is 3 parts Asian white rice flour and 2 parts cornstarch. I gently mix three one-lb bags of the Asian white rice flour and two one-lb boxes of cornstarch in a very large bowl and then store the mix in several airtight containers (like large glass jars). It's a very economical mix that works well in most recipes. No refrigeration is needed.The coconut I used was actually sweetened. (It was left over from making Linda's wonderful Coconut Cashew Clove Cookies.) So I was worried that these tenders might be too sweet, but the chicken taste itself and the chili powder I added offset the sweetness by just the right amount.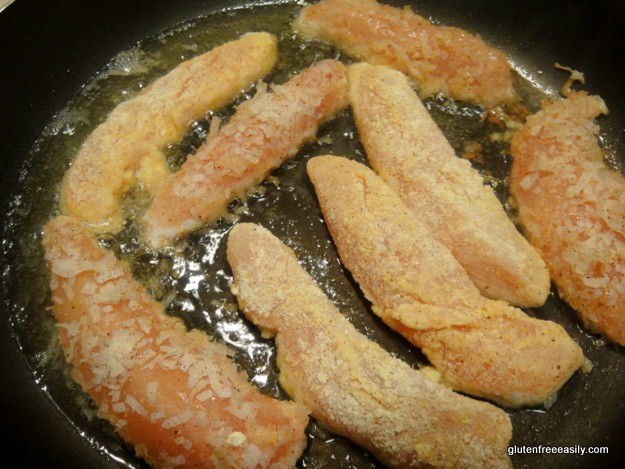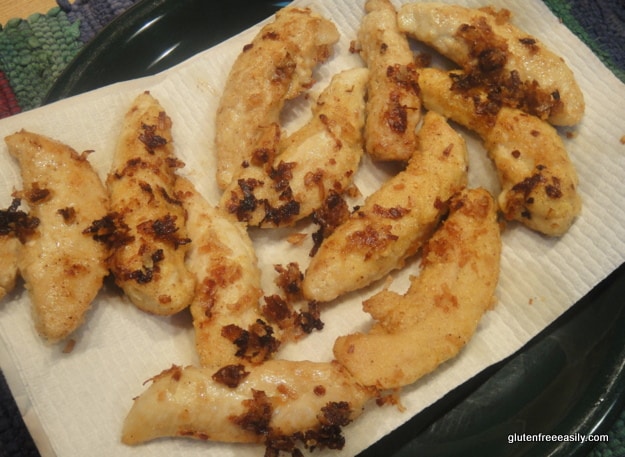 The truth is you really don't have to buy prepared gluten-free breading mixes to end up with delicious results, and just as importantly, you don't even need a true recipe. I've purchased gluten-free offerings in the past like breadcrumbs at $4.00 for 4 ounces and they've ended up going to the birds, literally. There are so many other breading possibilities that work beautifully and don't break the bank. I've shared other options here before at gfe, including two possibilities for a similar recipe for our favorite baked chicken nuggets. One used crushed potato chips; the other used crushed cornflakes and lots of seasonings.
Ali (Nourishing Meals) did this post a while back with some excellent breading options. I, and several others, contributed additional ideas in comments. Some other easy breading choices that I have used are Parmesan cheese, rice cereal (for babies), toasted and crumbled gluten-free waffles (as shown here), and instant mashed potatoes (my only, occasional use for them).  I've heard that tortilla crumbs and corn chips make great breading, too. Along those lines, be sure to check out Diane's (The WHOLE Gang) Frito Fish.
So, the message with these chicken tenders is think outside the box and don't stress. That's the gfe way. Now, go ahead, have a gluten-free chicken tender … with cornmeal coating, coconut breading, or perhaps your favorite gfe breading. And, what is your favorite breading? Please share!