For affiliate links and as an Amazon Associate I earn from qualifying purchases.
Today I'm sharing my two very favorite recipes for homemade chicken nuggets. Of course, these are homemade gluten-free chicken nuggets but, more importantly, these are the best-tasting chicken nuggets! Ever!
Everyone demands that I make my homemade chicken nuggets for the parties that I both host and attend. They get irritated with me if I show up with something else (well, unless that something else is my Flourless Pizza).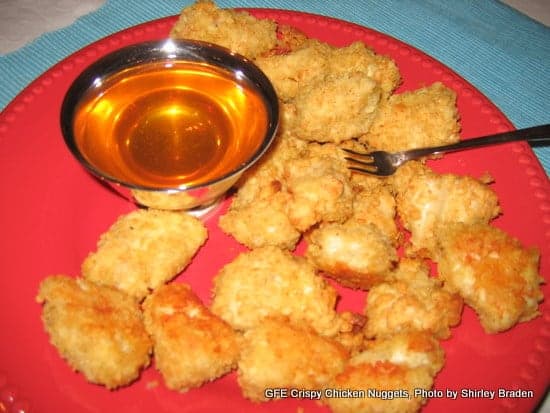 One of these recipes even makes use of something that most folks reluctantly throw away because they're not sure how to make good use of this something, so this recipe for chicken nuggets is also a frugal one of sorts. Before we get to those delicious chicken nuggets, we need to talk about some awesome chocolate first. But you can scroll right down to the chicken nuggets recipe and bypass the chocolate if you wish!
Chocolats Noir de Domaine
A few days ago I came home to find a package by the mailbox. The label showed it was from "Chocosphere."
Chocosphere? Chocosphere! YES! Had I died and gone to heaven? Happily, that's the way I felt.
While I had been expecting a package, I hadn't remembered that it would come from the Chocosphere. Oh my. I've always said I'd never relocate, but now that I know Chocosphere exists … hmmm.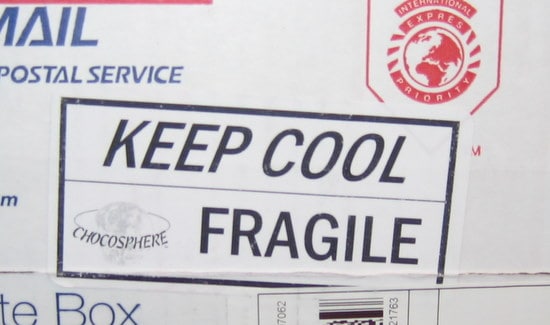 Right before Valentine's Day, I commented on my friend Cathy's blog, Noble Pig, like I do almost every day.
Yes, you read that right … I comment almost every day because, amazingly, Cathy blogs almost every single day. Her blog, Noble Pig, is a true delight. She shares stories about life with her husband, The Wild Boar, and her boys, the Hooligans.
She shares phenomenal recipes—most of which are naturally GF or can easily be made so—with mouthwatering, step-by-step, fabulous photos. She also shares her wisdom on wine, but in a very helpful, non-snooty way (which is certainly the way I prefer to get my wine advice). In fact, Cathy and her husband are in the process of establishing a vineyard and winery in Oregon—no small task, especially since they currently reside in California.
To celebrate Noble Pig's one-year milestone, Cathy had a giveaway of Valrhona chocolate—specifically Chocolats Noir de Domaine—as a token of appreciation to her readers. When I checked back on Valentine's Day, the morning before our party, I found out I had won.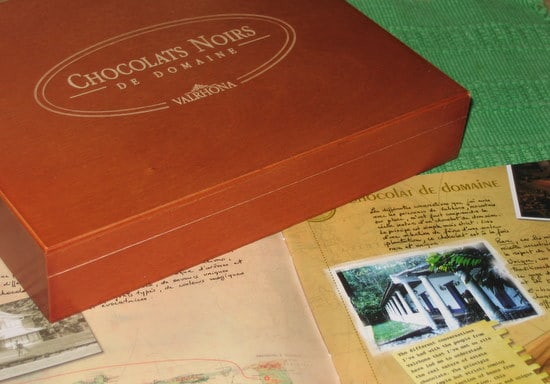 Yippee!! Boy, that news was exciting and energizing at a time that I needed energy in a big way. 🙂
Are you familiar with Valrhona? I was not before reading Cathy's blog, but I am now. Cathy shared the details on Varlhona's Chocolats Noir de Domaine, stating that her favorite of the three bars was Palmira.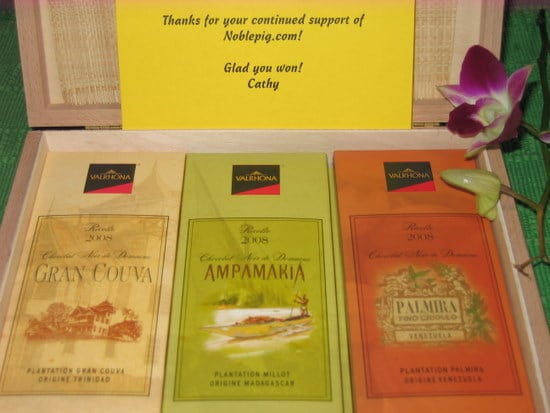 I totally agreed with her. Perhaps it was due to the subtle yet wonderful honey aspect of the Palmira. You guys already know my preference for honey. Thanks again, Cathy, for such an exquisite treat, and long live the Noble Pig!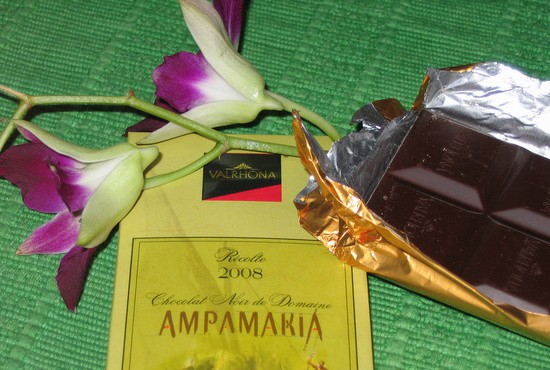 Although I'd seen the photos on Noble Pig, it was quite something holding this fine chocolate in my hands in its handsome presentation box and packaging. Of course, the next question was if the Varlhona's Chocolats Noir de Domaine were gluten free.
Many fine chocolates are gluten free (without malt or wheat ingredients like cookie bits and such added, of course), but some like Godiva will not state they are GF because of cross-contact possibilities.
The back of the packaging for each bar contained the same statement (in both French and English): "This product may contain traces of nuts, milk and egg proteins, gluten and peanut." The ingredients listed were nothing of concern, so Varlhona seemed to be stating the possibility of cross-contact.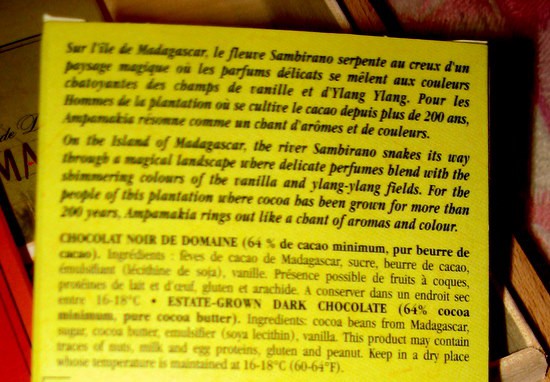 At this juncture, one must always make a judgment call. And, I'll be the first to tell you that the call I make is not the same each time. The factors vary, so my choice varies.
The need to weigh many factors for most processed foods is one of the reasons I choose to eat gfe most of the time. With real food and simple recipes you make from that food, you are much more confident about what you are eating. (Obviously, that holds true whether you are gluten free or not.) Well, you know which choice I made this time because I already told you that I really enjoyed the Palmira.
While I didn't have an obvious reaction to any of the bars we sampled, we all know that does not mean necessarily that a product is 100% gluten free. My husband and I shared the chocolate, too, so I wasn't eating a huge amount at one time either—another possible factor if gluten was, in fact, present in this chocolate.
If the chocolate did contain some gluten, was the amount less than 20 parts per million (ppm)—the proposed FDA standard for "gluten-free" status? Or perhaps any gluten was less than 10 ppm, the standard used by the Gluten Intolerance Group's Certification Organization (GFCO) before a product gets the GF label.
By the way, along these lines, some both interesting and alarming data came out of information submitted to the Food and Drug Administration when it was collecting input for use in developing its standard for "gluten-free" status on a product. The Food Allergy & Anaphylaxis Network (FAAN) presented data that showed that more peanuts were actually present in products that stated they were made in the "same facility as products containing peanuts" than products that "shared equipment as products containing peanuts."
Read that again. There was evidence of more cross-contact when products were made in the same facility versus when products were made on the same equipment.
This data was an eye-opener to many who thought they had been making the better choice. Specifically, most people had stated that they would not eat products made on the same equipment as products containing their allergen of concern, but significantly fewer people were concerned if the products were simply made in the same facility as products containing that allergen.
Obviously, FAAN's intent in sharing this information with the FDA was to show how meaningless food labels can be as well as the scope of the food allergen issues within food manufacturing. It's important to remember that statements such as "made in the same facility" and "made on shared equipment" are voluntary statements from manufacturers.
Such statements are not regulated in any way.
Panées Nuggets de Poulet … Homemade Gluten-Free Chicken Nuggets
Oooh, that sounds wonderful, doesn't it? Even if you have no clue what it means. 😉 Like the Valrhona, also, French. English translation: chicken nuggets.
You can laugh, and I don't blame you. Chicken nuggets are definitely in a different class than Valrhona chocolates, even when you call them Panées Nuggets de Poulet.
However, not all chicken nuggets are those horrid pressed meat things that come in a freezer package or a carry-out container and contain wheat. If you are wondering where I got the French term, while I was in my French frame of mind after eating Chocolats Noir de Domaine.
I've been making my own chicken nuggets for many years, long before I went gluten free. They are extremely easy to make.
Do you have kitchen shears? Then you can make a chicken nugget.
There's no need for soggy, tasteless chicken nuggets. You can easily make crispy and delicious chicken nuggets.
Plus, have you ever looked at the ingredients on a package of chicken nuggets? Even gluten-free ones?
That's setting aside the concerns and anger precipitated by the recent Wellshire Farms deceit or looking at the high costs of commercially prepared chicken nuggets. There are plenty of reasons to make your own chicken nuggets.
Finally, not only children like quality chicken nuggets but also adults do as well … well, they really like my homemade ones for sure. Bite-sized, crunchy outside and tender inside chicken bites that you can pick up with your fingers and dip in a nice little sauce—what's NOT to love?
Do you have some boneless chicken breasts thawed out, but you're lacking the inspiration to make anything with them? Try these chicken nuggets. If you have kids, get them involved with the "breading" part.
Going to a casual party? Take some of these homemade chicken nuggets. They'll go quickly.
Gussy them up a bit as I did by placing them on a festive plate and serving your dipping "sauce" in an elegant container with a beautiful serving fork.
I am actually sharing two recipes for chicken nuggets, both gluten free, of course, and naturally gluten free, too, so gfe.
The first is one I've been making since going gluten free.
The second one I used years ago. The recipe came from a co-worker friend. It's lower in fat (the bad kind) and calls for cornflakes as the breading.
So, it is easily adapted to be gluten free by using gluten-free cornflakes. However, if you recall I don't typically buy gluten-free specialty products, so I rarely make this version although when I do, I enjoy it as much as the first version.
Each time I make chicken nuggets, my husband looks at the plate I hand him with a bit of disdain. You know that look …as if to say, I can't believe you are serving me this. But then he eats his meal and says, "Hey–these are really good! Did you make them?" Yep, each time. LOL
In his defense, I don't make them that often, so he forgets. And, most chicken nuggets are not something you really want for dinner.
But it's kind of nice to be surprising and delighting him with something so easy to make. 🙂 I like making these when I don't really feel like cooking much.
From start to finish, in about 30 minutes, they are ready to eat. Add a baked potato or some oven fries and a simple vegetable and you are good to go!
Homemade Gluten-Free Chicken Nuggets Recipes ("Crispy" or "Tasty")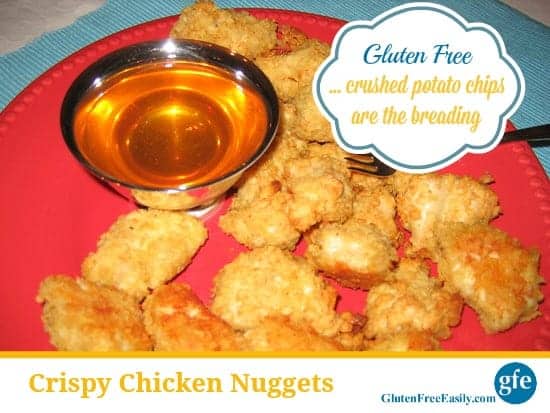 Yield: 24 nuggets
Homemade Gluten-Free Crispy Chicken Nuggets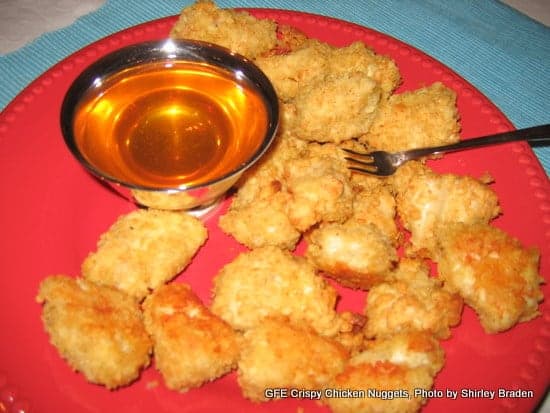 You'll wonder why you or your kids ever ate a ready-made chicken nugget before after you eat these homemade ones. They're so good that you can serve them at a party where only adults are present and they'll disappear immediately! The crushed potato chips make the perfect "breading."
Ingredients
4 boneless chicken breasts (a little over a pound)
1 large egg, beaten
1 1/2 cups crushed gluten-free potato chips (Utz regular potato chips and Lay's classic potato chips are gluten free)
¼ tsp ground black pepper (and other seasonings of your choice ... you do NOT need salt because there's enough in the chips, but perhaps a little Cayenne pepper or Old Bay seasoning for a little bite would be nice)
Instructions
Preheat oven to 450F degrees.
Place crushed chips in a bowl.
Using kitchen shears, cut chicken into nugget-sized pieces.
Dip chicken into egg and then press pieces into crushed potato chips on all sides.
Place chicken on an ungreased baking sheet or glass baking dish.
Bake about 20 minutes, or just until a "test chicken nugget" loses its pink color throughout.
Serve with dip/sauce of your choice: perhaps simply raw honey ([our personal favorite since our bees work so hard to make it for us]), [my all-purpose sauce], [sweet and sour sauce](https://glutenfreeeasily.com/honey-love-and-more/), or maybe even a nice Dijon mustard to make the grown-ups feel, well, more grown up.
Notes
Adapted from a recipe on the celiac listserv (author unknown)
I usually crush my potato chips by placing them in a Ziploc bag and using a rolling pin. For the "breading" stage, I place my crushed potato chips in a bag, like a paper lunch bag, and shake until coated. You can use this recipe for whole boneless chicken breasts to make oven-fried chicken. This recipe is a good reason to hold on to your bag of potato chips when you get to the bottom and all you have left is already mostly crumbs—less work for you and less waste for the planet. In that case, I crush the chips and the "crumbs" right in the bag.
Yield: 24 nuggets
Tasty Chicken Nuggets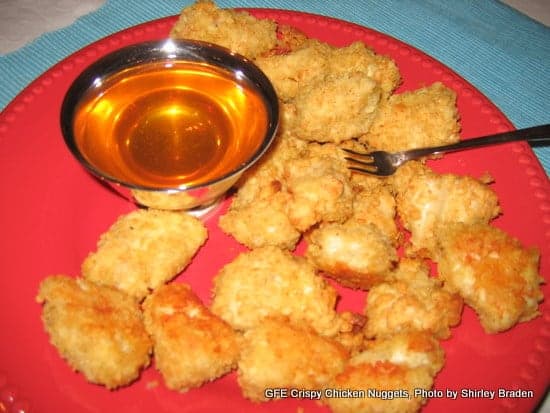 The homemade breading made from gluten-free cornflakes and herbs and spices make these chicken nuggets healthier and more flavorful than most. Try them!

Prep Time 10 minutes

Cook Time 20 minutes

Total Time 30 minutes
Ingredients
1 pound boneless, skinless chicken breasts
1 cup gluten-free cornflake breading (see recipe below)
Cornflake breading
4 cups gluten-free cornflake crumbs
4 tsp chicken bouillon granules (Hormel's Herb-Ox chicken bouillon granules are gluten free)
4 tsp paprika
2 tsp poultry seasoning
1 tsp Italian herb seasoning
½ tsp ground black pepper
1 tsp garlic powder
1 tsp onion powder
Instructions
Using kitchen shears, cut chicken into nugget-sized pieces.
Dredge chicken in shallow bowl filled with breading.
Place chicken on a greased baking sheet or glass baking dish. Bake 20 minutes, or just until a "test chicken nugget" loses its pink color throughout.
Serve with dip/sauce of your choice: perhaps honey (again our personal favorite), my all-purpose sauce, sweet and sour sauce, or perhaps the mustard of your choice.
Combine all ingredients and mix well. Store in airtight container in the refrigerator. Can also be used as coating for fish and whole chicken breasts.
Notes
I turn my cornflakes into crumbs by placing them in a Ziploc bag and using a rolling pin. For the "breading" stage, I place the crumbs in a bag, like a paper lunch bag, and shake until well coated. This recipe was passed on to me many years ago by a co-worker. I still use the copy that she wrote on a stenographer's notebook sheet, but I have no idea of the origin and could not find this recipe online.

That's my two-for-one deal for you today—enjoy!
Originally published March 9, 2009; updated February 10, 2023.