This post may contain affiliate links. If you purchase through them, your cost will stay the same, but gfe will receive a few cents for every dollar spent. Thanks for supporting gfe!
Our family keeps bees and we belong to a regional beekeepers' association. My husband and his mother sometimes attend the monthly meetings, but not often because they are held a good distance away from where we live. For us, the best part of belonging to the group by far is getting its monthly newsletters. My favorite part of the newsletters (not surprisingly) is the recipes. (The "What's Blooming?" section usually makes me smile, too … the January listing: "rain—for the trees and bee plants; snowballs would be nice; house plants; and icicles.")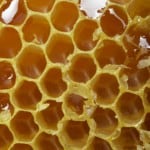 We love using honey from our bees, so when we can incorporate it in recipes—it's a lovely, sweet bonus. 😉 This month's newsletter recipes were Spaghetti Sauce and Honey Salad Dressing, both made from naturally gluten-free ingredients—so gfe! Can't wait to try them, however, it was one from last month that came to mind when I finally settled down this evening.
It had rained endlessly all day and the promised high of 50-degrees never materialized. It was in the lower 30s when I left home and the same when I returned. At work, I had not made much headway on a work assignment with a rapidly approaching deadline and attendance at a meeting on Friday was encouraged … Friday is my usual day off.
Outings to attend other meetings, a slow-to-open umbrella, and standing water in our office parking lot had left me chilled to the bone. So I was a bit grumpy and looking for warmth and comfort when I finally hit home. I changed into comfy, warm clothes, then added wood to the wood stove and cranked it up. I chatted with my husband a little before he left for a weekly visit with a cousin. While my work decompression routine continued, our son packed up his stuff, hugged and kissed me good-bye, and headed out the door to return to college.
Feeling a bit of melancholy on top of some grumpiness, I found the recipe for Honey Hot Chocolate on the top of my "must try" recipe heap. While the syrup mixture was warming on the stove, I located the friendly snowmen mug that had beckoned to me at the thrift store right before Christmas. The recipe made four servings, but I made just one and filled my mug. The snowmen smiled broadly at me and I started feeling better.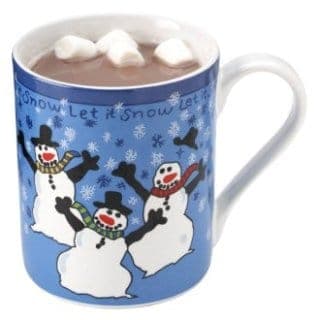 The hot chocolate took little time to make and was very satisfying. It's quite a nice balance of chocolate and honey—whichever variation you make (explained in the recipe below). Either way it's not heavy, as homemade hot chocolate sometimes can be. Usually, I alternate adding additional cocoa and sugar … trying to find just that perfect combination. With this recipe, that kind of tweaking is unnecessary—the hot chocolate is "just right" as it is.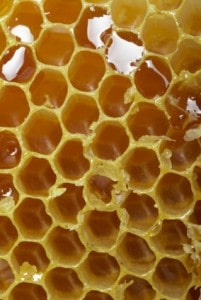 Print
Honey Hot Chocolate
Ingredients
½ cup honey (local, raw/unpasteurized, if available)
½ cup unsweetened cocoa
½ cup water, optional (You can leave out the water or only add a tiny amount used to clean out your measuring cup. Thanks to Nance for the suggestion on eliminating the water for a thicker version; water might be necessary when using coconut milk though)
1 tsp vanilla extract
3 cups hot milk (I used reduced fat; full-fat coconut milk also works)
Instructions
In a small saucepan, combine honey, cocoa powder, and water (if used); mix well. Cook over low heat 5 minutes or until mixture is slightly thickened.
Remove from heat; stir in vanilla extract. Set aside until ready to serve.
When ready to serve, heat milk (saucepan or microwave). Stir chocolate syrup mixture into hot milk.
Notes
Chocolate syrup may be prepared in advance and stored, covered, at room temperature for up to 2 weeks. For single serving of hot chocolate, stir ¼ cup chocolate syrup into ¾ cup hot milk.
Shirley's Notes: Many believe that local honey provides some relief against allergies. Pasteurization of honey is not needed; this heating just allows the honey to be processed more quickly as honey flows more readily when heated. However, many (myself included) maintain that the flavor for pasteurized honey is less appealing than that of non-pasteurized honey. The CDC recommends that children younger than 1 year of age should not be given honey.
From member-submitted recipes at the National Honey Board.