For affiliate links and as an Amazon Associate I earn from qualifying purchases.
Wassail. Slow cooker wassail to be exact. Are you familiar with wassail? It's also known as spiced apple cider. Or mulled cider. Mulled means to heat, sweeten, and flavor with spices. Isn't this just the perfect recipe to kick off October?
Yesterday, September 30 was Mulled Cider Day so, I wanted to remind you all about this amazingly delicious concoction. This is one recipe that usually gets served only during the fall and winter holidays.
Sometimes I think we do a huge disservice when we label a recipe as a holiday or seasonal favorite and then, only serve it during that very brief time window. Wassail, hot spiced punch, is one such recipe.
Traditionally served in the fall or over the holidays, it just seems to get forgotten once those have passed. But, it shouldn't be. This Slow Cooker Wassail is meant to be enjoyed on any day that you'd enjoy sipping a hot flavorful beverage but especially on a chilly day!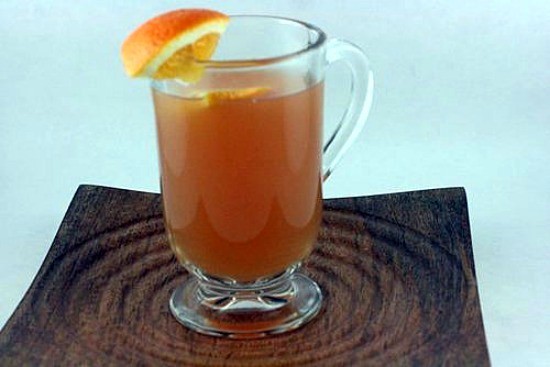 One of my favorite bloggers and now my dear friend, Stephanie O'Dea, of A Year of Slow Cookin , posted a wassail recipe several years ago during the Fall. A quick peek at the ingredients (apple cider or apple juice, pineapple juice, honey, cinnamon, cloves, and an orange) and I knew I had to make it!
I doubled the recipe and served it to my support group for our next meeting. After one sip, I fell absolutely in love with this wassail! Our members loved it, too. I ladled what was left back into a glass jar with the help of a funnel and stored it in the refrigerator. Then I just reheated the wassail a mug at a time; it worked well.
In fact, it was wonderful to have wassail ready to heat and serve a mug at a time. I even shared some with Mom and Dad when they stopped by for a visit. They thought it was great as well.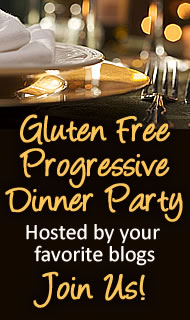 The focus of the Gluten-Free Progressive Dinner Party (GFDP) being held at the time was Light Winter Warmers. Everyone else participating quickly signed up for some fabulous soup recipes. I'm rarely short of soup ideas, but I wanted to be different. (Yes, I'm like that sometimes.) So I thought I'd share a warm beverage instead and Stephanie's Wassail came to mind.
Would wassail qualify as a light winter warmer I wondered? A quick check online showed that wassail actually means "be healthy." Wassail it was then. This wassail is gluten free, dairy free, and even refined sugar free, but no worries, this wassail has no unusual ingredients and it tastes sensational.
I made it again for our support group meeting. The folks who have had enjoyed it previously were very pleased to see my large oval crockpot full of golden liquid with sliced Cara Cara oranges (any oranges will work) and cinnamon sticks floating on top. Others, who had not been in attendance at the previous meeting when I served it, were singing its praises after a few sips.
They were juggling both mugs of wassail and mugs of Tasty Tortilla Soup, but they didn't complain! (There was also great salad, parmesan crisps, cornbread, raw butternut squash soup, fresh cooked greens, whole grain gluten-free bread, and desserts like banana bread, brownies, flourless double chocolate Clementine cake, carrot cake, cupcakes, and even more that I can't recall. Our meetings are always a feast!) I've only made this wassail recipe without the optional brandy, but I'm sure adding brandy, as per Stephanie directions, would provide some lovely sipping for adults!
Now here's the really great news … not only do you get Stephanie's wassail recipe, but she's also donated a signed copy of her New York Times bestseller, Make It Fast, Cook It Slow: The Big Book of Slow Cooking, for a giveaway. (Update: This giveaway is now closed.) Now, I love Stephanie's book because it's got gfe written all over it. Okay, not literally, but every single recipe is either naturally gluten free or gluten free by virtue of ensuring the everyday ingredients used are gluten free. That's embracing the gfe approach for sure.

For example, in the classic comfort food dish of macaroni and cheese, one would just use a gluten-free pasta, such as the brown rice fusilli that Stephanie notes. For chicken pot pie (yes, in your slow cooker!), you'll see gluten-free baking mix cited for biscuit mix. Want to make risotto in your slow cooker? There's a recipe for that. Hey, there's even a recipe for breakfast risotto with fruit and cinnamon and another for corn risotto (her kids called it "corn oatmeal"). How about granola? There's a recipe. Unsatisfied with yogurt choices at your grocery store? Stephanie shows you how to make your own using the slow cooker. How about perfect gluten-free bread? Yep. Grab your favorite gluten-free bread mix or your own recipe and follow her instructions for some fresh, homemade bread.
You might also remember Stephanie's cornbread stuffing from our November Gluten-Free Progressive Dinner Party. I've made many of Stephanie's recipes before and loved them all, but I'm anxious to try more. Today I'm making Stephanie's Salsa Chicken, and her Butternut Squash Soup (which is naturally gluten free, dairy free, and sugar free) is also in my plans. I could go on and on. Bottom line: You'll want this book!
Let's get back to Stephanie's wonderful Slow Cooker Wassail, shall we?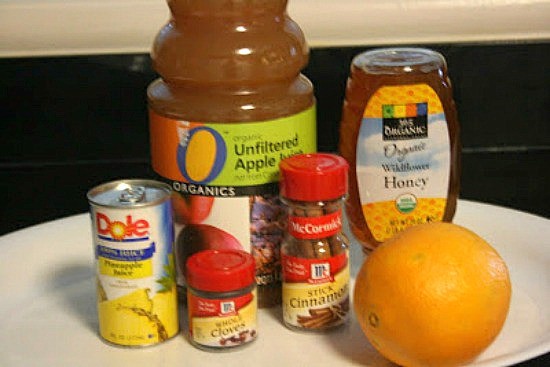 Slow Cooker Wassail Recipe
Yield: Makes 9 cups
Slow Cooker Wassail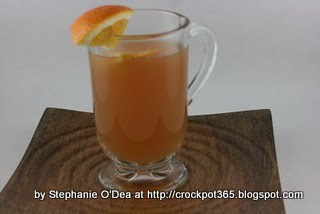 Fill you slow cooker with this amazingly delicious Wassail, also know as Spiced Apple Cider or Mulled Cider. You will love sipping it!

Prep Time 10 minutes

Cook Time 2 hours

Total Time 2 hours 10 minutes
Ingredients
2 quarts apple cider (apple juice also works)
1 cup pineapple juice
1/2 cup honey
3 sticks cinnamon
2 whole cloves
1 whole orange, cut in rings
brandy, optional
Instructions
Put all of the ingredients except for the brandy into a 4 - 6 quart slow cooker/crock pot.
Wash your orange well, and cut off each end. Slice the remaining orange into rings, and float the pieces on the top of the juice.
Cook on high for 2 hours, or on low for about 4. You want the juice completely hot, and the flavor of the cloves and the cinnamon to have permeated.
Ladle into mugs. If you are going to add the brandy, put a shot into each mug, then top with the hot cider.
Notes
Our bees' honey tastes just right in this recipe, but if you don't eat honey, feel free to experiment with another sweetener such as maple syrup.

I find I have to keep my own slow cooker on "High" to keep the wassail hot enough. I do remove the top from time to time for periods of serving (and be sure to have a ladle on a plate beside the crockpot for serving), but the "High" serving works best for me.

Shared with permission from Stephanie O'Dea, A Year of Slow Cooking, and her Make It Fast, Cook It Slow cookbook.

Grab a mug and enjoy your wassail while checking out the other light winter warmers for the GFDP. All the entries have been sooo appealing. Earlier in the week, we enjoyed:
~Karen's Creamy Potato and Leek Soup (unfortunately, this site is no longer active)
~Alison's Roasted Cauliflower Soup with Croutons
~Diane's Winter Fire-Roasted Tomato Soup with Prosciutto Topping, plus her Mexican Seafood Soup, and
~Seamaiden's Vegan Un-Chicken Roasted Vegetable Soup (unfortunately, this site is no longer active)
All amazing, huh?
Now let's head over to Stephanie's today. Think chili! Stephanie's got her crockpot full of Chicken Enchilada Chili. Tomorrow, we're all meeting at Ali's for Moroccan Chickpea and Potato Soup. What a party!
Enjoy and don't forget to enter the giveaway!
Full disclosure: I was provided a complimentary copy of Make It Fast, Cook It Slow by the publisher. However, I was not paid to write this post/review. The opinions expressed here are my own.
Originally published October 1, 2021; updated December 27, 2021.