For affiliate links and as an Amazon Associate I earn from qualifying purchases.
Before we get to today's recipe for gluten-free grain-free Double Chocolate Clementine Cake, first, a Key West mention. The photo below is the view from our favorite seats here in Key West: Kelly's Caribbean Bar, Grill, & Brewery (update: now under new ownership and called First Flight).
Housed in the original home of Pan American Airlines, it's the ultimate spot for Happy Hour. I sooo love Banyan trees!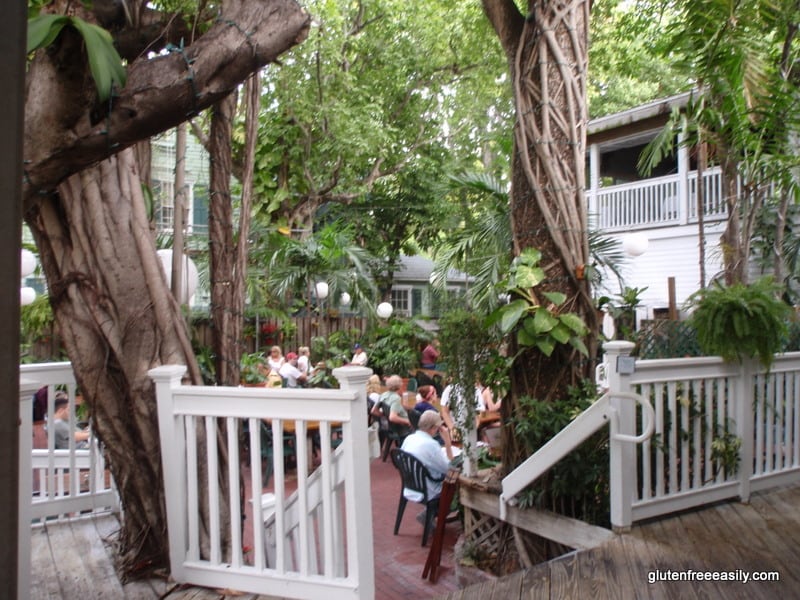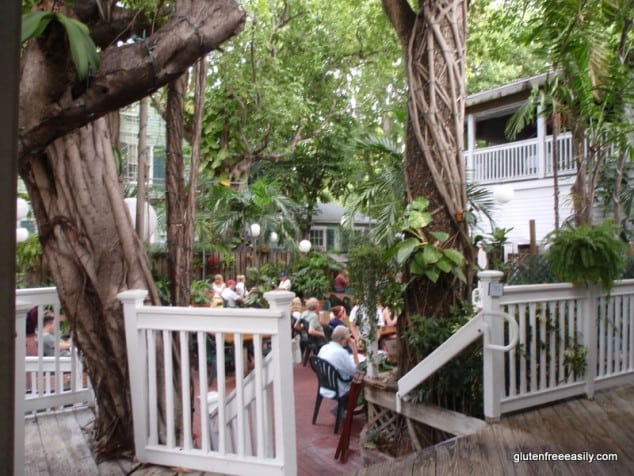 Now … let's talk cake. For years, I've wanted to try Nigella Lawson's Clementine Cake.
For one thing, it's a flourless cake. You all know how I seriously love flourless recipes (and, along the same lines, crustless pies).
Nigella's Clementine Cake is also a recipe made with ground raw almonds (or purchased high-quality almond flour), and I've really enjoyed using almond flour of late (like in My First Raw Pie). But, most importantly, this particular recipe has always intrigued me.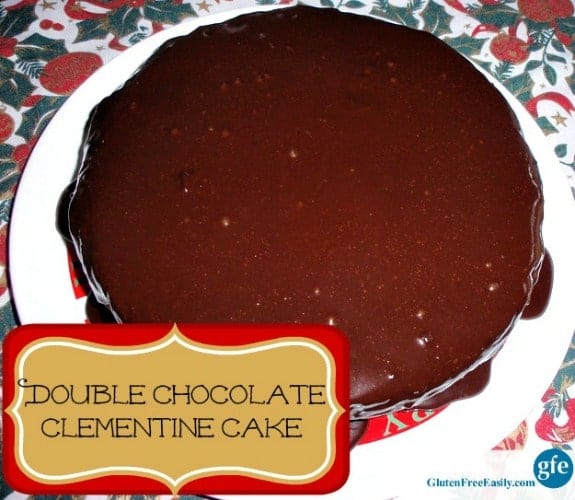 Why? The main reason is that for this recipe, you boil and simmer the Clementines—whole!—for two hours and then you add the Clementines—again, whole (less any seeds, of course)—to the cake batter.
Fascinating, huh? Each holiday season, I've always purchased the Clementines, but each year I run out of time with my baking schedule or the Clementines simply get eaten … and, in the end, the cake does not get made.
I decided that this year would be the year that I actually followed through and made this cake. I did not want to make Nigella's original recipe, the basic Clementine cake, though.
I love almond flour for baking and I enjoy orange-infused baked goods, but adding chocolate to the mix, specifically, to the cake itself, was definitely one of my requirements.
Topping with a glaze—a chocolate glaze, to be specific—would be another requirement. Hence, the name: Double-Chocolate Clementine Cake.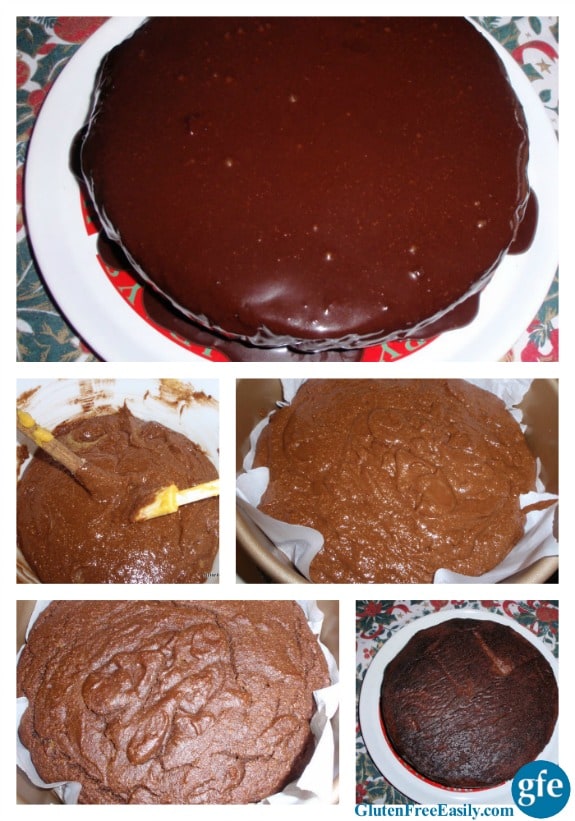 The timing was especially right this year to not only make the cake, but also to share it with others.
Actually, that was my third requirement … as I didn't want to get stuck home alone with such an irresistible cake. Mr. GFE rarely indulges in sweets. Sigh.
We had a cousins' party to attend one evening and I knew I'd be attending a friend's open house the following day. I was also sure my co-workers would enjoy this double chocolate-orange treat.
Yes, this one cake would provide enough servings for all three events as one can be very happy with a small piece of it. It's a lovely chocolate-orange cake.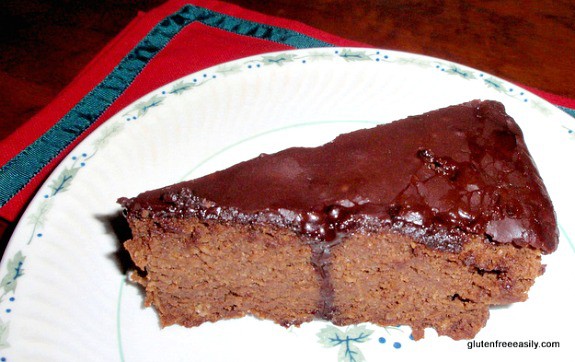 The cake itself is wonderfully dense and not too sweet. The glaze provides just enough of a cocoa-sugary taste and that somewhat silky, somewhat crumbly texture.
This cake would be a great addition to a tea party spread, too.
Got Clementines? Got almonds (or high-quality almond flour)? Then give it a go. You won't be disappointed.
Update: Here's Diane's (The Whole Gang) input from her impressive experience making the cake using her Vitamix:
"OK you're in for a treat. I used my Vitamix Pro 500 to make the Clementine ingredient a 5-min task instead of 2 hours. It has a setting for soup that blends and cooks the ingredients into a creamy smooth clementine mix. I added 1/4 cup of orange juice just to make sure there was enough liquid to get it going. I thought it looked so amazing I tasted it. It was very, very tart and bitter but when baked in the cake, amazing. I even made the glaze in the Vitamix and poured the warm chocolate over the cake. My springform pan was a little smaller than called for so I had extra and I made cupcakes. I'm just so impressed with the amazing texture of this recipe."
Yield: 12 servings
Flourless Double Chocolate Clementine Cake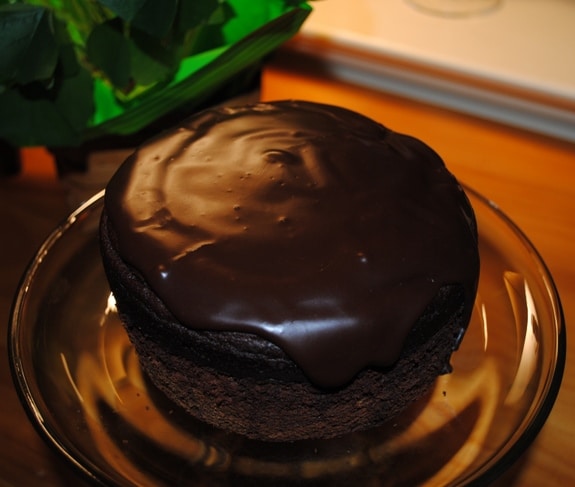 If you love the chocolate-orange flavor combination, you will be over the moon with this divine flourless Double Chocolate Clementine Cake!
Prep Time
2 hours
10 minutes
Total Time
4 hours
50 minutes
Ingredients
Cake Ingredients
5 clementines
6 eggs
1 cup plus 2 tablespoons sugar
2 1/3 cups Honeyville blanched almond flour (or finely ground raw almonds, NOT Bob's Red Mill almond flour)
1 heaping teaspoon baking powder
1/2 cup unsweetened cocoa powder (regular is fine)
Glaze Ingredients
2 tablespoons water
1 cup powdered sugar
1/4 cup unsweetened cocoa powder
1 tablespoon olive oil
Pinch salt
Instructions
Cake Batter Instructions
Scrub clementines and rinse well. Place clementines in a pot with enough cold water to cover them. Bring water to a boil, and cook at a simmer for 2 hours. Drain. When cool enough, pull apart, and remove any seeds. (My clementines had no seeds whatsoever.) Add to food processor or blender and finely chop fruit, peel, and all. (I used my blender for this step and it worked fine.)
Preheat the oven to 375F degrees.
Grease and line an 8-inch springform pan with parchment paper.
Beat the eggs. Add the sugar, almond flour, and baking powder. Mix well, adding the chopped clementines.
Pour the cake mixture into the prepared pan and bake for 1 hour, or until a toothpick comes out clean. Cover the cake with foil after about 40 minutes to prevent the top from burning. Remove from the oven and cool in the pan.
Once cake has cooled, remove from pan. Prepare glaze as shown below and pour/spoon over cake.
Glaze Instructions:
In small saucepan, combine water and powdered sugar until smooth. Sift cocoa over sugar mixture; blend well. Stir in olive oil and salt. Warm glaze over low heat, stirring constantly, until just warm to the touch. Drizzle glaze over top of cake. Allow to set 10 minutes before serving.
Notes
Adapted from Nigella Lawson.
This is definitely a cake that improves after a day or two when the flavors all meld together, but it's delightfully moist and flavorful from Day One. If the glaze should harden before you finish preparing it and adding to cake, add a little more water and warm to spreading consistency. The glaze recipe is from another wonderful gluten-free, dairy-free cake here at gfe: Mediterranean Chocolate Cake.
Enjoy all … we are! There's a Life is Good store here in Key West.
I am weak for their shirts. All the messages are great.
Of course, there are Life Is Crap shirts across the way on Duval. Nope, I won't be buying those.
Originally published December 29, 2009; updated December 3, 2022.