For affiliate links and as an Amazon Associate I earn from qualifying purchases.
Today I want to share another gluten-free chocolate cake recipe that I love. And another flourless recipe at that. Flourless Chocolate Banana Honey Walnut Cake, to be exact.
Loyal gfe readers know that I love flourless recipes. They're naturally gluten free and always decadently delicious!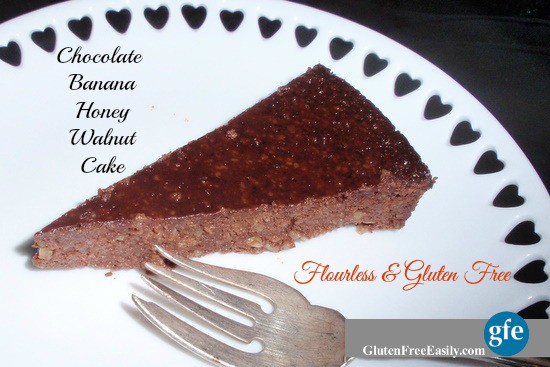 Recently, I shared my post on the 18 variations of my 3-minute chocolate cake. What's that? Oh, you only remember 6 variations? Yeah, you're right … I only shared 6 in that post, but you could easily make 18 variations!
LOL I confess I always exaggerate with the number 8 in the mix … it's one of my little idiosyncrasies. ANYwayyyy … let me get to the important part! Included in that post was a 3-minute, "miniature" version of the flourless chocolate banana honey walnut cake recipe that I'd adapted from my good friend Elana of Elana's Pantry.
All the 3-minute cake versions are quite good, but that particular one is one of my personal favorites (as is Elana's full-sized original that inspired it) because it exemplifies my feelings about the best type of gluten-free dessert. The best gluten-free dessert in my opinion is one that's gluten free easily (gfe) because all the ingredients are gluten free in their natural state.
Flourless desserts are almost always gluten free and are often the ones you can rely on in fine restaurants to be safe. (Be sure to check each and every time though.)
The delightful fact about these desserts is that they are the incredible ones that everyone wants to eat; they are not just ones that are safe for gluten-free folks and, well, potentially only minimally edible.
I hate it when you get a gluten-free dessert and the assessment is "okay" or "not bad." Not exactly a ringing endorsement.
Instead I'm talking about exquisite flourless chocolate tortes, crème brulee, pots de crème, mousse, flan, flourless cookies, and the like—no deprivation there!
Of course, the fact that these desserts are in fact, flourless is a large part of what makes them so decadent. The flavors are shining through in a big way, unencumbered by flour.
I promote the flourless (or minimal amount) of gluten-free flour concept here at gfe quite often because for baked goods and many recipes that normally call for flour, adopting this approach makes gluten-free cooking/baking imminently more "doable." And more importantly it makes the products enjoyable once again.
If you've been following gfe for a while, you've seen recipes like the Flourless Chocolate Cake (a recipe that is quite different from this one but still utterly divine), Mediterranean Chocolate Cake, Flourless Peanut Butter Cookies, Flourless Pizza, and Crustless Quiches.
Savory dishes are included because they benefit from no or limited flour for the same reason … you get to taste the essence of the dish more. The other ingredients are front and center, not relegated to second-class status by flour or a crust.
Elana's Flourless Chocolate Banana Cake appealed to me immediately. First, it was flourless … enough said on that point.
Second, it called for bananas and I always have some baking bananas in the freezer.
Last, it called for honey, and I love to be able to use our bees' honey.
I made a few changes of course. I did not separate eggs as Elana did (I rarely separate eggs—not even for my Flourless Chocolate Cake). I substituted olive oil for the grapeseed oil in the original recipe. I also decided some ground walnuts would add nice texture and provide added nutrition.
The resulting Flourless Chocolate Banana Honey Walnut Cake was everything I hoped for. With the always-desired "chocolateness" made richer by the honey and ground walnuts and enhanced by a somewhat subtle banana flavor.
One piece of this cake is very satisfying. I took this to a committee meeting one afternoon and shared the rest of it with co-workers the next morning and everyone loved it.
Elana did not add flour to this recipe, but I actually think making it with her trademark addition of almond flour (from Honeyville) would make for an equally easy and delicious version of this cake. Until you get some of that, you can make my adaptation below. You probably have the ingredients on hand … because it's gfe, you know?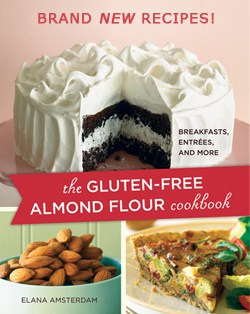 Speaking of the lovely Elana and her fondness for and great success in using almond flour in recipes, have you heard about her new cookbook? It's called The Gluten-Free Almond Flour Cookbook.
I ordered one for myself shortly after my birthday. Before it had even arrived, I visited a dear friend and she gave me my belated birthday gift … guess what it was? Yep, a copy of Elana's cookbook.
Not a problem at all … because I have decided to give my purchased copy to a lucky gfe reader via a giveaway here! NOTE: This giveaway is now closed. I have that copy with me here in San Francisco at the BlogHer Food 2009 conference. Elana is one of the featured speakers. She has also graciously agreed to sign this book for the giveaway when I see her later today. I am so excited on both counts.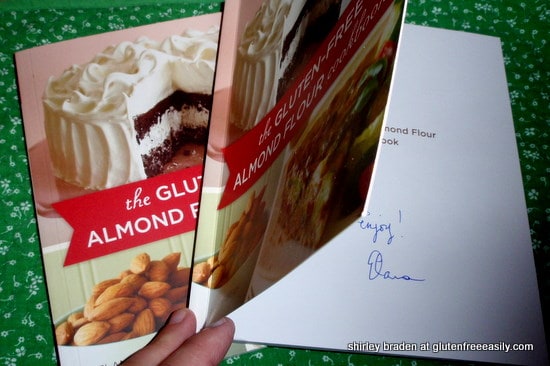 Because I'm at BlogHer Food, I don't have a lot of time to share my review, so I'll give you my brief summary and defer you to a more in-depth review elsewhere, if you don't mind.
This book is as lovely as Elana herself. It includes 99 recipes that run the gamut from appetizers to desserts. Filled with recipes that are delightfully simple when it comes to ingredients and instructions, but wonderfully complex when it comes to flavors and satisfaction.
The amazing photos and the little bits about Elana, that are shared in the book, are just frosting on the cake—make that chocolate, creamy coconut, marshmallow or peanut butter frosting, following Elana's recipes, of course!
Oh, by the way, yes, I'm having a fantastic time here in San Francisco! The conference is today! There was a small, intimate kickoff gathering held last night, but today 300 food bloggers will be gathering for a variety of great sessions.
Before and after, we've been doing our best to take advantage of all there is to see and do. Yesterday afternoon, Diane, Ali, and I went to Muir Woods (a humbling, calming experience of incredible beauty), traveling across the Golden Gate Bridge and also getting to spend some time in Sausolito.
We even ran into Elana herself, her husband, and a sibling they'd happened to run into—serendipity. Elana is every bit as lovely and charming in person as she is on her blog.
Today I've met Stephanie and Alison—both every bit as terrific in person as they are on their sites!—and so many more … "old" favorite bloggers who I've been following for some time and new favorite bloggers.
We've had several amazing naturally gluten-free meals: lunch at Crepe O Chocolat (since closed) and The Slanted Door, and dinner at Farallon. I'll share more details on all when I return from BlogHer Food! Until then, enjoy this flourless Chocolate Banana Honey Walnut Cake.
Flourless Chocolate Honey Banana Walnut Cake Recipe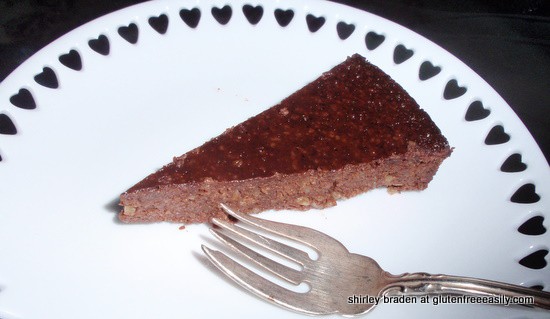 Yield: 8 servings
Flourless Chocolate Banana Honey Walnut Cake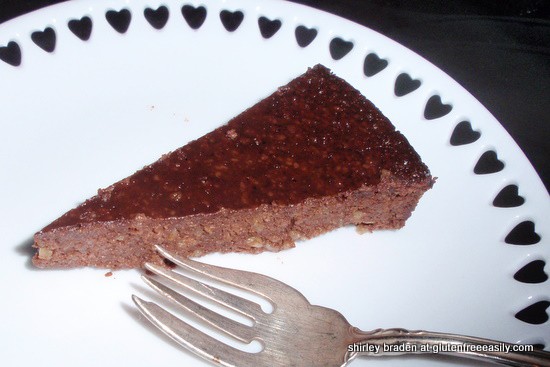 A rich, flourless cake that is healthy and delicious. Suitable for Passover or any time of year.
Ingredients
3 large eggs (I used extra large, but either will work)
¼ teaspoon sea salt
½ cup honey
¼ cup olive oil
1 cup mashed ripe bananas (about 2 bananas, but make sure you have a full cup no matter how many bananas it takes)
1 cup ground walnuts (ground finely enough to hold together well, but not into a meal)
1 tsp cinnamon
Instructions
In a blender, whip eggs, honey, and salt on medium for 1-2 minutes
Add olive oil and mashed banana and blend for another minute or two.
Add cocoa powder, cinnamon, and walnuts. Blend just enough so all is mixed well.
Grease a 9-inch spring form pan and pour batter into pan.
Bake at 350° for 25-30 minutes. (I usually make a circle of parchment paper and use as well as greasing to prevent sticking.)
Let cake sit in pan for 10 minutes. Remove from pan and let cool. Cake will be thin and moist.
Notes
Adapted from Elana's Pantry.
Originally published September 26, 2009; updated March 18, 2021.