For affiliate links and as an Amazon Associate I earn from qualifying purchases.
There's a recipe that's all over the web. You have probably seen it. It's the one where you make chocolate cake in a mug in the microwave … it puffs up over the sides of the mug and bakes in 3 minutes! Well, I made a gluten-free version. Yes, 3-Minute Gluten-Free Chocolate Cake!
I'm not sure of the original source of this recipe. I first saw it probably a year or more ago as a gluten-containing recipe on a forum and converted it to gluten free by simply replacing the flour with gluten-free flour.
Because I'm not one who likes recipes overflowing out of containers, instead I make it in a bowl (9 inches wide and 4 inches deep), which ensures a flat, round cake. I then cut it into four equal pieces.
I've made the 3-minute chocolate cake according to the gluten-free version of the original recipe numerous times, and it's a good cake. It works equally well as a quick chocolate fix  for you and your family or as a simple dessert for guests, maybe with ice cream or fresh fruit. But, to be honest, the basic version doesn't always knock my socks off (and I really like my socks knocked off) and I like experimenting with recipes, so, I've been experimenting with variations of late.
When we were planning our latest girlfriends' dinner this past week, the menu came together as prosciutto-wrapped figs, slow cooker pesto chicken with sweet potatoes (from Stephanie of A Year of Slow Cooking), and lemon basil ice cream. It was my friend's husband's lemon basil ice cream that  made that me think of the 3-minute chocolate cake. We were going for a "no-fuss" dinner.
Not only would 3-minute chocolate cake meet that requirement, but it would also be a little complementary taste of chocolate. (I often wish that you could just get a teeny tiny dessert in restaurants, because all I really want is a few bites. I think the pleasure factor goes down after those first few bites.) I'd also get to demonstrate making this recipe for my friends. Making it wouldn't heat up the kitchen and I could serve it while it was still warm. I really enjoy warm pies and cakes with ice cream.
Thinking of high-end "flourless" restaurant desserts, I made a version using Honeyville blanched almond flour and full-fat coconut milk. All agreed the results were excellent. Both gluten free and dairy free, I'd be willing to wager that it tasted much better than the gluten version. There was absolutely no deprivation involved. The lemon basil ice cream was quite a pleasant surprise, too. The lemon flavor was light and the basil really added something … hard to describe, but almost a sharpness aspect–or perhaps a brightness factor. The combination of the chocolate cake and this ice cream was just the right ending to a very nice meal.
Here's the original recipe below as well as all the variations I've made to date with descriptions and photos.
3-Minute Gluten-Free Chocolate Cake Recipes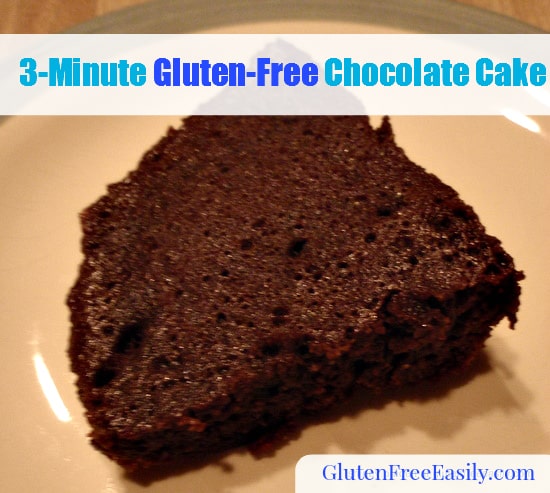 The following version is the one I made for our girlfriends' dinner. With lots of friends who avoid gluten-free flour mixes that contain rice flour and others that need to eat dairy-free, using almond flour and full-fat coconut milk works well. With the fat of the coconut milk, I was able to reduce the oil amount from the original recipe (and you may even be able to reduce it a little bit more if you like).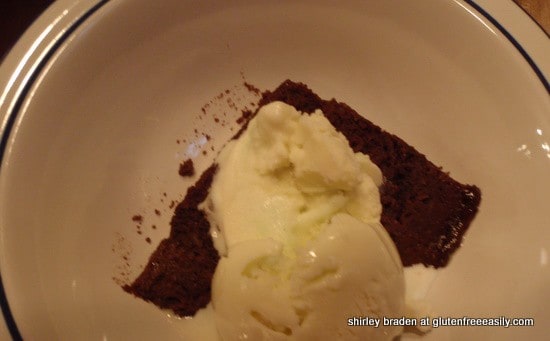 Some folks really like using maple syrup, an unrefined sugar, as a sweetener. Because maple syrup is obviously liquid (versus granulated sugar), in the following version I was able to skip the milk and use less oil. This cake is very good. It's not too sweet and just a tad drier than the other versions. The taste reminds me of the Texas Sheet Cake recipe if you've ever made that one. (I'm sure you could even make a small batch of the Texas Sheet Cake frosting or something similar to your liking to spread or drizzle over this cake.)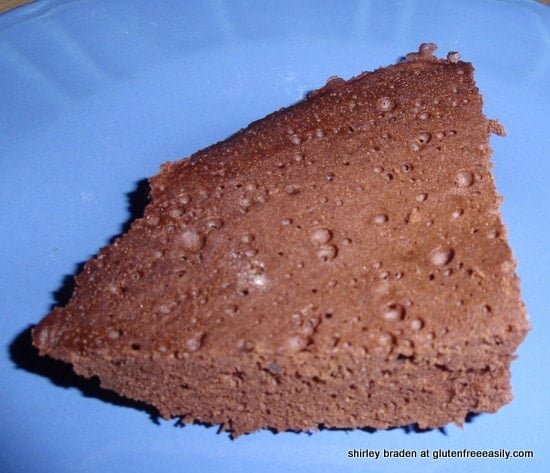 Since I am the queen of baking bananas (and, no, I haven't counted how many are in my freezer at the current moment, but several less since I've been experimenting with this recipe LOL), I had to make a banana version. With our love of our bees' honey (and 4 gallons harvested recently), I also wanted to use honey in the recipe. I had recently made a regular-sized Flourless Chocolate Banana Honey Walnut Cake that got rave reviews, so I employed the same methods for the 3-minute cake version.
Oh, that version is nice. It comes out slightly thinner than the other versions, but you won't care one bit. The combination of chocolate, bananas, honey, and walnuts is rich and flavorful—hard to beat. It would even be a great choice for breakfast in my opinion. And, uh, it's quite good warm, and perhaps not fully set up even, with lemon basil ice cream on top. (Note:  I had hoped this version would be suitable for our gfe readers who are on the Specific Carbohydrate Diet (SCD), but I just learned that the SCD does not include cocoa or chocolate in any form. Perhaps an SCD-knowledgeable reader can offer some ideas on adding chocolate flavor that is SCD compliant.)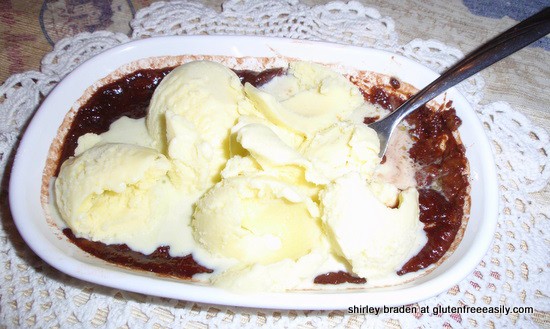 Are you an agave fan? I'm not sure agave agrees with me, but I made this version below with agave and was quite pleased with the taste and appearance. With the liquid of the agave nectar and the full-fat coconut milk, I was able to reduce the amount of oil. Those of you who use agave nectar frequently may tweak this recipe even more per your personal taste … perhaps reducing the agave amount a bit.
Okay, let me share my new favorite variation. Mr. GFE just flew back home from a scuba diving trip. He ended up flying first class to and fro (lucky duck!), so he brought two "airplane" bottles of Bailey's Irish Cream home to me. (He also brought the miniature salt and pepper shakers. He thought they'd be great for camping. LOL) Ah, Bailey's … new inspiration! Trying an Irish Cream variation of the 3-minute cake next just seemed like the best way to use one of those bottles. (Note: Bailey's states that they can not say their Irish Cream is gluten free because the whiskey used to make it contains gluten before distillation. However, distilled alcohol has been proven to be gluten free. I've had no issues with Bailey's Irish Cream, but I advise that you only drink Irish Cream that you feel comfortable drinking. You can read more here.) My plan was to use almond flour, substitute the Irish Cream for the milk, and keep other ingredients and amounts the same as the basic 3-minute cake recipe. However, looking at the mixture after adding one tablespoon of oil, I decided that no more oil was needed and, luckily, I was right. Oh, this is quite the heavenly little cake!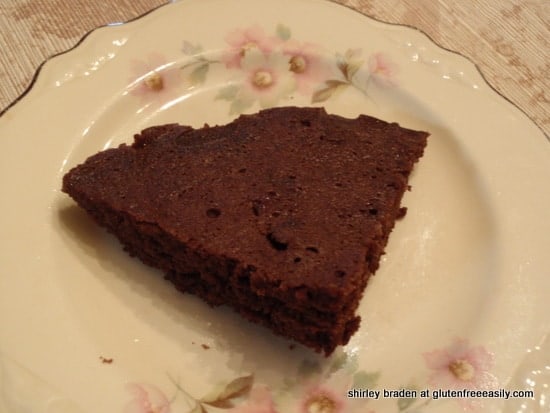 Note that all of these cakes and the individual servings have what I like to call an "artisan" look to them. Meaning they're not too perfect and there are no two alike. If you feel the need, you can top with a dollop of whipped cream or ice cream. I think the sky's the limit on how many variations you can make of these to satisfy your personal tastes. I've also added ¼ cup of shredded coconut and ¼ cup mini chocolate chips to the basic recipe before and was very pleased with the results.
Next, I think I'll try Almond Orange 3-Minute Chocolate Cake … just substituting Grand Marnier for the Irish Cream. And, then I could try a 3-minute version of my Banana Kahlua Coconut Cake. How about a 3-minute yellow cake or pound cake? Then there's the Nutella consideration. Nutella, egg, flour (or flourless), and coconut milk maybe. Or, how about frosting your basic 3-minute chocolate cake or individual servings with Nutella like Anali did her chocolate cake the other day—easy deliciousness. And, hey, what about a peanut butter version? Or peanut butter and Nutella—the cake version of these? Oh, my goodness, the possibilities are endless. Let's have fun with this!