For affiliate links and as an Amazon Associate I earn from qualifying purchases.
Now that "rich" part sounds naughty, doesn't it? But happily it's not. This naturally gluten-free and dairy-free Rich Chocolate Ice Cream gets its richness from four simple ingredients:  coconut milk, bananas, maple syrup, and cocoa powder.
If you don't eat much in the way of refined sugar (or even unrefined sugar), you might even be able to get away with leaving out the maple syrup completely due to the natural sweetness added by the ripe bananas.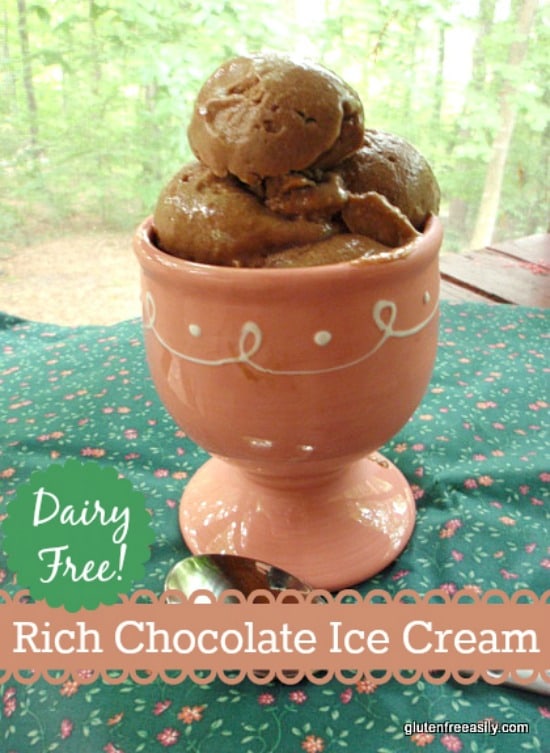 I'll confess that this post is not the one I planned to share today, but when I made this dairy-free chocolate ice cream this morning for Son and it turned out so delicious … well, I had to change my plans! Happy Wednesday, right?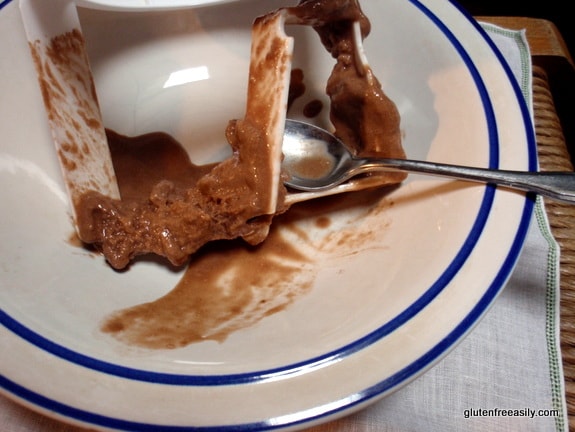 The Ice Cream on the Paddle Made for a Yummy Breakfast!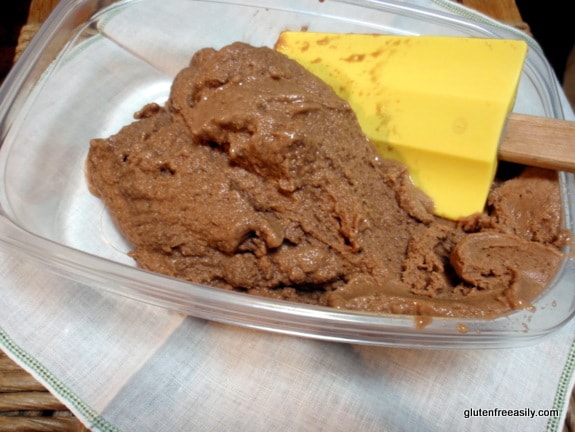 Other Dairy-Free Ice Cream Recipes
Here are some of the other dairy-free ice cream recipes on gfe:
~ Chocolate POMerdoodle Ice Cream
~ Honey Cinnamon Grand Marnier Ice Cream
~ Surprise Mint Chocolate Chip Ice Cream
~ Tomato Rosemary Mint Ice Cream (admittedly, this combination sounds very strange, I'll admit but it's delicious!)
Rich Chocolate Ice Cream Recipe
Yield:
Rich Chocolate Ice Cream (Dairy Free and Vegan)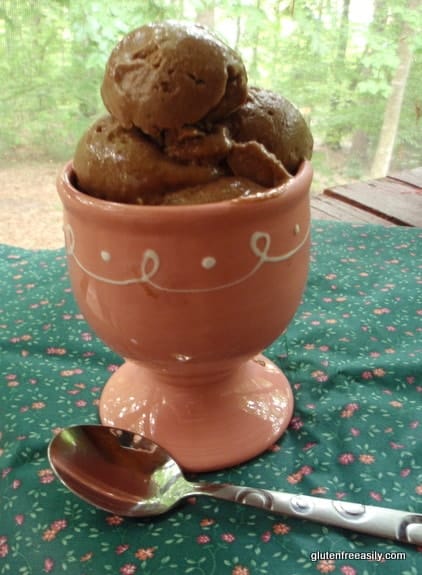 This naturally gluten-free and dairy-free chocolate ice cream gets its goodness from four simple ingredients:  coconut milk, bananas, maple syrup, and cocoa powder. It's rich, creamy, and absolutely delicious.
Instructions
Pour a little of the coconut milk into a glass measuring cup, to equal 1/3 cup. Heat in microwave for 20 seconds. Whisk in cocoa powder. Set aside.
Add remaining coconut milk, maple syrup, bananas, sea salt, and, last, the cocoa-coconut milk mixture to the blender. (Or you may add ingredients to a large bowl and mix using a hand mixer.)
Blend about a minute or until all ingredients are fully incorporated.
Pour into already frozen ice cream tub of ice cream maker. Churn for about 20 to 25 minutes.
Eat immediately as soft-serve ice cream or freeze an additional amount of time in your freezer if you want a really firm ice cream.
Notes
Those who don't eat much sugar (refined or unrefined) may choose to leave out the maple syrup or reduce the amount. Taste the mixture after blending but before churning to determine if you need to add more maple syrup.
If you do not use a microwave oven, you may pour 1/3 cup of coconut milk into a small saucepan and heat slowly until warm and then whisk in your cocoa powder before adding to mixture in blender.
As you can see, I used very large bananas, using much smaller bananas would probably still result in a delicious ice cream, but may change the balance of flavors and creaminess.
While this ice cream can be frozen for eating later, I like it best eating it soft serve right when it's done churning.
If you don't have an ice cream maker, you may want to try an alternative method of making ice cream like this one from David Lebovitz.
If your coconut milk has not chilled quite long enough, using frozen bananas may add just enough of a chill factor to allow you to still make ice cream.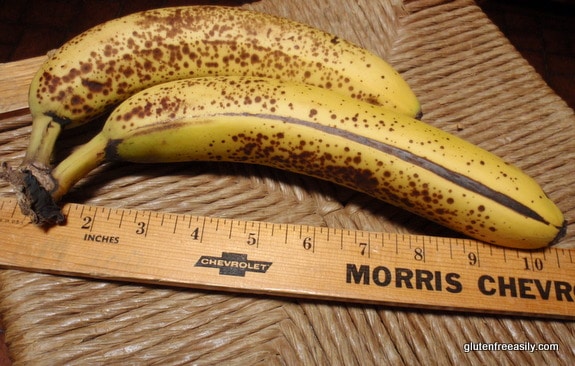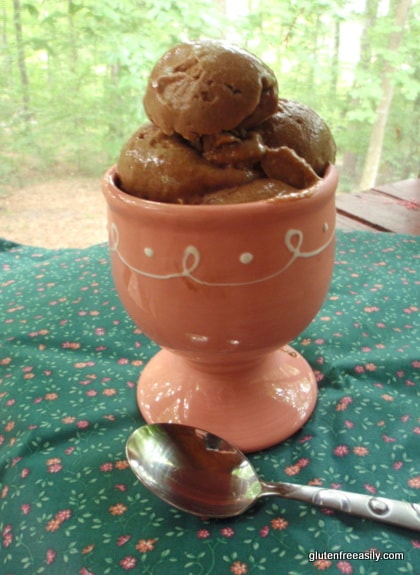 Originally published July 11, 2012; updated June 10, 2018.