For affiliate links and as an Amazon Associate I earn from qualifying purchases.
Caramel is one flavor that always gets top billing in the Fall. Deservedly so! I get excited when I see recipes like these gluten-free Caramel Squares because I simply love caramel. However, often I am just as quickly disappointed when I see recipes with caramel in the title because they require Kraft caramel squares. I don't want to have to worry about having Kraft caramels on hand and I'm not a big fan of their processed caramel taste.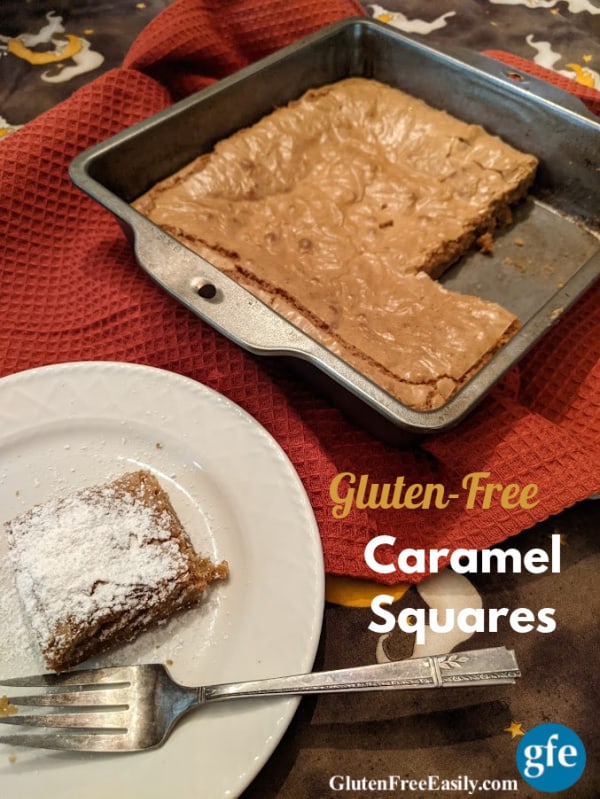 Caramel is truly such an easy flavor to create. Its origins are simply butter and sugar and those are the key ingredients in this recipe. Add in an egg, gluten-free flour mix, baking powder, vanilla extract, and a pinch of salt and you're good to go! Really, those are the only ingredients required to create delicious Caramel Squares.
The aroma coming from the kitchen as these squares bake is simply divine. In fact, the air purifier in my living room was going absolutely crazy! It was getting so excited and so was I! LOL
Once these gluten-free Caramel Squares cool, they're soft in the middle and just a tad chewy on the outermost edges. Frankly, they're amazing.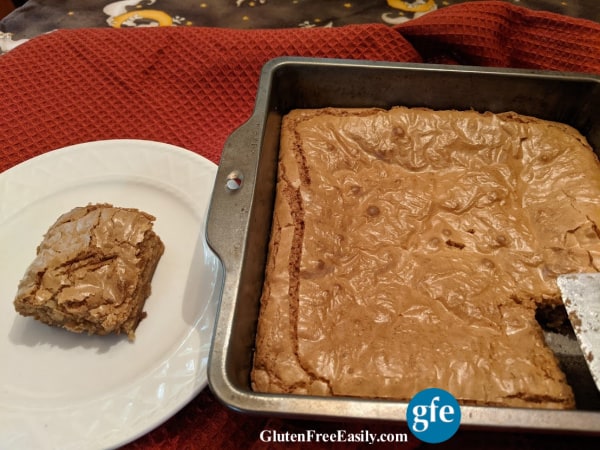 The slightly crusty edges are sensational in my mind. I think I need one of those brownie pans to give me even more crusty edges. Seriously.
Because they're so rich and good, you can actually cut the pan into fairly small squares and still have some very satisfied "customers"! However, let me warn you, when you're home alone with this pan of Caramel Squares, you'll want to use the spatula to cut off one more little square. And then another. And then just one more. That's why sharing these Caramel Squares with others as soon as possible may be a very good thing!
You can sift or sprinkle some powdered sugar on your squares right before serving but they really don't need that topping or anything else. There's also an option to include pecans in this recipe. Which would lead to absolutely delicious results but honestly, they are not needed.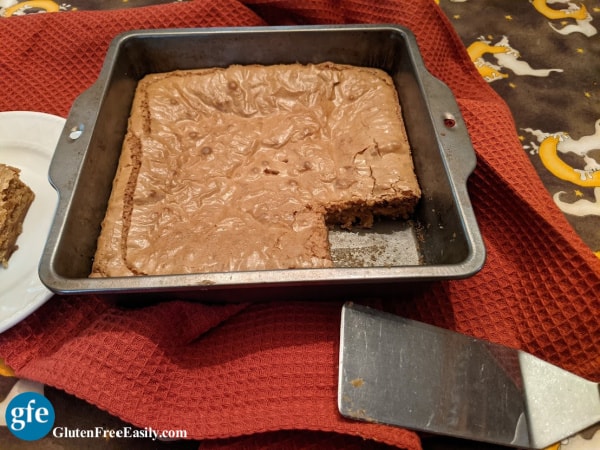 Before today, I had only made this recipe once, long ago. I honestly don't remember making it another time. But it's definitely time to make up for that oversight! Although it was probably a deliberate choice not to make them again as they are so very irresistible.
The Back Story on These Gluten-Free Caramel Squares
I guess I should first mention that I've read that you use butter and white granulated sugar to create the caramel flavor and butter and brown sugar to create the butterscotch flavor. Today's recipe contains butter and brown sugar so does that mean that technically these squares should be called Butterscotch Squares?
The original source of this recipe is a cookbook from one of our local churches (specifically, the one that my late husband grew up attending and where he later played in the handbell choir as an adult). These squares are called Caramel Squares in the cookbook so I'm sticking with that!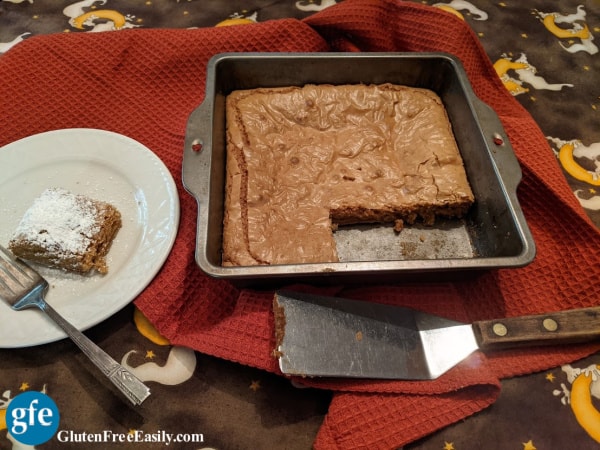 As you can imagine, as a baking recipe in a mainstream cookbook, the original recipe was not gluten free as written. But it was so very easy to make it gluten free.
I simply subbed in the two-ingredient gluten-free all-purpose flour mix that I always use. That's it. No xanthan gum needed. (Although if you use a gluten-free flour mix that includes xanthan gum, it won't be a problem.) Over time with gluten-free baking and "converting" gluten-free full recipes to gluten free, you learn which kind of simple substitution will work and which won't.
Trust me on this, folks. It's tempting to throw away all your "regular" cookbooks when you go gluten free. Don't do that!
I confess that I almost got rid of all my "old" cookbooks myself because I was listening to those who said nothing would ever be the same again for me after going gluten free. Those are some pretty dramatic words, aren't they? And we all know that going gluten free can feel pretty dramatic. Eating some crappy ready-made gluten-free baked goods can also feel pretty dramatic (like the-photo-at-the-beginning-of-this-post dramatic).
Plus, baking from scratch seems to take on new meaning when we first go gluten free. Until we get our bearings. And if we actually start baking gluten free, we will eventually do that!
Especially if we use the gluten free easily, gfe, approach. Meaning that we mainly focus on recipes that are naturally gluten free—yes, even baking recipes—and other recipes, such as today's Caramel Squares, in which we can make simple substitutions to successfully make them gluten free.
Now for the recipe for these totally yummy gluten-free Caramel Squares! I really hope you will enjoy them! Update: Since I made these Caramel Squares, I've also created an apple version, Caramel Apple Squares.
More Irresistible Gluten-Free Caramel Recipes
~ Homemade Salted Caramels from My Gluten-Free Kitchen
~ Pecan Pie with Bacon Crust and Caramel Drizzle from Predominantly Paleo
~ Salted Caramel Apple Muffins
~ Salted Caramel Hot Chocolate
~ Salted Caramel Shortbread Brownies
Gluten-Free Caramel Squares Recipe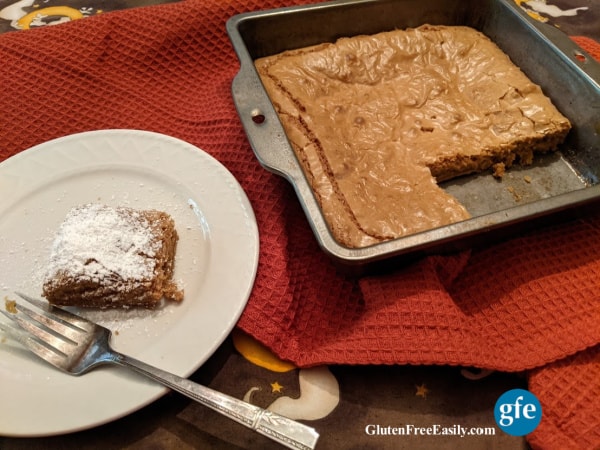 Yield: 12 to 16 squares
Gluten-Free Caramel Squares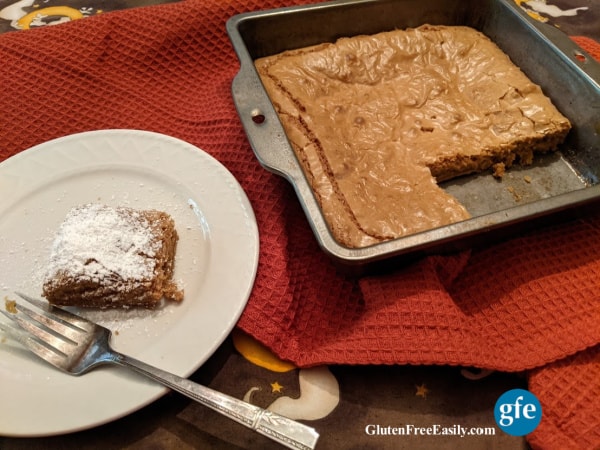 These irresistible only require a handful of ingredients (and Kraft caramels are not on the list) and are quick and easy to make!

Prep Time 5 minutes

Cook Time 20 minutes

Additional Time 5 minutes

Total Time 35 minutes
Ingredients
½ cup butter (or dairy-free equivalent such as soy-free Earth Balance Buttery Spread)
1 cup packed light brown sugar
1 large egg
1 cup gluten-free flour mix (I used my Two-Ingredient Flour Mix)
1 tsp baking powder
Pinch of salt
1 tsp gluten-free vanilla extract
1 cup chopped pecans, optional (the version shown does not include pecans)
Powdered sugar, optional
Instructions
Preheat oven to 350F.
Grease 9 x 9 (or 8 x 8) baking dish.
In a medium-sized saucepan over low heat, melt butter and brown sugar together. Stir constantly until smooth. Remove from heat and cool slightly.
Beat in egg.
Sift in gluten-free flour mix, baking powder, and salt.
Stir in vanilla extract.
Beat until smooth. Stir in pecans, if adding.
Pour batter into the baking dish.
Bake 20 to 25 minutes. Test for doneness with a toothpick.
Cool. Sprinkle with powdered sugar, if desired---either individual slices or entire. Cut into squares.
Notes
If using an 8 x 8 pan instead of a 9 x 9 pan, baking time may be slightly longer.

This recipe does not require xanthan gum but if that is already included in your gluten-free flour mix, it won't negatively affect the recipe.

If you are not using my Two-Ingredient Gluten-Free Flour Mix, I recommend a gluten-free flour mix that is a mix of lighter flours and starches. I don't recommend a heavier flour mix, for example, one that's bean-flour based.

Some have asked about egg substitutes for this recipe. I have not tried any in it but one reader reported that this recipe did not work at all with a flax gel egg.

Originally published October 30, 2021; updated July 21, 2023.