This post may contain affiliate links. If you purchase through them, your cost will stay the same, but gfe will receive a few cents for every dollar spent. Thanks for supporting gfe!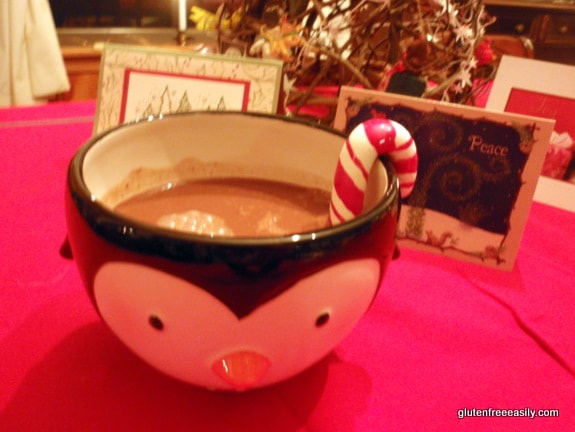 UPDATE: This giveaway is now closed. See all the winners here. What do you do if you've worked on a recipe for a while and still haven't gotten it the way you want it and then another person comes up with the perfect solution and recipe? Do you keep plugging away at creating your very own recipe because it just has to be yours, you want to claim ownership, you want the glory, etc.? Or do you bow gracefully to the other person, say "thank you!" and enjoy the wonderful recipe that you couldn't quite get right no your own. I definitely do the latter.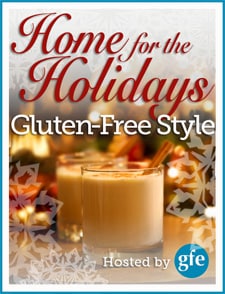 What on earth am I talking about? Well, let's backtrack a moment. Remember when I posted about Zoe (Z's Cup of Tea) and her Cranberry White Chocolate Chunk Cookies that were inspired by Starbuck's Cranberry Bliss Bars. Well, it was Zoe—Starbucks' aficionado that she is—who introduced me to Starbuck's Salted Caramel Hot Chocolate. I had never even heard of it, but the moment she mentioned it, I had to have it. Never mind that I was really trying to avoid dairy (then and now). You know those chocolate-covered caramels with the sprinkle of sea salt. LOVE. So last winter, after I had my very first Salted Caramel Hot Chocolate at Starbucks and that salty caramel flavoring made me so very happy, I made it a point to stop by Starbucks any time I was in the area. I may have even re-routed my trip a few times. All told, I only enjoyed it about four times, but I loved each and every time. And oh, how sad I was for winter season to end because it meant that Salted Caramel Hot Chocolate was off the menu. So to close out our Home for the Holidays … Gluten-Free Style event, I thought this would be a lovely recipe to share. Fix a mug and sit and admire your Christmas tree or sip on some while visiting with family during Hanukkah or share with your family while enjoying your favorite holiday celebration.
It sounds lovely, doesn't it? Well, I have great news … even though I wasn't able to create the perfect recipe, thanks to my dear friend, Kim (Cook IT Allergy Free), you can enjoy Salted Caramel Hot Chocolate. Serendipitously, just the other day for the Desserts week of A Gluten-Free Holiday event, she shared her recipe for Salted Caramel Apple Pie. (Maggie of She Let Them Eat Cake was hosting that week, but Amy of Simply Sugar & Gluten Free hosted the event; check out all the links here.) The Salted Caramel Sauce she created is just perfect for making Salted Caramel Hot Chocolate. When Kim mentioned on Facebook the other day that she had added some of the sauce to her Good Earth Sweet and Spicy Tea (another new love that she introduced me, too) for a lovely dessert tea, I went Ah-Ha!
You can find Kim's recipe for her Salted Caramel Sauce here in her post on her Salted Caramel Apple Pie. (I'm sure you'll want that recipe, too!) The only change I made when using Kim's Salted Caramel Sauce was to increase the amount of sea salt from ¼ teaspoon to ½ teaspoon and I added a pinch to the top of my hot chocolate right before drinking, too. (Starbucks uses turbinado sugar and sea salt as their final topping so I may try a little bit of that mixture next time.) For my mug of hot chocolate, I used from 2 to 3 tablespoons of Kim's salted caramel sauce added to my mixture of milk and cocoa powder. The amount depends upon personal tastes and the milk used. For example, vanilla almond milk overpowers the salted caramel sauce and more is needed, so I recommend using unsweetened almond milk, unsweetened rice milk, or even cow's milk if you consume dairy. Use your typical amounts of milk and hot cocoa for making your hot chocolate, but leave out any sweetener as the salted caramel sauce will be your sweetener. I urge you to make Kim's sauce—again you can find the recipe here in her post—so you can enjoy Salted Caramel Hot Chocolate from the comfort of your own home this holiday season!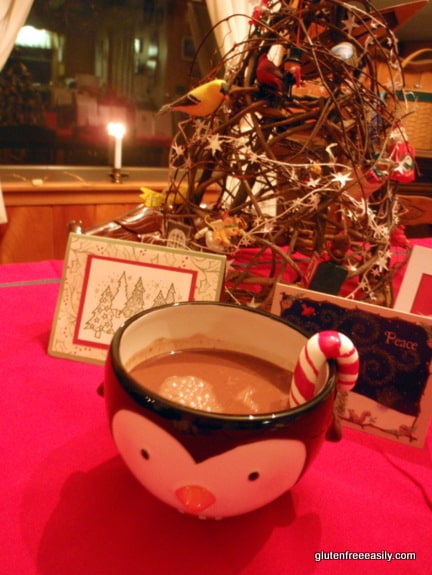 Of course, I have some giveaways today. First, I have another copy of Dangerous Grains for one reader. As I've shared before, this book was the very first book that I read after being diagnosed with gluten intolerance (later through MyCeliac ID, I found out I was 16 times more likely to develop celiac disease). I couldn't put this book down. I greatly respect and admire its primary author, Ron Hoggan, Ed.D. He was the guest speaker at my support group's annual open house event a few years ago. His knowledge and willingness to share it with others amazed me and everyone present. Dangerous Grains covers a couple of hundred conditions and symptoms related to gluten issues, but it's an easy read.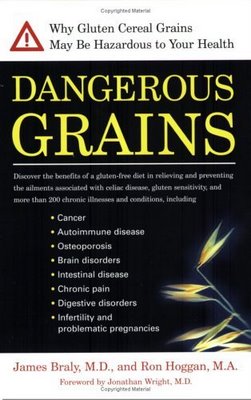 Next up, I have another copy of Dr. Stephen Wangen's Healthier Without Wheat for another reader. Healthier Without Wheat addresses celiac disease, gluten intolerance/non-celiac gluten sensitivity, and wheat and gluten allergies. Dr. Wangen also addresses other food intolerances that often come into play when gluten is one's enemy. Dr. Wangen is gluten free and dairy free himself. He's a frequent and popular speaker at celiac and gluten intolerance conferences.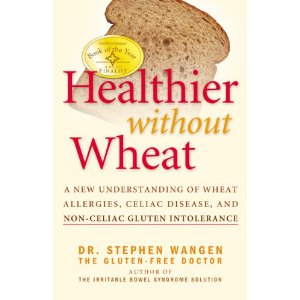 Finally, thanks to the folks from GlutenTox Home Detection Kits, I have two testing kits to give away. Heidi (Adventures of a Gluten-Free Mom) did an outstanding job (as is always the case!) on discussing the science behind these testing kits and walking you through how to conduct testing here. She summarized and shared results from testing that both she and Wendy (Celiacs in the House) had conducted. Sometimes we suspect that we are getting "glutened" in our own homes. These testing kits are invaluable when it comes to determining the cause of such instances. Please remember that we still do not have a legal definition of "gluten-free" in the U.S. The push for gluten-free labeling—initiated by Jules Shepard and John Forberger in the First Gluten-Free Labeling Summit/Tallest Gluten-Free Cake/1in133.org event—continues, but right now we're still in wait mode as the FDA evaluates comments submitted on their proposed "less than 20 ppm" standard.


While it would be grand to be able to believe that any product labeled "gluten free" truly was gluten free and would be safe for us to eat, the reality is far from that. Case in point, the Gluten-Free Watchdog program just released the findings of their independent testing on Food for Life Brown Rice Tortillas and Millet Bread. Neither tested gluten free. Let me repeat that, with even more emphasis. Neither tested gluten free. Founded by Tricia Thompson—long-time gluten-free advocate, registered dietitian, and nutritional consultant—Gluten-Free Watchdog does not just do one test, or simply test one batch/one lot. The organization does testing on multiple lots and more than one test, to be able to share accurate, comprehensive findings. You can read the release statement on the testing of Food for Life products by Gluten-Free Watchdog on its site here. Note that actual test readings are only available to Gluten-Free Watchdog subscribers (read more here), but what has been released to the public is that these products tested above 20 ppm, the level that is proposed as the "safe" level for gluten free. I personally don't agree with less than 20 ppm as being safe (that level is unacceptable to me), so I was especially pleased when Emily Kauffman, the representative for GlutenTox, told me that "the test can detect as low as 3ppm, if you put 13 drops of extraction solution into the dilution vial." She went on to say that most people find that too limiting. However, again, I was thrilled to know that I could test to 3 ppm with GlutenTox if I simply added more of the sample when doing my testing.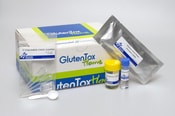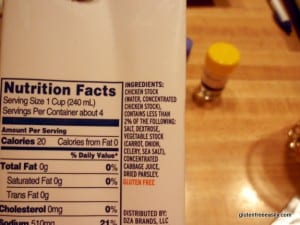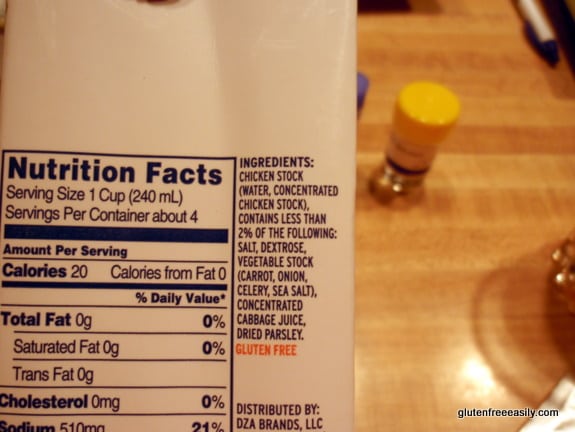 I've done some testing using the GlutenTox kit, but plan to do more. I shared my Turkey Tetrazzini recipe right before Thanksgiving. What I didn't share at the time was that it made me sick; i.e., I got "glutened." It's a fabulous recipe that I've used many times before, but after just a few bites I was not feeling well at all. I was hosting Thanksgiving the next day and had to scratch several things off my "to do" list.  And Mr. GFE and Son had to step up to the plate and help out quite a bit to ensure that we had a successful Thanksgiving meal. For the Turkey Tetrazzini, I had used two products that were suspect. In hindsight. Obviously, using gluten-free ingredients is always my goal. The two that were suspect after the fact were a generic product from my local grocery and a gluten-free specialty item that was certified gluten free by the Gluten-Free Certification Organization. The first—chicken stock—was labeled gluten free with no ingredients of concern on the label. I had used this product before without issue, but since I was certain that it was not certified and sure that the grocery chain had not tested it in any way; that was my suspect. So I used the GlutenTox test on it and checked it to the 3 ppm level. Note that each test kit allows you to test two items for gluten. The testing is very easy to do; instructions are clear.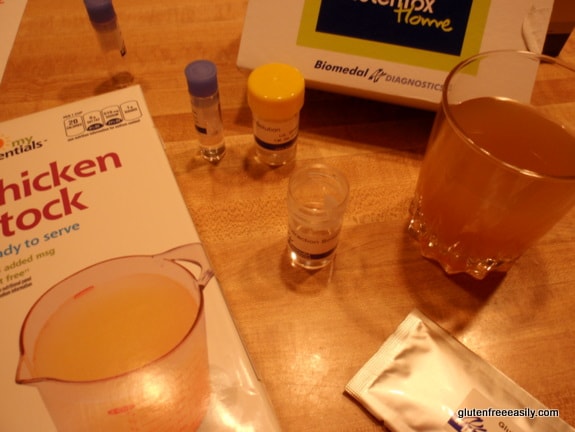 The results of testing the store brand chicken stock? Negative. Because one of the vials arrived damaged, I had an extra test strip, so I applied the sample to that as well … somewhat of a double check, if you will. Again, the results were negative. So my initial suspect has been ruled out. That's proof that the likely culprit is not always the true culprit, and guessing the source of gluten can be a very misleading exercise.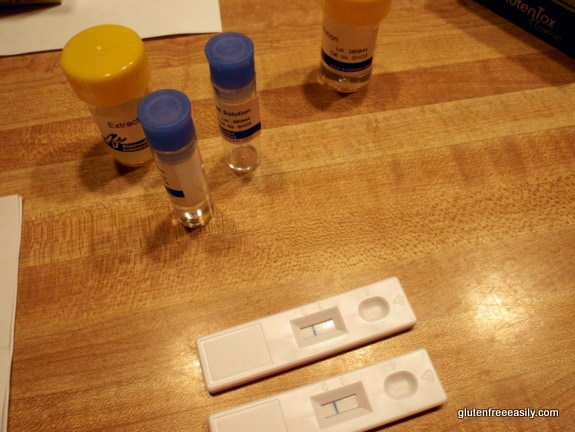 The kind folks at GlutenTox, who are sponsoring this giveaway and provided the first kit for my review, have sent me another complimentary test kit. However, I have not had time to use it on the other ingredient yet. The truth is I tend to have a deluded sense of time when it comes to what I can actually accomplish in a day that's filled with holiday preparations! Plus, Mr. GFE and I did some last minute shopping and enjoyed a meal out today. What a treat that was! We have a local place where I can enjoy a gluten-free crab cake (no filler, safe cornmeal for some minimal breading, and oven baked versus deep fried) and salad with the house dressing, lemon tahini. This meal is a real treat and I decided to forego additional testing right now to enjoy that with Mr. GFE. But I will test the second ingredient and share the results soon.
This giveaway ends Sunday, December 25th, Christmas Day, at 4:00 pm EST. Winners for this giveaway, this week's daily giveaways, and the final prizes—third prize, Caveman Cookies gift package ($89 value); second prize, Free From Gluten $150 shopping spree, and grand prize, a Vitamix—the 5200 Super Healthy Lifestyle package (that comes with a separate container for grains!)—will be announced later that evening. Can't wait, as someone's Christmas will be especially merry! Finally, Merry Christmas to all my dear readers who celebrate this holiday with me! And the happiest of holidays to all! I hope you get to spend some very special time with your family and friends.
To enter the giveaway:

~ Leave a comment. (required)

~ Share the giveaway on Facebook, Twitter, or your blog (if applicable). Leave a comment that you did. (optional)