For affiliate links and as an Amazon Associate I earn from qualifying purchases.
I'm so excited to welcome my good friend Iris Higgins to gfe today! She's sharing her gluten-free Lemon Bars recipe. Okay, she calls them Lemon Squares.
I think I've called these much-loved classic treats both names over the years. What do you call them? I'm sure we all agree that it doesn't matter what you call them as long as they're delicious and you can see from the photo alone that these Lemon Bars (yeah, I'm going with Lemon Bars) are perfectly lemon and yes, absolutely luscious!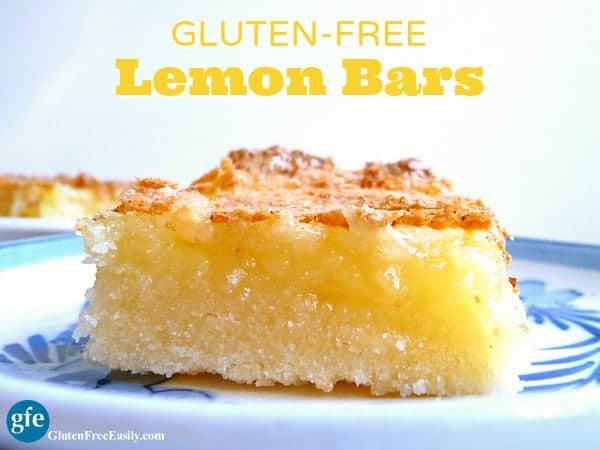 Iris is a skilled gluten-free baker among many other things. She is the author of the highly praised gluten-free cookbooks The Essential Gluten-Free Baking Guide Part 1 and The Essential Gluten-Free Baking Guide Part 2.
Now I'll turn it over to Iris so she can share her recipe and tell you what she's up to these days! You can read even more about Iris at the very bottom of this post.
Lemon Bars and Some Words from Iris Higgins
Hey there! I'm stopping by Gluten Free Easily today to share one of my all-time favorite recipes, Lemon Squares, although some might call these Lemon Bars. I've been making these since I was a kid. Now I make them gluten free, and I think they're even better!
My name is Iris Higgins and I used to write a gluten-free recipe blog. You might remember The Daily Dietribe. You might not. It's been a while since I was active in the gluten-free online community.
You see, I closed down my gluten-free blog to focus on my passion: teaching women how to get in touch with their intuition and regain their spark for life.
My gluten-free blog was actually part of that process for me, fulfilling a need for creativity that was lacking in my life at the time. Today, my business is all about being creative, and the passion I had for dreaming up new recipes has been taken over by dreaming up new meditations, workshops, and retreats.
But when I closed down my blog, neither Shirley nor I wanted to see all of my recipes disappear from the web. So she asked me to share some of my favorites with her audience here. This recipe for Lemon Bars is the first recipe I'll share, and Shirley will be sharing more over time.
I've learned that people either love lemon desserts or hate them. Me? I will happily eat lemon meringue, lemon pie, lemon cookies, lemon cake…you name it. But my favorite lemon dessert by far is Lemon Squares, aka Lemon Bars.
Little chilled bites of tangy sweetness with just the hint of a crunchy top. Seriously. These are everything.
Even my friends who don't like lemon desserts enjoy these. Here's one more close-up of one of these Lemon Bars before I give you the recipe. I hope you enjoy them!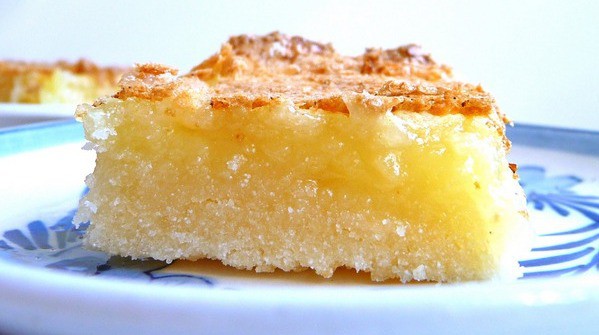 -Iris-
p.s. Although most of my recipes have been taken down, you can download my FREE e-book, Gluten Free Fan Favorites RIGHT HERE. It includes recipes for the following: buckwheat crepes, quinoa granola bars, banana muffins, English muffins, chocolate chip coffee cake, and more!
More Luscious Gluten-Free Lemon Recipes
~ Crustless Lemon Cheesecake Pie from gfe
~ Homemade Lemon Curd from Everyday Gluten-Free Gourmet
~ Lemon Chia Seed Muffins from Premeditated Leftovers via gfe
~ Lemon Sponge Cake on gfe
~ Lemon Yogurt Muffins on gfe
~ Ultra Lemon Brownies from In Johnna's Kitchen
Gluten-Free Lemon Bars Recipe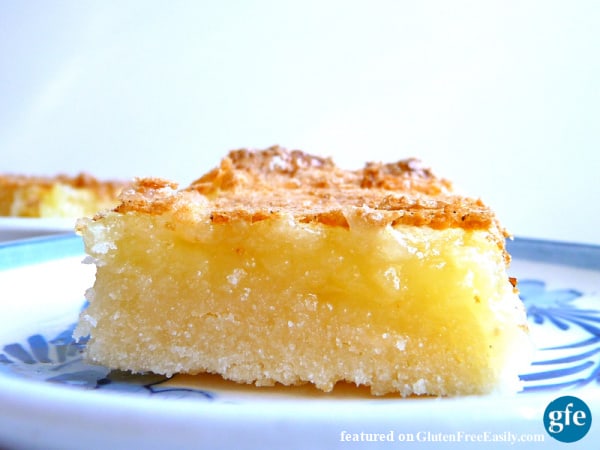 Yield: 9 large or 16 small bars
Gluten-Free Lemon Bars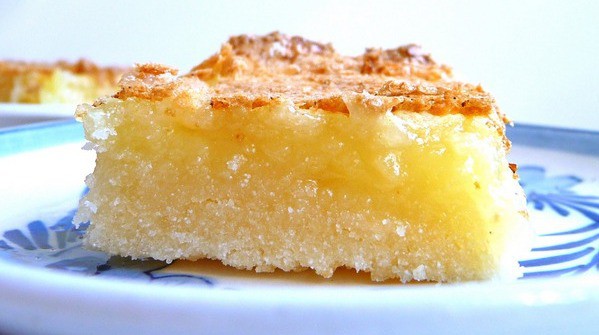 Iris says: "Little chilled bites of tangy sweetness with just the hint of a crunchy top. Seriously. These are everything. Even my friends who don't like lemon desserts enjoy these."

Prep Time 10 minutes

Cook Time 40 minutes

Inactive Time 30 minutes

Total Time 1 hour 20 minutes
Ingredients
1/2 cup butter/coconut oil/butter substitute
1/4 cup sugar
1 cup sweet white rice flour (155 grams) (see notes)
1 tsp pure vanilla extract
1 tbsp cold water
2 large eggs
1 cup sugar
1/2 tsp baking powder
2 tbsp fresh lemon juice
powdered sugar or coconut flakes, optional
Instructions
Preheat oven to 350F degrees. Grease an 8 x 8 inch baking dish.
Beat together (or combine in a food processor) the butter, sugar, sweet white rice flour, vanilla extract, and water. Press into the baking dish and bake for 20 minutes. Remove from oven.
Whisk the eggs, sugar, baking powder, and lemon juice together. Pour evenly over the crust, then put back in the oven for 20 minutes.
Dust with powdered sugar or coconut flakes if desired. Let cool completely, and chill in the fridge before serving.
Store in an airtight container in the fridge.
Notes
Makes 9 large or 16 small bars.Note that sweet white rice flour is not the same as white rice flour. Sweet rice flour is also called Mochiko or glutinous rice flour.

Iris Higgins, MA, is a certified hypnotherapist and the creator of The Goldilocks Movement, a virtual retreat where she teaches women to embrace their creativity and hone their intuition. She learned to follow her intuition by doing the opposite. For years, she ignored what her inner wisdom was telling her, and it affected her mental and physical health. After years of depression and mysterious headaches and fatigue, she decided to make a commitment to following her instincts and embracing the unknown. Now headache free and full of energy, she continues to happily embrace the unknown while living with her boyfriend and their young son in Prescott, AZ.
Originally published June 12, 2016; updated December 5, 2021.