For affiliate links and as an Amazon Associate I earn from qualifying purchases.
Chocolate Silk Pie. Yesterday, three significant things happened and this gluten-free Chocolate Silk Pie was definitely one of them!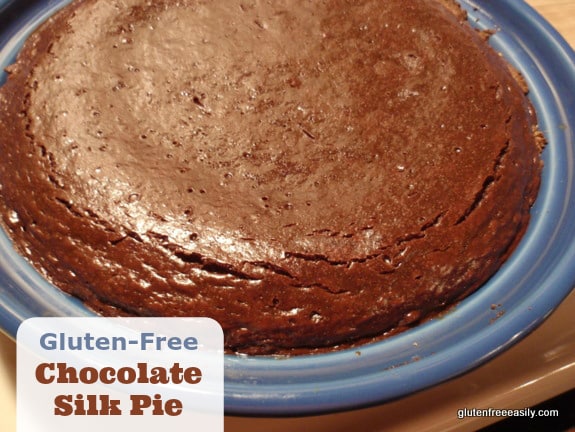 We celebrated my father's 79th birthday (a truly wonderful time!), I made this Chocolate Silk Pie (grain free and dairy free) as one of our desserts for the event, and Mr. GFE proclaimed this pie as his Favorite Dessert of the Month. Now that was a pretty brash assessment from Mr. GFE with yesterday being the second day of the month! Especially considering that I haven't even started with my pumpkin creations for the season yet. (Soon though … I picked up four pie pumpkins today.)
But in the chocolate category, Mr. GFE might well be right. And it might even win out for more than just this month. I have to say that it's certainly one of the best in the chocolate dessert category (it reminds me of Chocolate Pots de Crème, which I adore!) and there are a LOT of chocolate favorites here at gfe. (Flourless Chocolate Cake, Flourless Chocolate Sparkling Cookies, Simple and Good Chocolate Cake, Double Chocolate Clementine Cake, Mediterranean Chocolate Cake, Chocolate Zucchini Bread, Dark Chocolate Walnut Bliss Bars, 3-Minute Chocolate Cake, Katharine Hepburn Brownies … and the list goes on.)
A recipe that was in my massive "make some day" pile was my original inspiration for this recipe. From the November 2006 issues of Real Simple magazine, the recipe I had saved had a shortbread-pecan crust. Now that sounds divine, doesn't it?
Not surprisingly, the recipe relied on store-bought shortbread cookies. I've made gluten-free shortbread cookies so some day, I'll make them again and turn them into a pie crust. Maybe I'll do that for another version of Chocolate Silk Pie, maybe even the gluten-free, dairy-free version of the one featured in Real Simple.
The Chocolate Silk Pie itself called for heavy cream, semi-sweet chocolate, six egg yolks (ugh—I avoid separating eggs if I can, just another step), sugar, cornstarch, vanilla extract, butter, and cocoa powder. All were to be mixed together while the chocolate and butter mixture was still hot, but not baked.
Chilling time alone for the pie was 3 hours. I did not have 3 hours of extra time before we were due at mom and dad's. So I looked to simpler Chocolate Silk Pie recipes, ones which had almost the same ingredients. Recipes where neither cornstarch nor egg separation was required.
Most importantly, I wanted the chilling time to be significantly less. With baking the pie, the chilling time is reduced because refrigeration was not the primary method for the pie to "set."
I made a few changes from the standard recipes. I substituted canned full-fat coconut milk for the evaporated milk or cream. I used organic butter, but I'm sure non-dairy "butter" can be used in its place.
I also made the recipe healthier by using an easy homemade crust of almond flour and honey. And if you scan the recipe below, you'll notice that there's no sugar added to the filling.
That's not a mistake. Well, actually it was a mistake initially, when I was playing with the recipe and rewrote it on a junk mail envelope insert. That "hen-scratched" piece of paper is what I used as my recipe when I made the pie. (Note: I have a "thing" for recycling envelopes and inserts. This "thing" is not always good when it comes to locating my recipe creations.)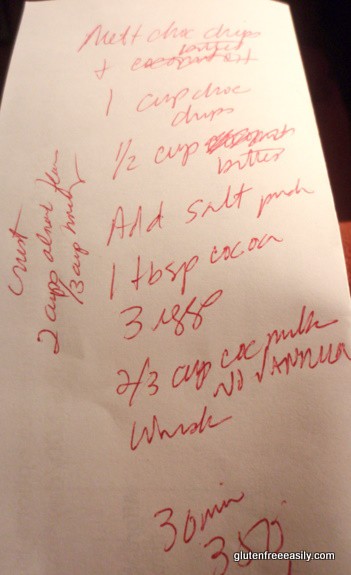 Once the pie was out of the oven, I thought, "hey, did I just forget to add the sugar?" Yes, I thought, but I tasted some of the filling left clinging to the sides of the saucepan and thought, well, yes, perhaps so, but I really like this rich chocolate, very smooth pie just fine "as is."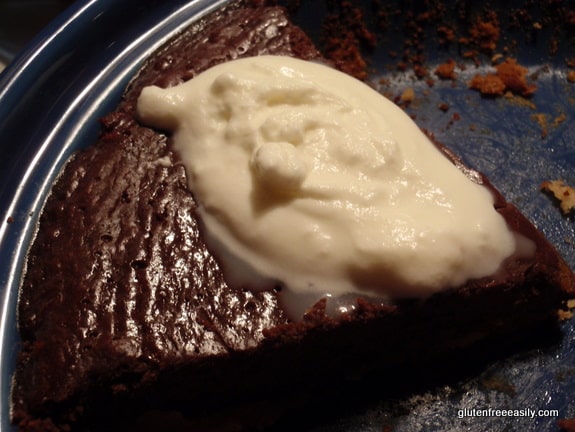 When presented at my dad's birthday celebration, this pie got outstanding reviews from everyone, not just Mr. GFE—and that's even with ice cream cake, my Brown Sugar Chocolate Chip Cookies, and some delectable muffins that I made for my adoption for Adopt a Gluten-Free Blogger this month as its competition. Now that's saying a lot.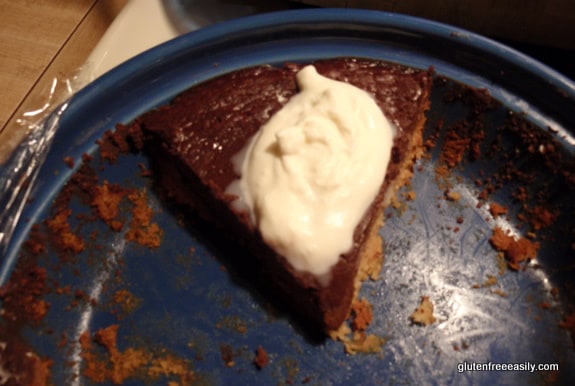 I'll be waiting for your review of this pie. Is there a special birthday coming up in your family? Are you having a dinner party with friends and need a killer dessert? And actually it's not too early to start testing out desserts for Thanksgiving, especially if you're one of my Canadian friends.
In your case, Thanksgiving is only a week away! Happy Thanksgiving a little bit early, and Happy Monday to everyone! (All Mondays should start with a decadent chocolate pie, right?)
Of course, remember that this Chocolate Silk Pie is also perfect for celebrating the Christmas holidays. Below you can see this recipe made using my "New and Improved" Never-Fail No-Roll Press-In Pie Crust. What a perfect—and perfectly delicious—chocolate pie!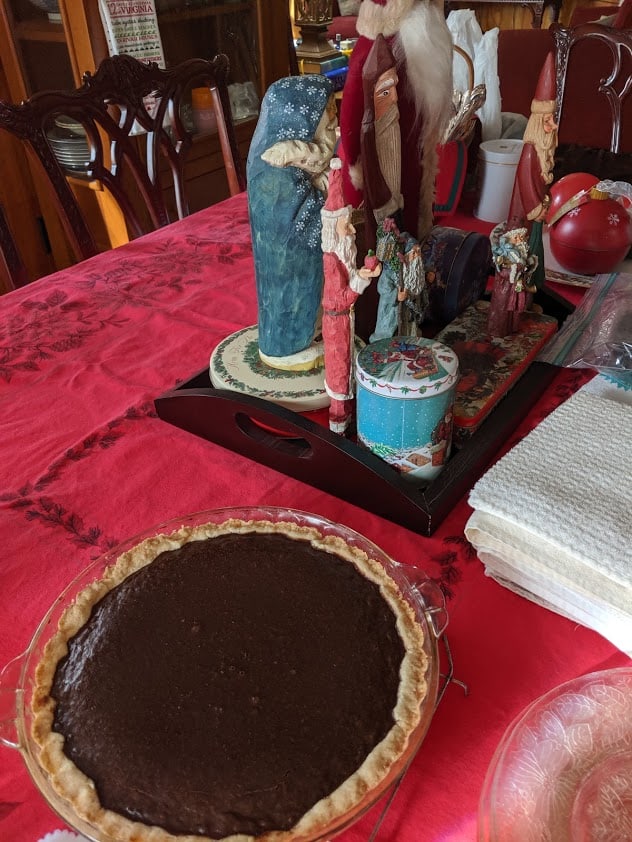 You'll find the recipe for this divine gluten-free Chocolate Silk Pie at the bottom of this post but let me share a few more chocolate recipes and a few more seasonal pie recipes with you first.
More Divine Chocolate Recipes and Pie Recipes For You
~ Chocolate Doughnut Hot Chocolate
~ Chocolate Peanut Butter Cups
~ Chocolate Pomegranate Clusters
~ Easy Crustless Gluten-Free Pecan Pie
~ Paleo No-Bake Chocolate Pie with a Raw "Graham Cracker" Crust
~ My Favorite and Best Gluten-Free Pie Recipes
Gluten-Free Chocolate Silk Pie Recipe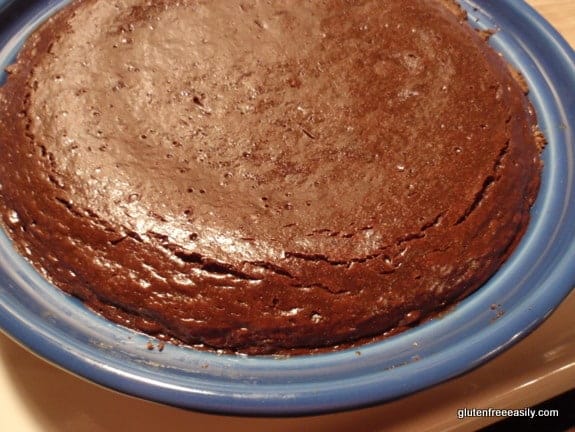 Yield: 8 slices
Gluten-Free Chocolate Silk Pie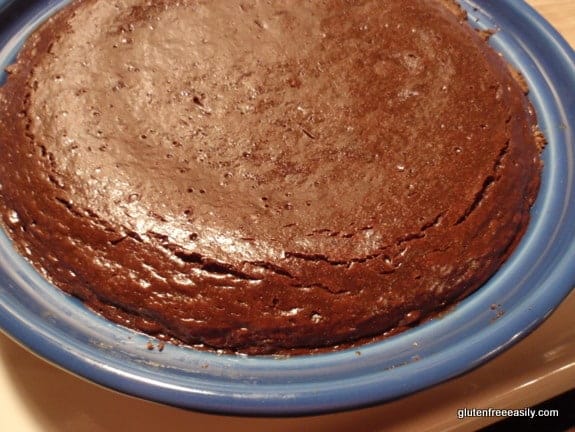 This gluten-free Chocolate Silk Pie only gets its sweetness from chocolate chips, which makes it rich and frankly, divine.

Prep Time 10 minutes

Cook Time 30 minutes

Inactive Time 30 minutes

Total Time 1 hour 10 minutes
Ingredients
Crust
Filling
1 cup semi-sweet chocolate chips (such as Enjoy Life mini chocolate chips] or [mega chunks)
1/2 cup butter (dairy or non-dairy, or coconut oil, liquefied or not per readers' input)
pinch of salt
1 tbsp unsweetened cocoa powder
3 eggs
2/3 cup canned full-fat coconut milk
1 tsp vanilla extract (optional)
Instructions
Preheat oven to 350F degrees.
Mix almond flour and honey right in pie plate. Using fingers, pat into a crust. Set pie plate aside.
Melt chocolate chips and butter in medium-sized saucepan using a double boiler.
Add salt, cocoa powder, eggs, coconut milk, and vanilla extract, stirring after each addition until you have a smooth mixture. Whisk, if needed.
Pour filling into crust.
Bake 30 minutes or until filling has puffed and toothpick inserted in center comes out clean. Cool completely.
Refrigerate until ready to serve.
Garnish as desired. I topped this pie with homemade whipped cream (easy to make using whipping cream and confectioner's sugar or coconut milk and honey for a dairy-free, grain-free, and refined sugar-free version, Honey Whipped Cream). For an even prettier and more impressive pie, you may also top your whipped cream with chocolate shavings or some sifted cocoa powder.
Notes
Any pie crust can be used, but I highly recommend this simple, healthy pie crust that I've shared here. If you don't use almond flour, give my gluten-free Never-Fail No-Roll Press-In Pie Crust a try. Once the pie has been baked, the crust has a similar consistency and texture to a graham cracker crust.

Originally published October 3, 2011; updated October 28, 2021.