For affiliate links and as an Amazon Associate I earn from qualifying purchases.
I saw a recipe in our local newspaper during the holidays for Chocolate Doughnut Hot Chocolate. It was featured in a syndicated article that came from Associated Press Food Editor J.M. Hirsch.
The recipe called for a whole chocolate doughnut to be blended in with the usual hot chocolate ingredients. I immediately thought, "Now that is ridiculous!" Just as quickly, my initial thought was replaced by, "Oh my gosh, I must have that. Now!"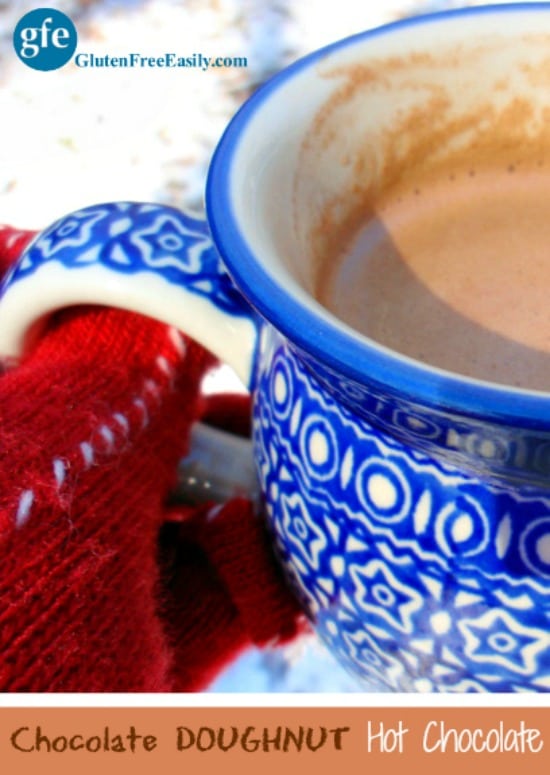 Not having made gluten-free doughnuts yet and not planning on purchasing ready-made gluten-free doughnuts, I had to come up with a version that would give me the taste of a doughnut without the actual doughnut. So I did, or at least I think I did.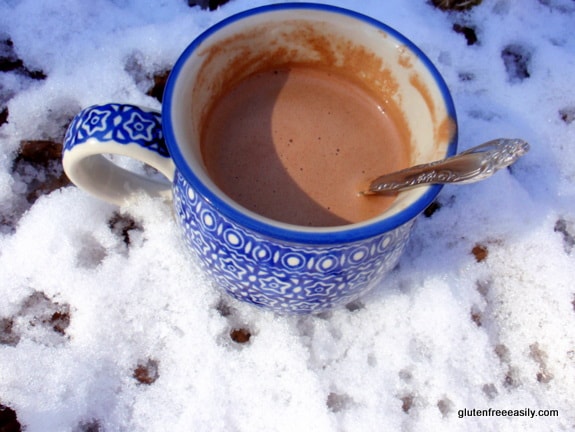 My Chocolate "Doughnut" Hot Chocolate is very good. Plus, it is gluten free, dairy free, and more—all those things that I'm going for these days.
But everything else is here, too. The cinnamon-sugar factor that I associate with doughnuts (more often than the glazed factor), the comfort food taste of the "fat" that one gets from doughnuts (although just a tad of healthy fat in my recipe), and the richness that a Chocolate Doughnut Hot Chocolate clearly must have.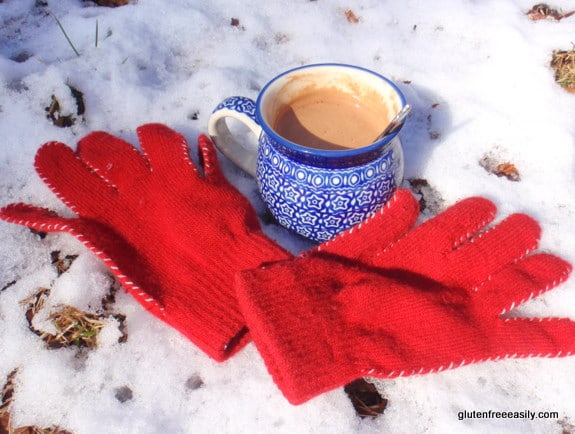 Now honestly, I have no idea if this hot chocolate tastes like the original Chocolate Doughnut Hot Chocolate or even if it tastes like it would if I'd used an actual gluten-free chocolate doughnut, glazed doughnut, or cinnamon-sugar doughnut versus my simple concoction. I just know this hot chocolate is a thick, rich, bittersweet chocolate mixture that I like.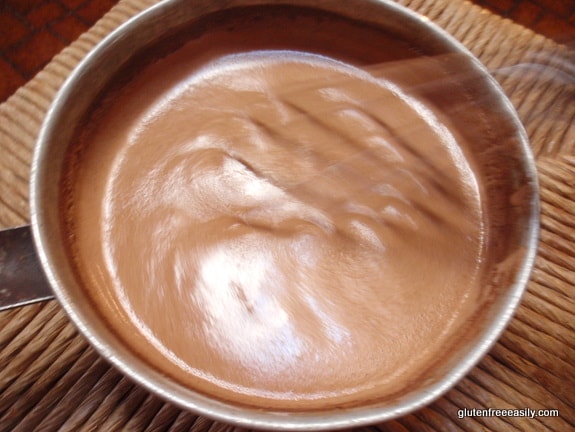 It was an especially lovely treat this morning after a walk with Sonny (our collie) in what was left of last night's snow! Be sure to scroll down to get the links for 10 more delicious warming beverages and then grab the recipe for this Chocolate Doughnut Hot Chocolate. You're going to want it for snow days, especially nippy winter days, "blah" days, and more!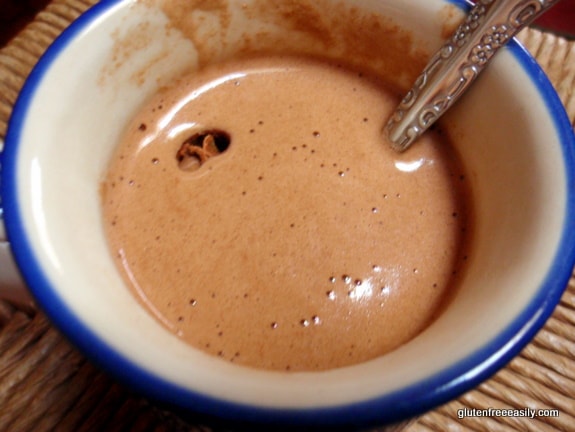 10 More Warming Winter Beverages …
~ Spicy Hot Chocolate ( from City | Life | Eats) (I love this recipe!)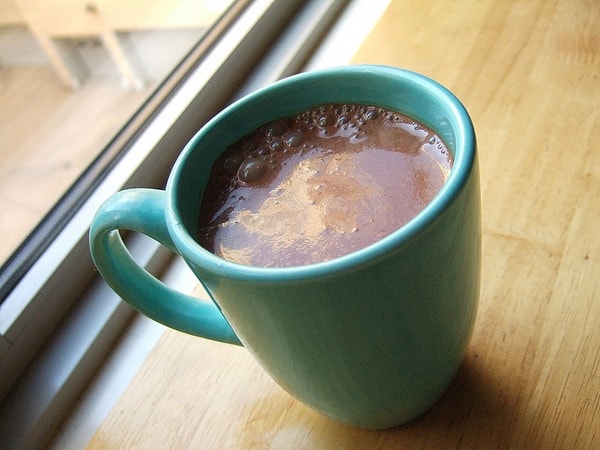 ~ Hot Cider Smoothie (The Mommy Bowl's recipe)
~ Mary's Pick-Me-Up Citrus Tea (can be served hot or cold)
~ gfe Salted Caramel Hot Chocolate (with lots of help from Kim at Cook IT Allergy Free)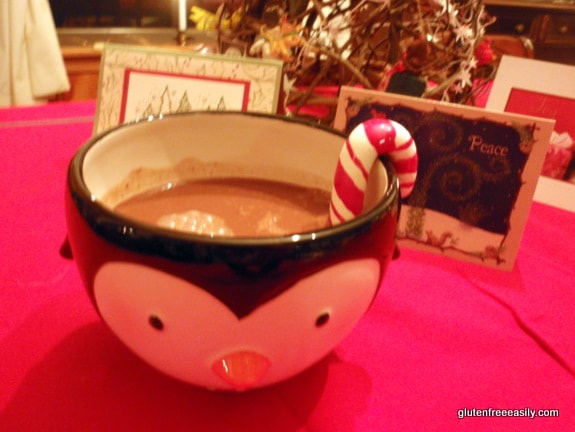 ~ Velvety Pumpkin Spice Latte here at gfe
~ Super Juice here at gfe (recipe courtesy of Dr. Christine Doherty)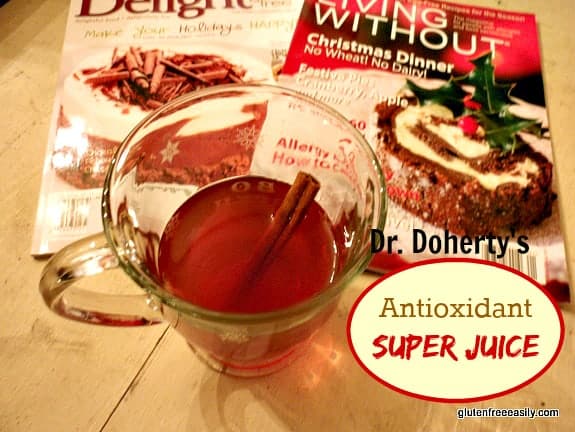 ~ Elana's Peppermint Hot Chocolate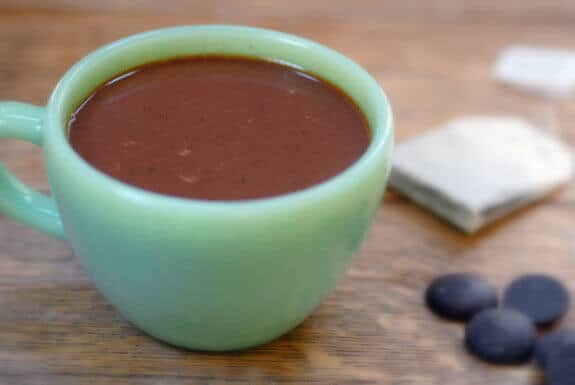 Chocolate Doughnut Hot Chocolate Recipe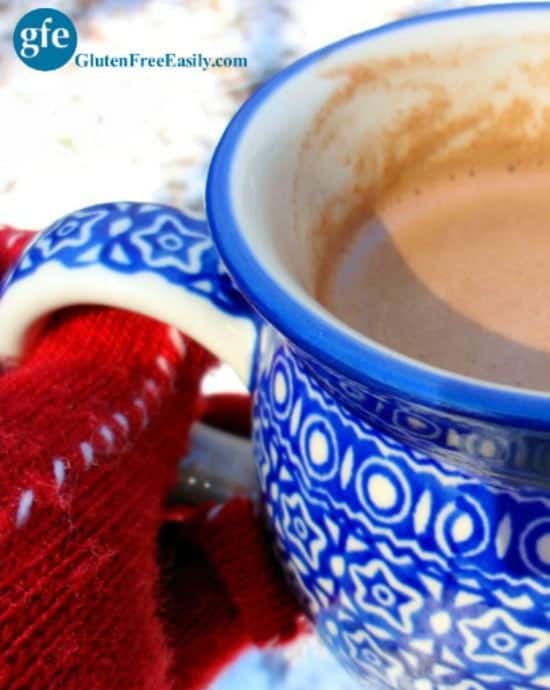 Yield: 2 servings
Chocolate Doughnut Hot Chocolate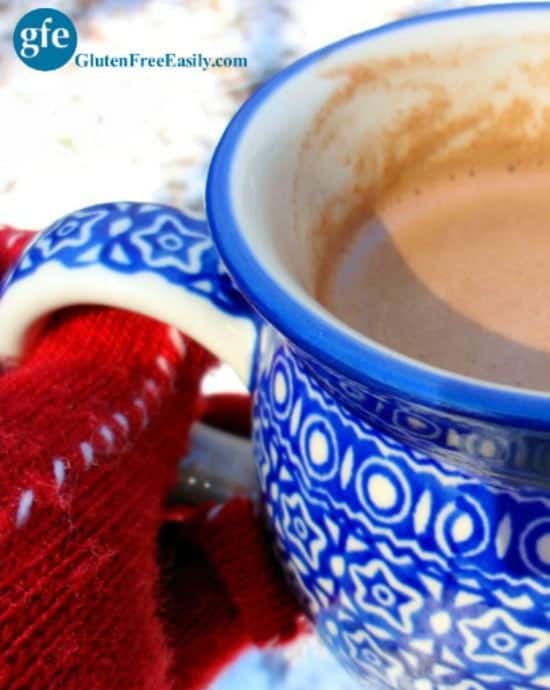 Rich, creamy hot chocolate that gives you the effect of having a chocolate doughnut IN your hot chocolate!
Ingredients
1 tbsp almond flour
1 tbsp coconut flour
1 tbsp coconut oil
2 cups almond milk
¼ cup raw cacao powder (or cocoa powder)
¼ cup coconut sugar (or granulated sugar)
½ tsp ground cinnamon, optional
1/3 cup chocolate chips (ensure they are gluten free)
Pinch sea salt
Instructions
Preheat oven to 400 degrees Fahrenheit. Mix almond flour, coconut flour, and coconut oil on baking sheet. Place in oven. Cook for about two to three minutes, stirring about every minute. (This step can also be done in a small skillet over medium to medium-high heat for about the same amount of time.)
In your blender pitcher, add almond milk, raw cacao powder, coconut sugar, cinnamon, and your "doughnut" mixture. Blend on high spend until smooth, about a minute or so.
Transfer mixture to medium-sized saucepan. Heat over medium heat whisking mixture fairly often until it thickens and foams, about 4 minutes.
Add chocolate chips and salt, whisking again until chocolate chips are incorporated (melted chocolate will no longer appear on the whisk). Pour into mugs and serve immediately.
Notes
Inspired by J.M. Hirsch's recipe.
If you really like cinnamon in your hot chocolate, you can skip the ground cinnamon and/or add a cinnamon stick to your mug. I decided the latter was a bit too much cinnamon for me personally. Plus, my Red Ape Cinnamon Stick from Nu Naturals was a wee bit short for my mug as you can see in my photo below.
I love that this hot chocolate stays thick and "foamy" as it cools, too!
Originally published February 20, 2012; updated December 2, 2021.