For affiliate links and as an Amazon Associate I earn from qualifying purchases.
Look at that gluten-free Tortilla Pizza … doesn't it look fantastic? Yes, that's what I did with almost all of the gluten-free tortillas that Rudi's Gluten-Free Bakery sent me. Son and I loved these "thin-crust" pizzas. Our favorite flavors for pizza (and using as wraps or quesadillas) were the plain and fiesta flavor but we also ate all the spinach ones, too. The pizzas made with spinach tortillas had almost a "whole wheat" flavor to them.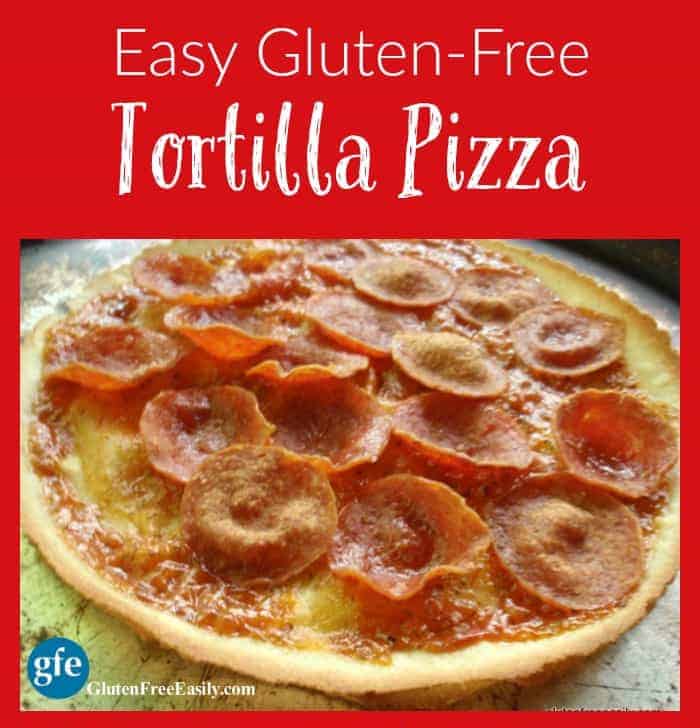 This gluten-free Tortilla Pizza hardly requires a recipe. The concept was just an idea that came to me when Son was craving pizza and looking to dear old mom to help him out. Here are the super simple instructions for this ultimate thin-crust pizza.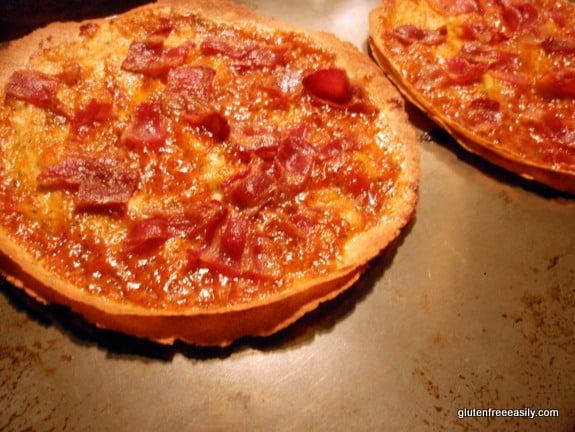 Need more gluten-free pizza ideas? I've got you covered with individual recipes and my Gluten-Free Pizza Party series. Find all the recipes here.
Easy Gluten-Free Tortilla Pizza Recipe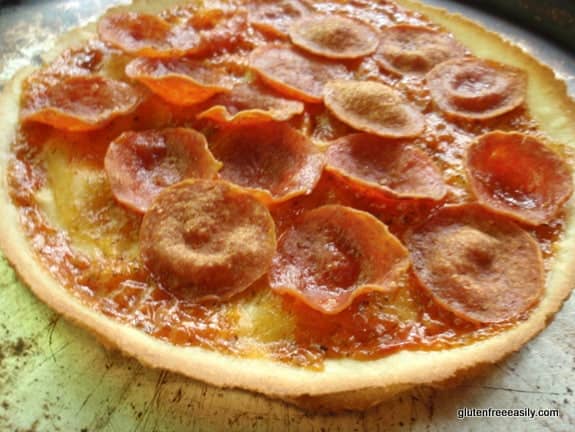 Yield: 4 servings
Easy Gluten-Free Tortilla Pizza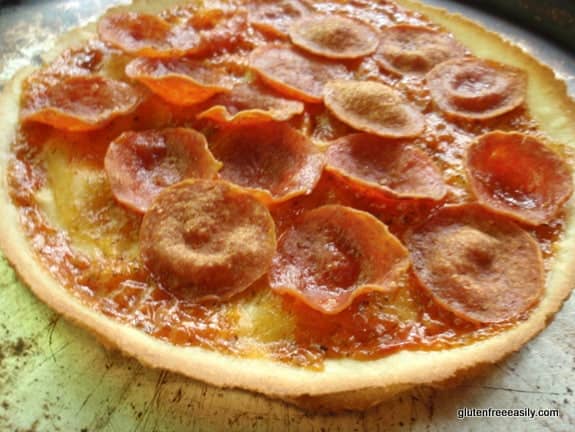 There really is an easy and super quick way to make delicious pizza. This Easy Gluten-Free Tortilla Pizza recipe is it. It's the ultimate thin-crust pizza!
Ingredients
Rudi's gluten-free tortillas (your favorite flavor or your favorite gluten-free flour tortillas)
Pizza sauce (about 1 to 2 tbsp; see notes)
Cheese (or cheese alternative like Daiya shreds or Majestic Garlic Spread)
Favorite toppings (thinly sliced and lightweight ones preferred; precooking may be recommended for some items like pepperoni and mushrooms)
Instructions
Preheat oven to 400 degrees Fahrenheit.
Place one tortilla on top of another for a doubled effect on an ungreased baking sheet.
Mix a small amount of sauce with about the same amount or a slightly lesser amount of your cheese (or cheese alternative).
Spread mix evenly on tortilla surface.
Top with your favorite toppings. (We use slightly pre-cooked pepperoni most often, but thinly sliced onions and mushrooms---both cooked enough to release most of the liquid---make a great veggie topping.)
Bake for about 8 to 9 minutes. Crust will be well browned on edges and the tortilla pizza will be crispy when done.
Cut into four equal slices with a pizza cutter. Serve.
Notes
I've also made these pizzas using chili sauce and salsa as my sauce. The key with any of these sauces is to only use a small amount so that the crust is not weighed down and the sauce does not contain too much liquid. I spread it on about the thickness that I'd spread mayonnaise on bread. By the way, I don't use corn tortillas to make these pizzas. They really don't work well for gluten-free Tortilla Pizzas in my opinion.
The Fun Stuff with Rudi's Gluten-Free Bakery
You've probably already discovered Rudi's Gluten-Free Bakery Facebook page, but if not be sure to head over there to check out their "What's Under Wraps? Giveaway" that continues until the end of this month. Rudi's Gluten-Free Facebook fans can guess what kitchen gizmos are wrapped in the new Rudi's Gluten-Free Tortillas for a chance to win what's underneath. Additionally, once fans "like" Rudi's Gluten-Free on Facebook, they can receive a $2 off coupon to try out the three Gluten-Free Tortilla flavors—Plain, Spinach and Fiesta—and also gain access to new tortilla recipes revealed each day.
Rudi's Gluten-Free was founded on the optimistic idea that you don't have to give anything up to go gluten-free, so celebrating its new line of Gluten-Free Tortillas makes perfect sense. Once fans "like" the brand and get access to the $2 off coupon, they can click on the giveaway tab and guess what new prize is wrapped under the scrumptious, new tortillas. Once a fan has submitted a guess (whether it's correct or not), they're automatically entered to win the daily prizes. Prizes include a Cuisinart Stainless-Steel Ice Cream Maker, Bella Quesadilla Maker, Tiago Tortilla Warmer, and a Le Creuset Dutch Oven, and of course, new Rudi's Gluten-Free Tortillas. Each daily winner will be chosen at random and announced on Facebook the following day.
To help inspire some added creativity in the kitchen, the "What's Under Wraps" Facebook application also includes a daily recipe reveal featuring recipes made with the different flavors of Gluten-Free Tortillas, including recipes like Dessert Nachos, Mini-Mexican Pizzas and Picnic Tortilla Roll-Ups. All recipes were created by Rudi's Gluten-Free experts to maximize the taste and texture of the new Gluten-Free Tortillas.
Rudi's gluten-free products are free of artificial ingredients, preservatives, and genetically modified organisms (GMOs). The tortillas are made with whole-grain flours and have a soft, pliable texture, ready to be rolled into a delicious burrito or tasty sandwich wrap. To satisfy everyone in the family, the tortillas are available in three varieties, each made with simple and wholesome ingredients, including whole grains and 5 grams of fiber per serving. The three flavors include:
~ Plain Tortillas (MSRP – $5.99) – Soft and pliable, so they're perfect for building a simple quesadilla or a loaded chicken burrito.
~ Spinach Tortillas (MSRP – $5.99) – These delicious tortillas are made with gluten-free ingredients moms can feel good about. Their soft and pliable texture makes them the perfect wrap for a variety of ingredients, from a chicken Caesar wrap to a morning egg and cheese delight.
~ Fiesta Tortillas (MSRP – $5.99) – Spice up your favorite Mexican meal with these tasty tortillas made with red bell pepper, jalapeno, onion and garlic flavors.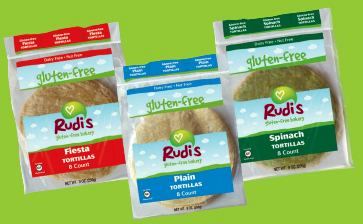 And you'll want to "like" Rudi's Gluten-Free Bakery on Facebook anyway as that's one of the ways that you can enter to win this wonderful Mexican package—to go with Rudi's Fiesta flavor tortillas!—shown below. One gfe reader who enters the giveaway will win the following:
~ Avocado Slicer
~ Tortilla Warmer
~ Muir Glen Organic Salsa
~ Quesadilla Maker
~ Tablecloth
~ Product coupons
~ Rudi's swag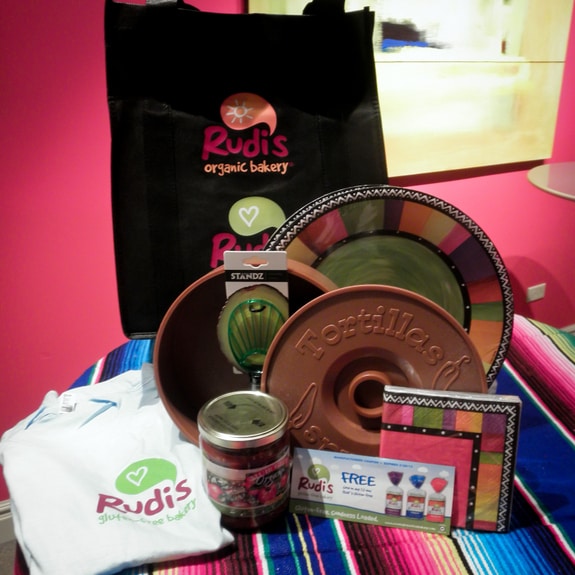 UPDATE: This giveaway is now closed.
Full Disclosure: Products reviewed in this post and offered as the giveaway prizes were provided free from Rudi's Gluten-Free Bakery. However, the opinions shared are strictly my own.
Originally published August 23, 2012; updated October 11, 2021.