For affiliate links and as an Amazon Associate I earn from qualifying purchases.
Nobody likes two-faced people, and saucy and spicy two-faced types are usually disliked even more, but I think you'll really like this slightly two-faced, saucy, and spicy casserole, Spicy Venison Sausage and Russet Potatoes with Sweet Potato Cream Sauce.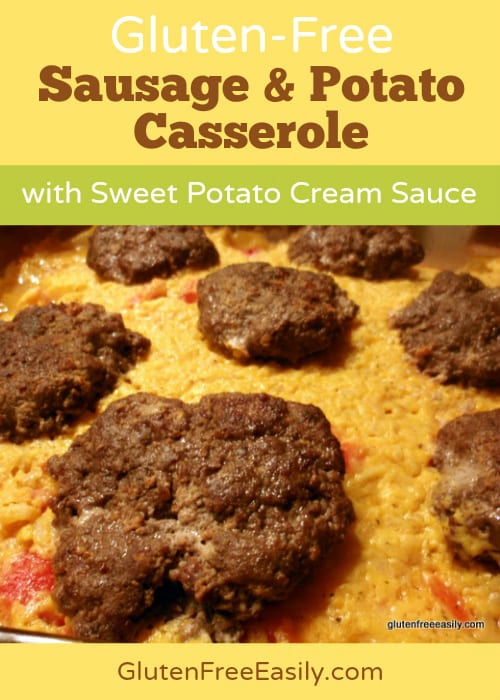 Especially if you have members of your family who don't necessarily agree on their potato choices. This casserole makes for a delicious gluten-free, dairy-free meal. Basically, it's a scalloped potato dish topped with a lovely cream sauce and spicy sausage patties.
Let me give you a little history on the potato "affiliations" in our house. (Of course, as always, feel free to scroll down to the recipe and skip this part.)
While I've previously shared the benefits of potatoes here on gfe in my Heavenly Hash Browns post, personally I don't want to eat them all the time. Unlike the head of the Washington State Potato Commission.
He ate 20 potatoes a day for 60 days straight, and had some surprising health results (although I think the data measured was rather limited). I'm pretty sure I'd be lying uninterested and fairly unresponsive on the couch if I ate nothing but potatoes 24/7 for two months.
Or even if I ate potatoes (other than sweet potatoes) daily in a much smaller amount as part of my regular meals for that period of time.
But Mr. GFE is a bit of a different story. If offered a potato option as one of many sides when dining out, he will instead opt for rice, pasta, or a side salad. But if I give him a choice of sweet potato or any other potatoes (white/red/Russet/Yukon Gold), he'll choose the latter every time.
He is not a sweet potato fan. At all.
Sometimes he'll "allow me" to add a small amount of sweet potato in some dishes without voicing a complaint. If he can't see it or can see the sweet potato, but doesn't notice a big different in texture, he's fine with the addition of sweet potato.
I admit that I've sometimes wistfully hoped for a sweet potato conversion for Mr. GFE one day as Son and I love them, but I must acknowledge it's unlikely to happen. Mr. GFE still talks about the evening of his youth when his dad talked him and his brother into eating sweet potatoes by calling them "music roots."
Now seriously, that label makes absolutely no sense at all, but somehow it worked. But only once.
To be honest, I, myself, never liked sweet potatoes before I went gluten free, but once I started embracing all the foods I could eat and going for naturally sweet choices in foods, sweet potatoes became a regular part of my diet.
Luckily, Son learned to love them at an early age from all his grandparents.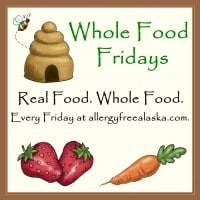 But let's talk more about the specifics of today's recipe, shall we? One of the key players is sausage. In my case, I made venison sausage because we always have ground venison on hand and we prefer it to ground beef (or other ground meats).
The original recipe is a paleo recipe for Turkey or Pork Breakfast Sausage. That recipe is an adaptation of a recipe from Nourishing Traditions by Sally Fallon (now Sally Fallon Morrel) and Mary Enig.
The adapted sausage recipe is a good recipe "as is," but I've learned to spice it up quite a bit more for our tastes and I always add two eggs versus the one that's recommended.
We had been simply enjoying the sausage along with veggies and side dishes for some dinners (or breakfasts), until I remembered a Sausage and Potatoes Casserole recipe from long ago—as in "before we were married" long ago.
It needed some tweaking as it called for gluten-full canned soup. I decided to employ some sweet potato "savviness" that I had invented on a camping trip last year.
The basics were a jar of leftover dairy-free milk (the first time I used the better part of a can of full-fat coconut milk), part of a large sweet potato, half a large onion, and a "dose" of garlic that I threw into the cooler as we were headed out the door. Some extra virgin olive oil from our food box helped bring them all together in a sauce pan to create a creamy dairy-free sweet potato sauce that I used for a shrimp and pasta dish.
Son had brought along several friends and they all thought it was a wonderful part of our meal.
Because this recipe is made in a typical casserole dish with some layering, the first time around I decided that it would be easy to use both Russet potatoes and sweet potatoes—some of each on each side. Well, yes, it turns out that it was quite easy, and it made both Mr. GFE and I happy!
Because Mr. GFE eats more than I do, my casserole was actually about 2/3 Russet potatoes and 1/3 sweet potatoes that time. I've also made this dish with just Russet potatoes as the base and it's wonderful that way, too.
So choose whichever option will work for your family. In other words, you don't have to be overly two-faced unless you want to be. But you'll definitely want to go with the slightly two-faced "saucy" approach no matter what.
I like saucy. Saucy makes life more interesting and often tastier, and that's the case with this recipe and the Sweet Potato Cream Sauce that I used.
Don't be intimidated by the list of ingredients and multi-part recipe; this one is really quite easy to make and works for breakfast, lunch, or dinner!
Remember that saying … "Eat breakfast like a king, lunch like a prince and dinner like a college kid with a maxed out credit card." How nice that this recipe can also be considered a budget meal (although clearly that was not the intent of the saying).
Finally, here's Son's two-part, but succinct review of this casserole. After first bite:  "This is great." After second bite: "Wow, this is amazing." I loved hearing those words. Enjoy!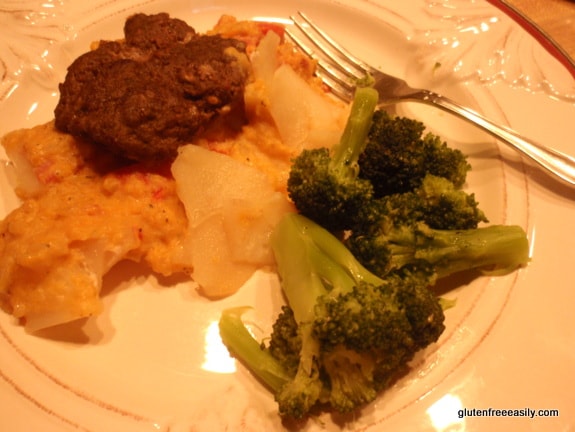 Spicy Venison Sausage and Russet Potatoes with Sweet Potato Cream Sauce Recipe
Yield:
Spicy Sausage Casserole and Russet Potatoes with Sweet Potato Cream Sauce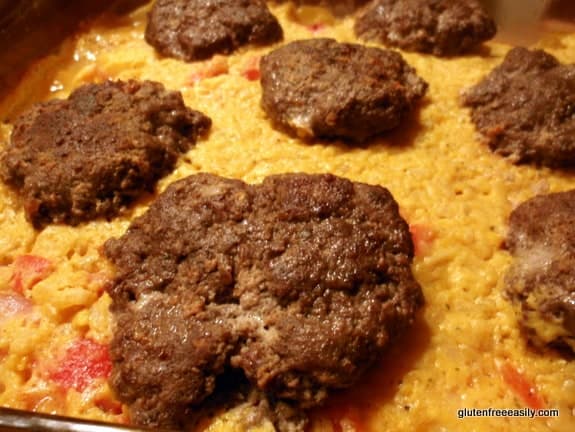 This Spicy Venison Sausage and Russet Potatoes with Sweet Potato Cream Sauce is a scalloped potato dish topped with a lovely cream sauce and spicy venison sausage patties. 
Ingredients
Sausage Ingredients
1 lb ground venison (or ground turkey or pork)
1 ½ tsp onion powder
1 tsp cumin
1 tsp black pepper
1/3 tsp nutmeg
1/3 tsp oregano
1/2 to 1 tsp red pepper flakes (can omit for much less spicy version)
¼ tsp ginger
1 ½ tsp poultry seasoning
1 ½ tsp sea salt
1 to 2 eggs, lightly beaten
Sweet Potato Cream Sauce Ingredients
About 1 tbsp or so of extra virgin olive oil (or oil of choice, for skillet)
½ large sweet onion, finely chopped
½ cup red pepper, chopped (optional; fresh red pepper or fire-roasted red pepper from a jar)
1 tsp minced garlic (omit if using Majestic Garlic Spread; see below)
About 2/3 cup sweet potato, mashed (about one large sweet potato)
1 heaping tbsp Majestic Garlic Spread Creamy Garlic flavor (optional, but it's a terrific addition)
1 ½ cups unsweetened almond milk (or non-dairy milk, of choice; full-fat coconut milk works well, too; dairy milk may also be used for those who eat dairy)
Casserole
5 cups Russet potatoes, thinly sliced (or a combination of Russet and sweet potatoes; see instructions)
Sea salt, amount to taste
Ground black pepper, amount to taste
5 slices of partially cooked bacon (optional ingredient, but preferred; I used uncured, nitrate-free bacon)
Instructions
Preheat oven to 400F degrees. Grease 9 x 13 baking dish.
Sausage Instructions
Mix all together and, ideally, chill one hour. Chilling allows the flavors to come together nicely and the eggs to help bind the mixture, but if you're in a rush, you can chill for less time or skip this step.
Form sausage into patties and cook in large skillet over medium low to medium heat until desired doneness. (Because I was using this sausage in a recipe that would be baked for a good while, I purposely undercooked my patties.)
Drain, if needed, on a paper-towel lined plate.
Makes about 12 small patties.
Sweet Potato Cream Sauce Instructions
Add extra virgin olive oil to medium-sized sauce pan; turn up heat to almost medium. Add onion, red pepper, and minced garlic (if using actual garlic). Sauté for a few minutes until onion is translucent.
Add in a little of the almond milk, stirring with a whisk. Add in the sweet potato, whisking it into the mixture. Slowly add in the rest of the almond milk, continuing to use whisk to fully incorporate ingredients. (You can even use a "stick blender"—i.e., immersion blender, like this one—to create a super creamy, smoother, and prettier sauce if you'd like.) Cook at least a few minutes longer until sauce thickens some.
Casserole
Place potatoes in baking dish in as many layers as needed. (If using both Russet potatoes and sweet potatoes, place Russet potatoes on one side and sweet potatoes on the other.)
Sprinkle potatoes lightly with salt and pepper.
Place slices of bacon lengthwise on top of the potatoes.
Pour cream sauce over potatoes, using spatula if needed to distribute sauce evenly.
Top with sausage patties.
Cover with foil and bake for about 40 minutes. Remove foil and bake for about 5 to 10 minutes longer, as needed. Test potato with fork for doneness.
Notes
Sausage recipe adapted from Caveman Food.
Feel free to use your favorite purchased gluten-free sausage in this recipe if you prefer.
You must partially cook the bacon so that it will be done at the end of the baking time. (I did not do that when these photos were taken and regretted it as the bacon was not crispy enough, but did the next time I made the casserole. Big improvement!)
I added my bacon to the pan when I cooked the sausage patties and just removed to a paper towel-lined plate (with the sausage patties) when it was about half way done cooking. You may also bake this casserole at 350F degrees for about an hour if you prefer. (This info can be helpful when you are baking another dish that requires a temperature of 350F degrees and you wish to bake both at the same time.)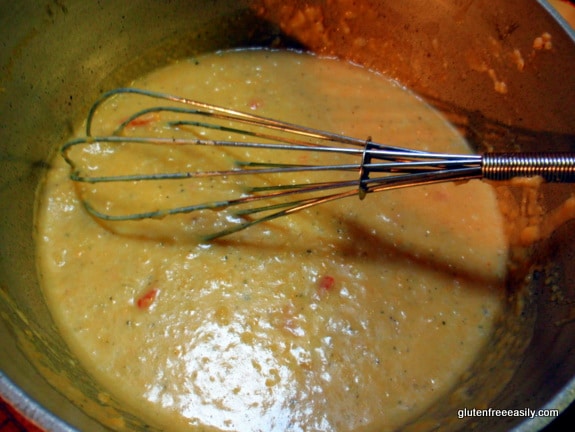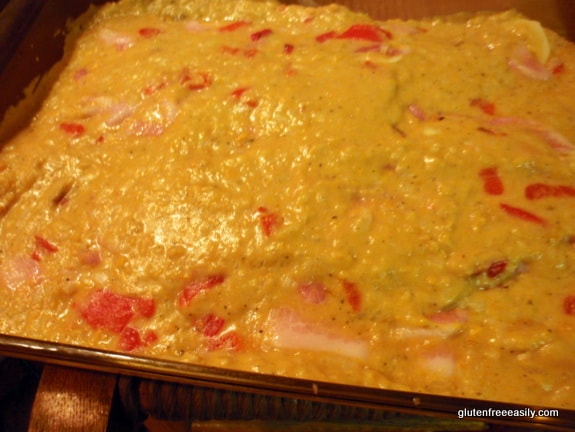 Originally published August 16, 2012; updated September 13, 2018.