For affiliate links and as an Amazon Associate I earn from qualifying purchases.
Whether it's National Sponge Cake Day (August 23) or any old day, you really can't go wrong by making this gluten-free Lemon Sponge Cake for dessert. That's why I knew I wanted to remind you all about this simple but amazing recipe! It's a winner—especially if you love all things lemon.
I first made this gluten-free Lemon Sponge Cake cake long ago, for a spring meeting of the support group that I used to lead. It was a lovely and light dessert that everyone really enjoyed.
The Back Story on This Gluten-Free Lemon Sponge Cake
The original version of today's recipe comes from my friend Steve Zeiden. You may remember Steve from his former, very helpful sites, Grateful Celiac and Gluten-Free Steve.
I made his Lemon Sponge Cake recipe immediately after he first posted it, making the slightest changes to it. I remember that my support group members were still talking about this cake several months later. Now that's a true measure of a hit recipe, folks! I do find that people tend to do that with either stellar chocolate recipes or lemon recipes. There's a lot of lemon love on the interwebs!
Then, with Steve's permission, I shared the recipe here on gfe. And I honestly can't think of a better way to celebrate Sponge Cake Day than with Steve's lemon version. So I'm very grateful to him for allowing me to share this recipe—with a few slight gfe tweaks offered–with you today! (Note: You can also find Steve's excellent Peach Upside Down Cake recipe here on gfe. 'Tis peach season after all!)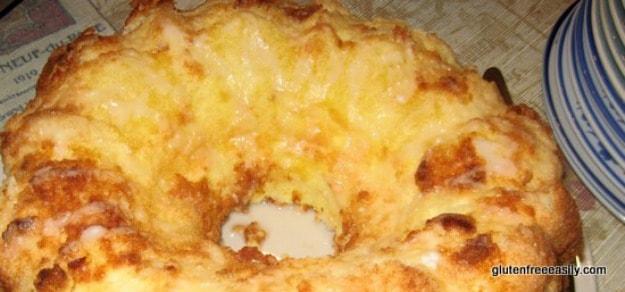 Sometimes you want dessert to round out a meal, but you don't want anything heavy. This sponge cake is the perfect solution for those times.
The original recipe called for potato starch, which I don't personally use, so I substituted cornstarch, and that worked just fine, but feel free to use either. As noted in the recipe, arrowroot starch (also called arrowroot flour) should also work in this recipe but I'll admit that I have not tried it yet. (If you do, please report back in the comments.)
If you use potato starch or arrowroot, your cake will be not only gluten free but also grain free, if you don't use a brand of powdered sugar that contains corn, such as this one. You would also have to use the other alternatives for cornstarch in the glaze. I believe that using either potato starch or arrowroot starch/flour will make your cake suitable for Passover celebrations.
One important note here … while arrowroot starch and arrowroot flour are the same, potato starch and potato flour are two very different products. Be sure to use potato starch—not potato flour—if you don't want to use cornstarch or arrowroot flour/starch.
Steve's recipe didn't call for greasing the pan (and other similar recipes I found online didn't either), but I highly recommend greasing the pan as this cake can definitely stick. Perhaps when it's made with lemon or orange oil, which was an option in his original recipe, the cake would have been easier to remove from the pan. (I've become a fan of citrus oils in cooking, so I definitely want to try this recipe made with one of those in the future—as much for the richness that these oils impart as for testing the "non-stick" factor when they're included.)
Luckily for me the first time I made this cake, one of our very kind support group members, Angie, patiently extracted it from the pan while I continued preparing another dish for our meeting. Thankfully, I had discovered a glaze recipe online and wanted to dress the cake up a little because of the signs of my own attempted "extrication" from my Bundt cake pan.
I hadn't been sure I'd use the glaze recipe. But I was glad that I had both the recipe and the ingredients on hand for Angie to mix up the glaze and pour it over my slightly "battered" cake.
A little whipped cream would also make a great topping for this cake. Plus, I think this cake would also be wonderful when served with some fresh fruit—such as raspberries, strawberries, blueberries, or blackberries.
I've made this cake twice since its original gfe debut, but I didn't get new photos either time. Honestly, although I am a veteran food blogger, often I don't want to stop to take any photos, I just want to eat and enjoy my favorite gluten-free recipes with my friends and family. This gluten-free Lemon Sponge Cake is that kind of recipe and that's a very good thing!
Luckily, gfe reader and friend Jennifer R. made this cake for Easter and was gracious enough to share both her review and her photos with me!
Jennifer shared:
"I made the lemon sponge cake you shared for Easter dessert. I was looking for something different and special I could make and that just caught my eye. It seems I need to cook it less in my oven but I was still able to get it out of the pan without losing much and it was so good! I loved it, my husband loved it, and our baby loved it."
Who doesn't love hearing that kind of review of a recipe? Thank you so much, Jennifer!
Another gfe reader/friend, Nancy, turned this recipe into a delightful bunny cake for Easter. I love that so much! Nancy reported:
"I made this for dessert for Easter dinner but made it in two 9-inch pans instead and then cut it into a bunny shape. I'd send a photo, but once the grandkids decorated it with jelly beans, it disappeared quickly. I topped it with a traditional buttercream icing and then sprinkled flaked coconut on for the bunny fur. For your other readers, I think it took somewhere around 30 minutes to bake (I made it the day before). But I had so many things going on in the kitchen at the same time I'm not 100% sure about that. It was definitely a hit though!"
Folks, make this cake and get on to the enjoying part! Especially if you're a lover of all things lemon!
More Gluten-Free Lemon Recipes To Love
~ Crustless Lemon Cheesecake Pie
~ Glazed Lemon Berry Muffins (Grain Free) from Beauty and the Foodie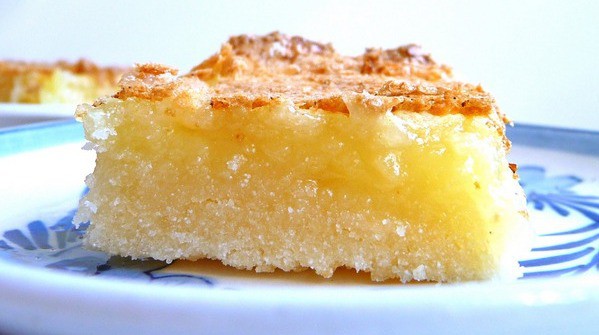 ~ Lemon-Lime Coconut Basil Ice Slushie (or Ice Cream)
~ Lemon Poppy Seed Muffins for Two (Four Muffins)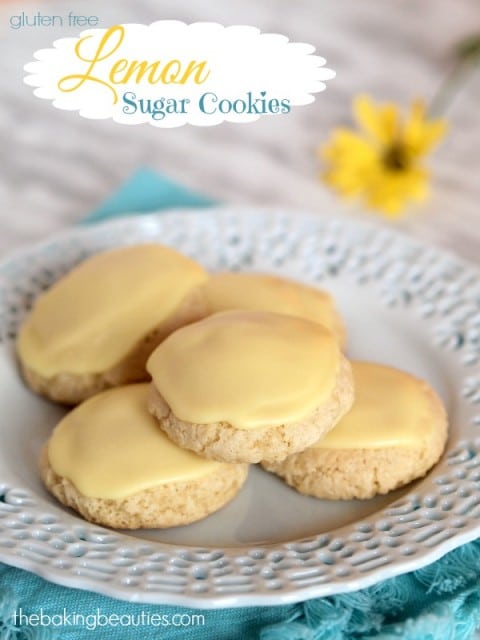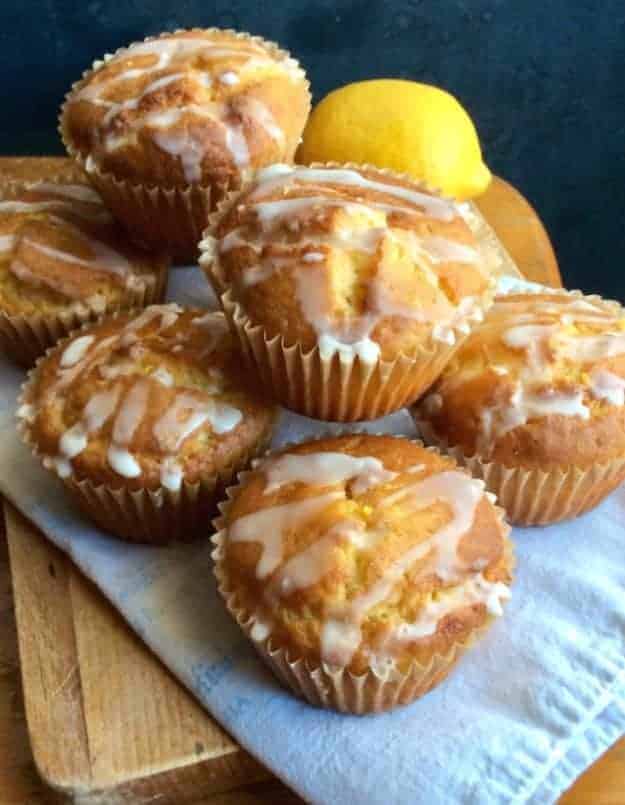 ~ Ultra Lemon Brownies from In Johnna's Kitchen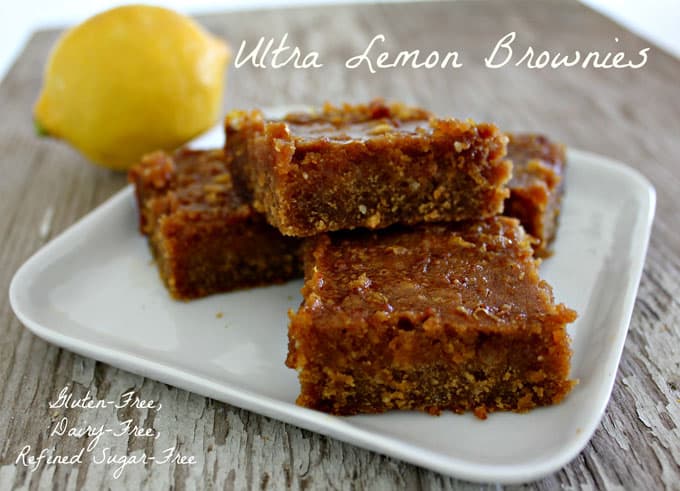 Gluten-Free Lemon Sponge Cake Recipe
Yield: 12 slices
Gluten-Free Lemon Sponge Cake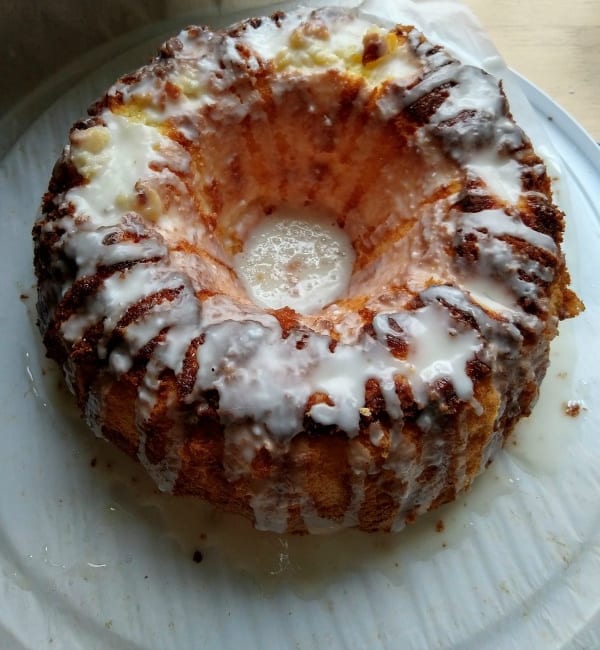 Sponge cake is a delicious, lighter dessert that usually only gets made on very special occasions. The lemon factor and glaze for this cake make it very special indeed! Note that when this cake is made using potato starch and the glaze is made using potato starch or arrowroot, this recipe is also grain free and ideal for Passover.

Prep Time 10 minutes

Cook Time 55 minutes

Inactive Time 30 minutes

Total Time 1 hour 35 minutes
Ingredients
Cake
7 eggs
1 1/2 cups sugar
1 1/2 tbsp fresh lemon juice
1 1/2 tsp lemon rind
3/4 cup cornstarch or potato starch, sifted
dash of salt
Lemon Glaze
1/2 cup powdered sugar
1 tsp cornstarch (or potato starch or arrowroot starch/flour, plus more if needed for thickness)
3 tsp lemon juice
water to desired consistency
Instructions
Separate six of the eggs. Beat the six yolks with the one whole egg until frothy.
Gradually add in the sugar, lemon juice, and lemon rind and beat thoroughly until all ingredients are incorporated. Gradually add the cornstarch, stirring constantly to ensure all is mixed through.
Beat the egg whites with the salt until stiff, but not dry (Steve notes that if you have a free-standing mixer, you can have the egg whites beating while you mix the yolk mixture, as a timesaver).
Fold the egg white mixture gently, but thoroughly into the egg yolk mixture. (Folding is not my forte, but I managed. LOL)
Pour into a greased 10-inch tube or Bundt pan.
Bake at 350F degrees for 55 minutes, or until the cake springs back when touched.
Invert pan and cool thoroughly--about 30 minutes or longer--before removing cake.
If you want to use a lemon glaze, mix together powdered sugar with lemon juice and cornstarch in a small bowl until you get a good consistency. Drizzle over the cake and let glaze set up before serving.
Notes
Cake recipe adapted from Steve Zeiden, formerly of Grateful Celiac and Gluten-Free Steve. Glaze recipe adapted from Claire at This Gluten-Free Life (formerly Gluten Freedom).

Readers have made this cake in a 9 x 13 baking dish or two 9-inch square baking pans. Baking time will have to be adjusted when using those pans though. Start checking doneness at about 25 to 30 minutes.

Originally published August 23, 2016; updated August 23, 2022.