For affiliate links and as an Amazon Associate I earn from qualifying purchases.
Snickerdoodles are one of my family's favorite cookies. They are made for Christmas, Easter, care packages for friends, cookouts, and well, any time the mood for Snickerdoodles strikes. I've made two versions of gluten-free Snickerdoodles since going gluten free.
The first version was an unrepeatable improvisation of a blogger friend's recipe for which I successfully salvaged a gluten-free frosting mix left behind by a friend. (If interested, you can read about how I "made lemonade from lemons" here.)
The other was this delightful gluten-free Snickerdoodle recipe from my dear friend Linda Etherton (formerly Gluten-Free Homemaker). Her version is also paleo because it's grain free, dairy free, and refined sugar free.
Sharing another one of Linda's great recipes reminds me how very much I miss her in the blogging community! And I know I'm not the only one. I'm grateful that she's graciously allowed me to share some of her wonderful recipes since she retired her site, like today's Snickerdoodles.
Her recipes are ones that need to continue to be used and sharing them with you all also makes me think of Linda. I love that she is living her best life and enjoying her family every day versus spending time creating recipes. And I love being able to share her gluten-free Snickerdoodles with you!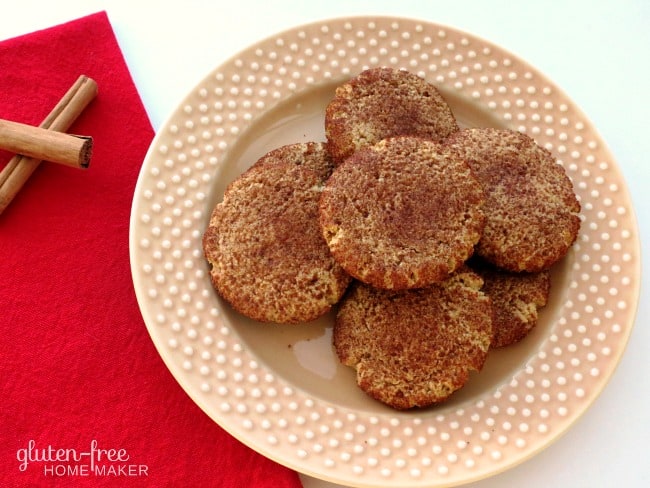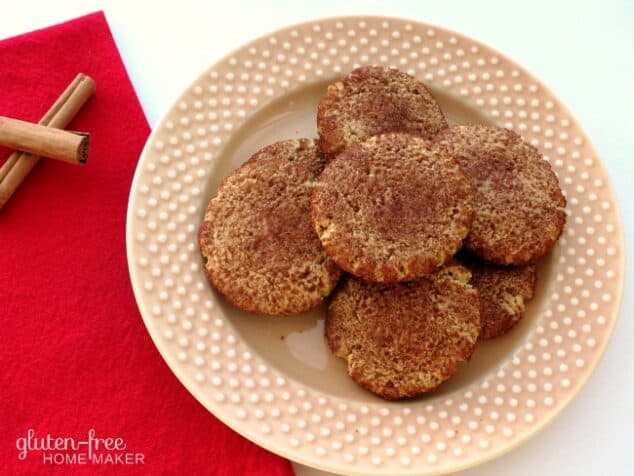 When Linda shared this recipe, she said:
"I love the burst of cinnamon that hits my tongue every time I take a bite of a Snickerdoodle, and these Paleo Snickerdoodles are no exception! While the texture is more moist and chewy (because of the grain-free flours) than my crunchy Gluten-Free Snickerdoodles that I've shared before, they have the same cinnamony flavor. And my husband prefers this paleo version to my crunchier version (he's a soft cookie kind of guy).
While paleo cookies use healthier ingredients and are lower carb than other gluten-free cookies, they're still a treat because of the sugar they contain. But everyone needs an occasional treat, and these cookies are perfect for the holidays or any day."
I'm with Linda's husband on appreciating this softer version of Snickerdoodles! Plus, I really do appreciate the grain-free and refined sugar-free factors as well. Despite the healthier factors, rest assured that these cookies lack nothing!
More You'll Want To Check Out from Linda Etherton + Christmas Cookies
~ Flourless Peanut Butter Blossom Cookies
~ Linda's Personal Gluten-Free Story
Gluten-Free Snickerdoodles (Paleo) Recipe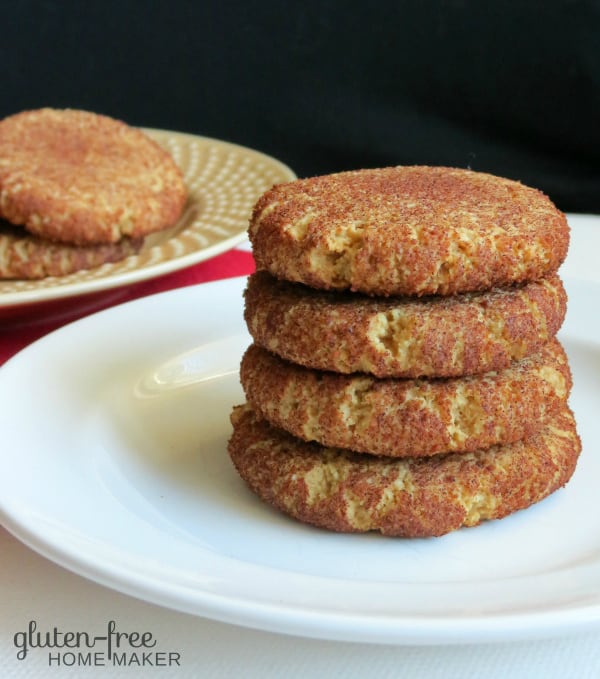 Yield: 20 cookies
Gluten-Free Snickerdoodles (Paleo)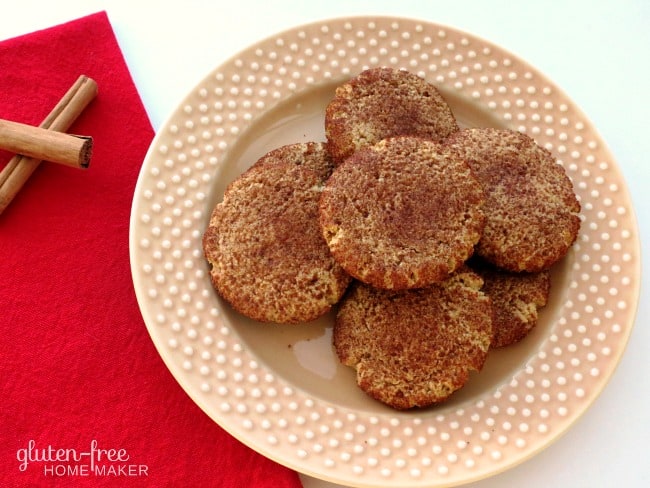 The grain-free flours make these Snickerdoodles softer and chewier than traditional Snickerdoodles so if that sounds good to you, make these cookies. They are perfect for the holidays or any day!
Ingredients
Ingredients for Dough
1 1/2 cups almond flour (blanched and finely ground)
2 Tablespoons coconut flour
1/2 teaspoon baking soda
1/4 teaspoon salt
1/4 cup palm shortening
1/4 cup coconut palm sugar
1 large egg
1/4 cup pure maple syrup
1 teaspoon vanilla
Ingredients For Coating Dough
2 Tablespoons coconut palm sugar
2 teaspoons cinnamon
Instructions
Preheat oven to 350° F and line two baking sheets with parchment paper.
In a small bowl, whisk together the almond flour, coconut flour, baking soda, and salt. Make sure there are no lumps.
In a medium bowl, mash together the palm shortening and the 1/4 cup coconut sugar with a fork.
Add the egg, syrup, and vanilla. Beat well with an electric mixer, scraping the sides.
Add the flour mixture to the mixing bowl and beat until all the flour is incorporated. The dough should be a bit sticky but will hold a ball shape. If it is too wet, add a little more coconut flour.
In a small bowl, stir together the 2 Tablespoons coconut palm sugar and the cinnamon. Roll the dough into 1 ½-inch balls and roll each ball in the cinnamon sugar. Place a couple of inches apart on a baking sheet. (Baking one sheet at a time is best.) Flatten each ball using the back of a spoon (soup spoon works well).
Bake at 350° for 8 minutes. Cool on the cookie sheet for a couple of minutes before moving to a cooling rack.


Notes
Different brands of coconut flour absorb different amounts of liquid. If your dough is too wet and will not hold a ball shape, then add a little more coconut flour. If you know that the brand of coconut flour you use is very absorbent, try starting with a little less adding more if needed.
Originally published December 20, 2022.